For most celebrity kids, it is not easy to escape from the shadows of their parents and become their own person. Some who manage to do that go on to live a life very different from their famous parents. One celebrity child who managed to break out from the general mob of spoiled rich kids and make an identity for herself is actor Mel Gibson's oldest daughter, Hannah Mae Gibson.
Professionally an actress who worked in the movie 'The Patriot' where her father took the center stage, Hannah's life has been full of mystery. Even after getting married to Kenny Wayne Shepherd, she hardly gives any red carpet moments keeping her away from limelight.
Hannah is the Oldest Among Mel Gibson's Kids
Hannah's parents Mel Gibson and Robyn Moore Gibson were married for almost 30 years. Her father was an up-and-coming theatre actor when he met her mother Robyn who was working as a dental nurse while both were sharing a flat together. Her parents exchanged their vows with close friends and family on June 7, 1980. On November 25th of the same year, Hannah was born into the Gibson family.
Hannah is a Mother Figure for her Eight younger Siblings
As of now, actor Mel Gibson is the father to a total of nine children. Hannah is the oldest of the bunch and has 8 younger siblings. From her parents, she shares six siblings; twins Christian and Edward born in 1982, William born in 1985, Louis born in 1988, Milo born in 1990 and Thomas born in 1999.
After her parents separated, her father went on to have other relationships with which she shares two other half-siblings. She has a half-sister Lucia born on October 30, 2009, from her father's relationship with Oksana Grigorieva. On January 20, 2017, Hannah also became a big sister to half-brother Lars Gerard who her father Mel Gibson shares with his partner former equestrian vaulter and writer Rosalind Ross.
Apart from being the eldest daughter of Hollywood actor Mel Gibson, Hannah Mae is related to some famous people. Her maternal grandfather Stephen Vincent Moore was an English actor mostly known for his works in British TV shows like Hitchhiker's Guide to Galaxy, Doctor Who, Arthur in the Queen's Nose and many more.
Hannah's Family is Well Connected with Hollywood
Her paternal grandfather Hutton Gibson was an American writer on sedevacantism, a World War II veteran and the 1968 Jeopardy! Grand champion. Her uncle Donal Gibson was also an actor and has done multiple both on-screen and voice acting such as Pocahontas II: Journey to the New World, Maverick, Braveheart, The Punisher and many more.
Her younger siblings are also making a name for themselves, particularly her brother Milo who is following in their father's footsteps in the acting industry. His works include 'Hacksaw Ridge', 'Gangster Land', 'Breaking and Exiting', 'The Outpost' and many more.
Hannah worked as a Make-up artist and An actress
With a family history of finding careers in the entertainment industry, it is to no one's surprise that the eldest child of Mel Gibson would also be interested in the same. In 2000, Hannah worked as a makeup artist for the movie 'What a woman want' starring her own father.
The same year she also worked as a production assistant for the movie 'The Patriot'. Hannah also has an acting credit under her belt. In 2014, she appeared as a character named Arja in a TV mini-series Toisen Kanssa.
She Once Had a Desire to Become a Nun
Before meeting her future husband, Hannah Gibson once surprised everyone with her choice of the path of spirituality. She had announced plans to become a Catholic nun. Her father expressed happiness with her daughter's decision. He said:
"I believe in God. My love for religion was given to me by my father."
While she did not go through with that decision, it sure made headlines for a number of Catholic websites like Latin Mass News and Traditio, a traditional Roman Catholic network.
She is now Happily Married to Guitarist Kenny Wayne Shepherd
Hannah Gibson met musician Kenny Wayne Shepherd in 2002 and after dating for almost 4 years decided to get hitched. They tied the knot on September 17, 2006, among friends and family and have been married to one another for more than 15 years.
Her husband Kenny Wayne Shepherd is an American guitarist, singer and songwriter. He has released several studio albums and has seen significant commercial success as a blues artist. He has been nominated for five Grammy awards and even won two Billboard Music Awards, two Blues Music Awards and two Orville H. Gibson Awards.
Hannah is a Mother to Six Kids
During her two-decades-long relationship with her husband, Hannah Gibson has given birth to six children; four daughters and two sons. According to her Instagram bio, she takes pride in being a home birther which means most of her children were delivered at home.
The family of eight loves doing various activities like travelling, hiking, dressing up for Halloween, exercising and many other trivial things as a family together. Some of their children have also started taking after them. Most of them enjoy stretching and yoga with their mother and one of the boys has started learning to play the guitar like his father.
Since Kenny is mostly touring with his band doing live shows, Hannah is the children's primary caretaker. And from the looks of it, she is doing a really great job at that.
She is also a Hoop dancer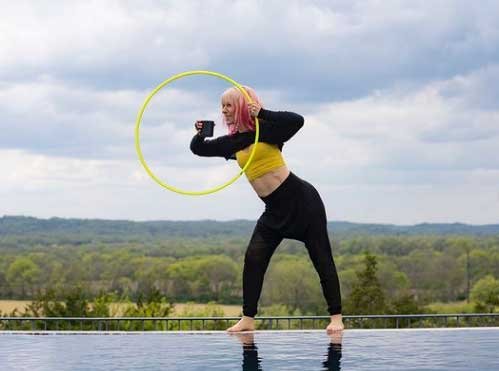 Hannah's Instagram bio also mentions her as a hoop dancer. A quick look at her Instagram page, and you will understand what a hoop dancer really is. She uses a normal hula hoop and performs a variety of dances and performances that showcases the combination of subtle artistry with core strength and flexibility.
Having a loving relationship with your siblings is kind of a given but finding meaningful friends in their siblings' respective partners is truly a blessing. For Hannah Gibson who has a very close relationship with her younger siblings, it is the special bond with her brother's partners that she really cherishes. She likes to call them her acquired sisters and has only good things to say about them. The beautiful ladies often meet and share lovely times with one another.
Hannah Gibson had a Turmoil Relationship with her Father Mel Gibson
Often children from divorced homes tend to pick a side during the process. The same was true for the Gibson clan when Mel Gibson and his wife of almost 30 years Robyn Moore Gibson separated. At that time, Hannah and her six siblings were said to be furious at the separation and did not want to have any contact with him.
One of Mel's neighbours said:
"The children are totally furious about the collapse of their parent's marriage. None of them is talking to their dad right now. They are very upset."
However, time eventually healed the fractured relationship.
During her father's alleged domestic violence accusations, her mother Robyn Moore defended her father, recalling him as a wonderful and loving father. While she did come forward with her testimony to protect Hannah and her younger siblings, this probably acted as a bridge towards reconciliation with their father. As of now, we would like to believe that all the siblings do share an amicable relationship with their father since Milo Gibson, their second youngest has been working with his father on movie projects.
Despite coming from a broken family, Hannah Gibson has built a loving home alongside her husband Kenny Wayne Shepherd and her six beautiful children.