To Shine in the Hollywood world without having any Godfather is something commendable. And the 37 years old Holly Willoughby is one of the few celebrities who has outshined in the media industry on her own. Holly is an English TV presenter who has hosted popular shows like This Morning, Dancing on Ice, I'm A Celebrity and many more. The model turned TV presenter is now married to Daniel Baldwin with whom she runs her own media house Roxy Media.
Holly Willoughby's Life Before Coming To Fame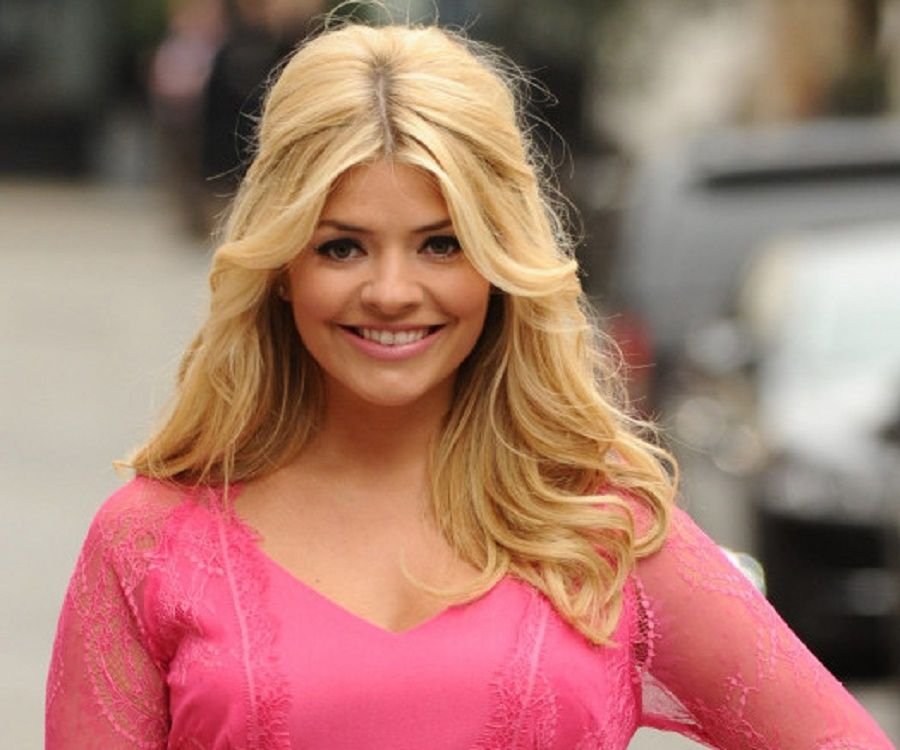 Holly Willoughby (born as Holly Marie Willoughby) was born in Brighton, England on 10 February, 1981. She was born in a family with a pretty low background to parents Brian R. Willoughby and Linda Willoughby. Holly's dad was a manager at a double glazing company while her mother was an air stewardess.
Her upbringing took place at Burgess Hill in West Sussex alongside her elder sister Kelly Willoughby. Holly attended Burgess Hill Girls School in West Sussex. She then went to attend the college of Richard Collyer located in Horsham. Moreover, her ultimate aim was to go to university to study psychology. She told Cosmo:
"I know that sounds slightly bonkers now but that was my plan, which is quite far away from where I am now".
Before making it to the TV industry, Holly had prior served as a receptionist for three years. The TV Queen has also worked as a cleaner in a pub and worked in many other small jobs too.
Breakthrough From A Model To TV Presenter
Holly Willoughby started her profession a bit early in her life. At the age of 14, her potential discovered by Storm Modeling Agency. And then in just a few years, she became the face of Rimmel, the body of Pretty Poll and appeared on the covers of various leading women magazines' like Mizz, Just Seventeen. Besides, she has also been part of various TV commercials and proved herself as a natural in front of the camera. That's when she realized TV presenting was the right job for her.
Her presenting career flourished when Holly won an audition for a show on CITV featuring  S Club 7 called S Club TV. She later made a guest appearance in the same show portraying the character Zoe alongside the regular members of the band.
After these shows, she took several menial jobs and also started an Open University course in psychotherapy. Eventually, she worked as an assistant manager during which she convinced her friend to make a show reel for her. This show reel linked her an agent who then contacted the BBC. This gave a major boost to her growing career. Later on, she became the host for various children shows for CBBC like X-perimental and CBBC at the Fame Academy.
In 2004, she re-joined CITV to co-present the show Ministry of Mayhem. This program led her to meet her husband Dan Baldwin, one of the producers of the show. In 2006, as the show gained popularity, its title was changed to Holly and Stephen's Saturday Shutdown. Holly has presented many children entertainment shows like Stars in the Eyes (2004), Feel the Fear (2005), and Tricky TV (2006).
Willoughby's major breakthrough as a mainstream family entertainer came when she became the presenter of the ITV talent show Dancing on Ice alongside Phillip Schofield. Till now she has presented many shows on ITV that includes Celebrity Wrestling: Bring It On, Lip Service, The West life Show: Live, Greased Lightnin, Streetmate, Holly and Fearne Go Dating, The Xtra Factor, Celebrity Juice, Surprise Surprise, Here Comes The Boys and popular show This Morning. Recently, she also has hosted the show I'm A Celebrity…Get Me Out Of Here!
Holly has gone out of her usual career and has published three books. She has co-authored series of children's books L'Etoile School For Stars with her sister Kelly. The first book in the series was published on June 20, 2013. This book became the UK's highest-selling book of 2013. The second book in the series was published on August 1, 2013. In addition, she has written a book titled "The Best Friends Guide To Life" with Ferne Cotton and self-help book "Truly Happy Baby…It Worked For Me".
Holly Willoughby's Personal Life
Holly has been married to Daniel Baldwin since August 4, 2007. The duo met while both working on the show Ministry of Mayhem on which Holly was a host and Dan a producer. From the decade long marriage, they are blessed with three children. They gave birth to their first child Harry James Baldwin on May 11, 2009. Similarly, their second child Belle Baldwin was born on April 2011 and youngest child Chester William on September 29, 2014. The family of five is residing happily in London.
Awards and Achievements
Holly Willoughby's hard work in the children's television was recognized in 2006. She bagged the Children's' BAFTA Award for Best Presenter. Likewise, Holly appeared in every FHM's 100 Sexiest Women Poll from 2005 to 2008. She ranked at 71st position in 2005, 30th in 2006 and 100th in 2008 in FHM's 100 Sexiest Women In the World. Her achievement in life also includes turning on Brighton's first Christmas lights for 25 years on November 16, 2006.
Her Richness
Although the exact net worth of Holly is not known, various sources claim that she bags healthy amount from her shows which makes her net worth more than million annually. Apart from this, she also owns 80% shares in Roxy Media. And to mark Roxy Media has earned 1.3 million last year. Thus, we can assume that the TV presenter is playing in millions.
Holly Willoughby is available on Instagram, Twitter, and Facebook. She has a pretty good follower on Twitter that counts 7.43 million and on Instagram, she has 5.1 million followers. Holly is mostly active on Twitter where she shares news related to her work and her life.