Considered as one of the greatest and groundbreaking sketch comedy shows of all time, the 'Chappelle's Show' proved that Dave Chappelle is at his best when it comes to comedy. He is known to be one of the best storytellers who never shies away from topics that could be sensitive to the mass. But the delivery of his jokes and punchlines of his stories is what ultimately hooks the audience.
Even after almost a 10 year hiatus from doing standup, he returned and put himself right back at the top. With his long standing career, one of the few people who was with him was his beautiful wife, Elaine Chappelle. With her, Dave shares three children, two sons and a daughter.
So what do we know about Dave's youngest son, Ibrahim Chappelle? Let's dive in a little deeper.
Ibrahim is the Youngest Son of the Chappelle Clan
In 2017's Jimmy Kimmel show, Dave said that his younger son Ibrahim Chappelle is 14 so we assume he was born in 2003 in Yellow Spring, Ohio, USA. His father Dave Chappelle is a comedian, actor, writer and producer while his mother Elaine is a housewife. Both of his parents come from very different backgrounds. His father is an African American who converted to Islam in 1998 while his mother is filipino and a devout Christian.
Ibrahim has an older brother Sulayman Chappelle and a younger sister Sonal 'Sanna' Chappelle. Their father's faith could probably be the reason why all three of the siblings have Islamic names.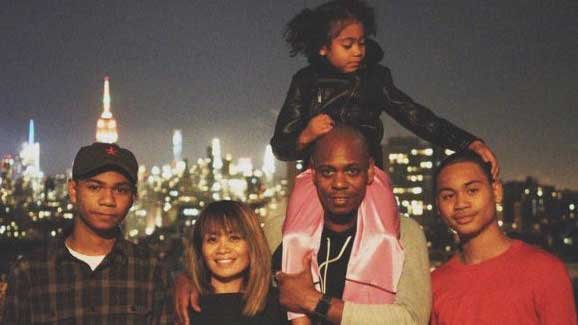 With the amount of media attention Dave Chappelle gets, it is quite astonishing that he and his wife have been able to protect their children from being exposed to unwanted publicity. Ibrahim's mother, Elaine herself enjoys to stay away from the media, hence it is really hard to get any information regarding the family. The couple has been raising their kids on a privately owned farm house near Yellow Spring, Ohio.
As of 2020, Ibrahim Chappelle should be in his high school. In one of his comedy sketches Dave mentioned that Ibrahim goes to a private school while his older brother goes to a public school. He went on to say, "It's an experiment. I just want to see what happens to him."
Ibrahim is a Big Kevin Hart Fan
My son was slapping his knee. Ha! Ha! Ha! Ugh Ni$$$, i do this too, Dave said to himself when Ibrahim was laughing miraculously at a Kevin Hart Show.
In one of his Netflix specials 'Age of Spin', Dave Chappelle revealed that once his son Ibrahim asked $250 from him so he could go to Kevin Hart's show with him.
"I was at home when my son busted in and he said, Dad, Dad, I need $250. He's only 12 years old so I freaked out. What's going on Ni$$$? Is somebody trying to kill you? He said, No No, Kevin hart is coming for the show."
Dave took Ibrahim backstage to meet Kevin Hart as he insisted on meeting his idol.
"I've known Kevin for years but can you believe I was scared to knock on his dressing room door," Dave noted.
Well that's what parenting is all about Dave. Dave went on to say that Kevin even invited them for dinner which his son accepted in the most hilarious way possible.
When asked about dinner my son went like, "Actually Mr Hart, we haven't eaten in several hours."
Kevin was generous enough to even give him a custom hand-stitched jersey that had K Hart printed on it. Lucky you young man!
How his parents Elaine Chappelle and Dave Chappelle Met?
Ibrahim's parents did not start their relationship right after meeting each other. Moreover, his mother thought that his father Dave was not her type as she did not prefer very loud people. As it turns out his whole loud personality was only the result of his shyness towards the woman he liked. Elaine eventually started to date him and soon after Dave proposed to her. Dave and Elaine got married in 2001.
Dave Chappelle is very proud of his wife and always regards her as his best support system. Even during the time when he suddenly quit performing and walked away from his career, she was still standing beside him supporting every decision he made. In their 19 years of marriage, the couple has continued to stay strong and have a happy family life with each other.
Son of the GOAT of Standup Comedy
Deemed by Kevin Hart as the "Goat" of his generation, Dave Chappelle has got his work cut out.
He is a comedian, actor, writer and producer who has been in the entertainment industry for almost three decades. He is best known for his satirical comedy sketch series 'Chappelle's show' that tackled controversial issues of modern society like race relations in a way that grabbed the attention of its audience. This show also gave us one of the most quotable lines 'I'm Rick James, Bitch'.
In 2016, Dave signed a $20 million per release comedy special deal with Netflix and as of now has released a total of five specials. In 2017, he made a guest appearance on Saturday Night Live for which he won an Emmy. He also has another Emmy for 'Dave Chappelle: Equanimity' and has three Grammys for Best Comedy Album. He has also appeared in several movies like 'The Nutty Professor', 'Con Air', 'Blue Streak', 'Half Baked', 'A Star is Born' and many more. He has an estimated net worth of $50 million dollars.
Dave Chappelle is a very loving father who always says that his children inspired him to do better. He mentioned in one of the interviews, "Everything changed after I had children. I took my professional life more seriously."
Ibrahim and his family are proud of his father's achievements
Dave Chappelle is known to keep a low profile throughout his career and hardly ever attracts unwanted media attention for the sake of his family. However there are some occasions when the public gets small glimpses of his family. In 2020, when Dave won the Mark Twain Prize for Comedy, his whole family band together to support him for his achievement.
During his acceptance speech, he thanked his family, especially his mother who was also present in the crowd for teaching him the virtue of African Griot.
While Ibrahim and his siblings have certainly grown up, the admiration and pride they hold for their father and his accomplishments is still present.