Jackie Aina has become a household name in the beauty industry over the last decade. She proceeded from being in the army reserve, considering makeup videos to foster her creative side in her leisure time, to becoming one of the top You Tuber- a name that she has never dreamt of. But Aina is much more than a bold beauty influencer. To know more about her, take a deeper look at our post which covers every details of her life.
Aina Wasn't Born with a Silver Spoon
Jackie Aina was born as Jacquelyn Lonje Olayiwola Oyeshola Bolayemi Aina on August 4, 1987. Aina was brought up in a rigorous Nigerian-American family while her mother was of Afro-American and her father was of Nigerian of Yoruba descent. She was raised in Los Angeles, California alongside her six siblings.
While growing up, her childhood wasn't luxurious as her family's financial condition was not so good. In an interview with Buzzfeed News, she recalled the moment when her family was thrown out of their shelter and had no roof above their head. In the same interview, she said:
Growing up, I had no leverage, I had no rich uncle.
Jackie Initially Had no Plans to Become a Beautician
Aina has made a big name in the industry as a cosmetologist. However, during the early phase of her life, she had some career goals. Raised in a strict Nigerian-American family, she was always taught to be a doctor, lawyer, or engineer in her childhood. With this ideology, Aina originally intended to become a doctor. In an interview with The Cut, she revealed:
My dad is from Nigeria and he expected me to do something more traditional like become a doctor or lawyer.
In the same interview, she revealed that she was given an ultimatum that if she chooses to pursue her career in the fashion industry or any other sector, she would be cut off from the family. In order to fulfil the desire of her parents, Aina even got enrolled at Cal State University San Bernardino.
However, she dropped out of the university as she felt that she wasn't born for becoming a doctor. After dropping out of the university, she found out her real interest was in the beauty industry and started working for it.
Jackie Aina is a Brand in Make-up Industry
Jackie Aina considered a degree in fashion at the age of 18 from Vidal Sassoon Academy. As soon as she became a licensed Cosmetologist, she was hired by Makeup Art Cosmetics in 2009. She credits her experience with MAC as a great way to gain inspiration from other artists and to learn things practically that you aren't exposed to in makeup school. Besides, she has also worked with the brand Bobbi Brown cosmetics for five consecutive years as a makeup artist. Once she said;
"When I was in the fourth grade, I walked around the playground telling people I wanted to be a Cosmetologist; I did not even know what that was, I just knew that's what I wanted to be when I grew up."
Most recently, the makeup guru is in the news because of her linkage with the renowned brand 'Two Faced'. She has also released beauty products in collaboration with e.l.f cosmetics and Sigma Beauty. Moreover, she is also associated with various high-profile brands like Lancome, NARS, Sephora, Disney and the like. For her contribution to the make-up industry, Jackie was honoured with the 'Influencer of the Year Award' in 2018.
Apart from this, Jackie professionally made a debut on YouTube in 2009 and started sharing her makeup tutorials which she created on March 12, 2006. The YouTube channel Jackie Aina was previously known as MakeupGameOnPoint and LilPumpkinPie05. Since 2009 Jackie's popularity on YouTube has reached over 3.56 million subscribers.
Likewise, in 2016, she was enlisted as a United Nations Global Change Ambassador alongside six other YouTube stars for her voice in the area of racism and gender equality.
She is Engaged with Denis Asamoah
The YouTuber is engaged to her long-term boyfriend Denis Asamoah aka Mr Worksmarter. Her beau Denis is a British Business Consultant, productivity coach, mentor and the founder of Mr Work Smarter. The duo have been together since 2014.
After dating for four years, the pair finally got engaged in August 2019. Denis planned a surprise proposal for Aina in Santorini, Greece with a big diamond ring. He left no stone unturned in planning every detail of the proposal from putting on a blindfold to setting the scene. After she said yes, they called their parents and close family members to celebrate.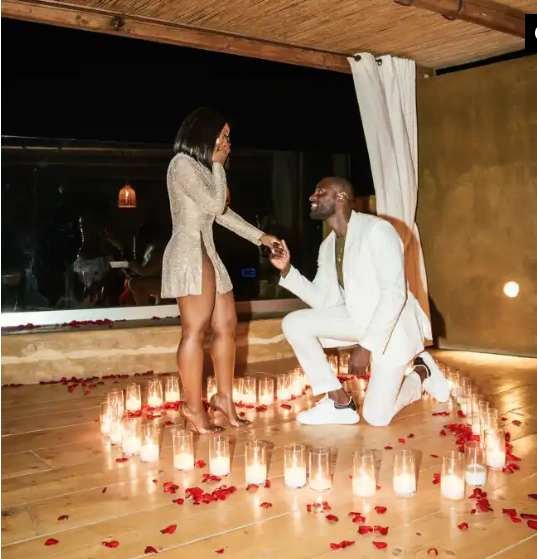 The pair together has a YouTube channel titled Denis and Jackie that features day-to-day vlogs regarding their private life. From cute couple videos to travel vlogs, you will find many private and heartening videos on this channel which shows the loving relationship shared by the YouTuber and her sweetheart.
Aina was Previously Married To a Guy Who Served in Military
Before her career took momentum, Aina was married and was living in Hawaii. While she was at Cal State University, she dated a man who was serving in the military. Upon his suggestion, she even joined the army force for two years. After dating for some time, she married the guy and moved to Hawaii at the age of 21 years.
However, things didn't turn out as expected and they parted their ways. As per Aina, the reason behind her failed marriage was a lack of support from her then-husband regarding her career. In a video uploaded on Youtube, she revealed that when she was in that marital relationship, her dreams were literally put on hold.
Further, she recalled that she wasn't being able to explore her interests and that's when she got triggered and gave a divorce. She didn't get any financial support after the divorce. She eventually sold her wedding ring from her ex-marriage to pay down the payment of her car. After separation, she moved back to California and gave a fresh start to her career.
Jackie and Kim were Dragged into a Controversy
The beauty guru seems to be surrounded by a lot of controversies. She is famous for her makeup videos, being political and outspoken about social issues such as racism and her unbiased beauty products review. In this course, Kim invited Jackie to her house for reviewing some KKW cosmetics products launched by the lady in 2017. But, the meet-up brought some controversies
According to some sources, Kim intentionally didn't tag Jackie in her Instagram post where all other personalities who came to her launch were named except Jackie. Her fans assumed that it was because of the reviews that Jackie made about the KKW products.
Later on, Kim cleared the whole thing up on Twitter that everything is OK between them. Despite the unintentional event, both women share a warm-hearted relationship with each other. Twitter post of Kim is the perfect proof of their friendship which says:
Jackie Aina Regards Pat McGrath as her Hero
In an interview with Glamour, Jackie revealed that makeup artist Pac McGrath inspired her to be in the makeup industry. While she was learning make-up, she read many makeup books and magazines and that's when she knew about McGrath. She said:
It was such a turning point for me. I can't even put into words what it feels like to see someone who likes like you, has that skin tone, doesn't come from a welle-connected background and makes it. It made me think for the first time that there could be space for me in this business and that I had a chance, despite who I am but because of it.