Growing up as a 90s kid, the one face that would constantly appear on TV and movie posters was that of Adam Sandler. He was at the peak of his career and almost everyone found his movie very funny. With his growing success, it became easier for him to provide kickstarter to some of his friends and family.
One such family member is his nephew Jared Sandler who got to work in the 1999 film 'Big Daddy' at a very young age. So, how has his life turned out to be? Let's find out.
Jared's Life Before Success
Jared Sandler was born on July 11, 1993, in Manchester, New Hampshire, USA to parents Scott Sandler and Denise Cohan Sandler. He also has a sister, Jillian Sandler. From his father's side, he shares two aunts Elizabeth and Valerie and an uncle actor and comedian Adam Sandler. From an early age, Jared showed interest in creative arts. After graduating from high school, he enrolled into the University of Southern California's School of Dramatic Arts in order to approach his budding interest in film and TV professionally.
Jared Started as Child Actor
Adam loves to include his family members in his movies. Everyone on his family from his wife to kids has had roles in the projects he works. It has always been like this. And, it's no different when it comes Jared as well.
At the time when Jared's uncle Adam Sandler had started hitting big in terms of his career during the late 90s and early 2000s, he got an offer to play a small part in one of his film projects. At the age of only six, Jared Sandler got to work in one of the biggest films of Adam Sandler's career, 'Big Daddy' which was released in 1999. The blue eyed kid who says 'I have a bellybutton' to Adam Sandler's character during a scene is the young Jared.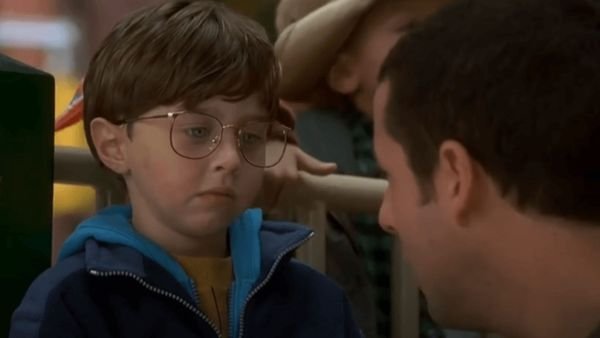 Working in the movie probably sparked the interest in the young Jared which is why he decided to pursue a career in the entertainment industry. He continued working in his uncle's many film productions. In 2002, he lent his voice for the comedy musical animation 'Eight Crazy Nights'. He went on to work in other movies like 'The Benchwarmers (2006)', 'Grown Ups 2 (2013)', 'Blended (2014)', 'Pixels (2015)', 'Hotel Transylvania 2 (2015)', 'The Ridiculous 6 (2015)', 'The Wrong Missy (2020)' and many more.
Aside from film roles, Jared has also acted in some TV series like 'Shameless' in 2014, 'The Goldbergs' in 2016, 'Sing It!' in 2016, 'Kevin can wait' in 2016 and 'Fickle' in 2018. Jared has also some short films acting credits under his wings. Some of his notable short films are 'Samezies (2015)', 'Yoyo (2019)', 'The Proposal (2019)' and 'Cut to Commercial (2020)'.
Jared has Excelled Behind the Camera
While he has a lot of experience working in front of the camera, he has also shared an interest in working behind the scene to understand the filmmaking process as a whole.
In his 2015 short film 'Samezies', Jared showcased his talent for writing, producing and even directing the film. Besides these, he has also produced a number of short films like 'Yoyo', 'The Proposal', 'Special Stuff', 'Cut to Commercial' and 'Zombie Apocalypse'. He also has directing credits for the last three short films that he had produced.
He Takes Inspiration from the Uncle
Jared following his uncle Adam Sandler footsteps would be an understatement at this point. Ever since he was a young boy, Jared has been admiring the work his uncle has put on to build up a career that has still been withstanding. After working in a bunch of Adam's film productions, he has slowly started to build his own career.
Like his uncle, he mostly works in comedy films and has even toured as stand-up comedian in different places like New York and Los Angeles. He has hosted and even guest starred in multiple comedy shows and sketches. There is no doubt that one day, he will catch up to his uncle.
Personal Life
Jared comes from a very close knit family. His family roots can be found all the way from Russia to Austria, German, British, Romania and even Poland. Both of his parents are from Jewish descent. He has two cousins, Sadie and Sunny, from his uncle Adam Sandler and aunt Jackie Sandler. 
Jared is known to be very enthusiastic about music and often in his free time prefers to listen to it. He also seems to like travelling and spending time with his friends and family. 
He has a dog named Tinky. He was reportedly dating a girl named Ashley but there is no information regarding if the couple are still together or not.
With the amount of movies, short films and comedy shows he is taking part in, he has a pretty bankable salary. His net worth is estimated to be somewhere between $100,000 to 1 million dollars as of 2020.
His Instagram is Full of his Works and Funny Posts
Being a Millennial, Jared Sandler has a very large social media presence, especially on Instagram. He has over 3500 followers and more than 400 posts. The man likes to post funny pictures of himself and shares funny moments of his time working in a movie set. He also promotes his work and shares videos of his comic stages. Apart from this, he is never shy to show his admiration for his uncle's works as he likes to share big news regarding his work through his Instagram posts.
Amidst the COVID-19 pandemic, the actor has been live streaming and connecting with his fans through jokes and other stories. He has also started a challenge with friends called '#mentallynaked' which is a small step for people to open up and talk about their struggle about how the pandemic is affecting them and their mental health.