Keanu Reeves is an actor whose name comes under the A-listed actors in Hollywood. His looks and acting skills have won the heart of many fans worldwide. Many may wonder why this dashing guy is still single and there are no rumors of his affairs. Once he was in love with a beautiful girl named Jennifer Syme who completely changed him. They started dating in early 1998. However, their relationship didn't last forever.
Meanwhile, Keanu Reeves' ex-girlfriend Jennifer passed away and he is still struggling to come out of that sad moment. Many speculate that his love for late Jennifer Syme is the reason he has never been married. But, who's this girl that changed his life completely?
Jennifer's Early Life Before Reeves
Jennifer Marie Syme was born on December 7, 1972, at Pico Rivera, South East Los Angeles. She was born as the only child of Charles Syme and Maria St. John Syme. Her father was a retired highway police officer. Jennifer's parents got divorced when she was young.
After divorce, she remained with her mother. She spent most of her childhood in the coastal city of Laguna Beach. Later on, at the age of 18, she moved to Los Angeles with her mother for a better life. There's little information regarding her personal life that includes her educational history, family members, siblings, and many more.
Jennifer Started her Career as PA, Later to Become an Actress
Jennifer Syme started her career working as a personal assistant to David Lynch. She worked as an intern in his production company 'Asymmetrical Productions'. Her first project with the director was the horror series 'Twin Peaks'. She showed outstanding performance during her internship amusing everyone including Lynch. While working she developed a passion for acting and started acting in the movies produced by Lynch.
In 1993, she debuted as an actress on the Hollywood screens with the thriller movie 'Lost Highway'. She depicted the character of a drug addict in the movie. While working as an actress, she became close friends with filmmaker Scott Coffey. Scott gave her a role in one of his movies 'Elle Parker'. Unfortunately, the movie was released in 2005, four years later after she demised.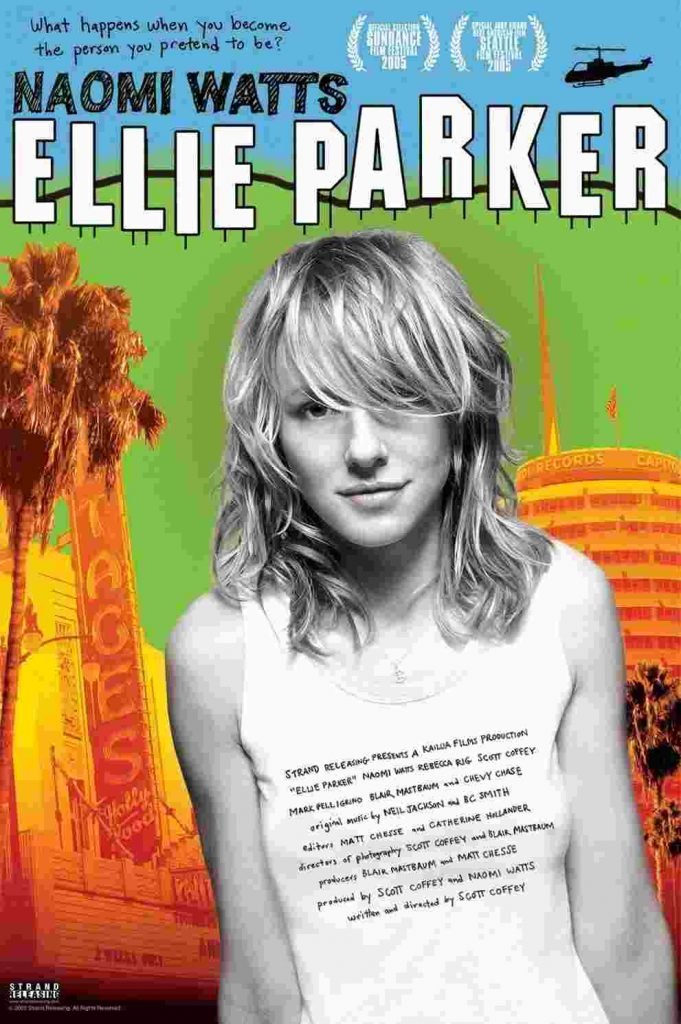 Further, she served as a personal assistant to Dave Navarro. He is a popular musician who is a member of rock band Jane's Addiction and a former member of the Red Hot Chili Peppers. Jennifer didn't appear in any other movies other than Lost Highway and Elle Parker.
Her career didn't offer her the stardom she wanted, but her relationship with Keanu Reeves certainly did.
How did Jennifer and Keanu Fell in Love?
Keanu Reeves is undoubtedly one of the best actors in Hollywood. Many actors still dream of attaining Keanu's level of popularity and fortune. The talented actor and Jennifer Syme first met at a party in 1998. The party was organized on the honor of his band Dog Honor. The pair instantly fell in love with each other and started dating.
Shortly afterward, Jennifer was pregnant with Keanu's child. He even bought a house for Jennifer in order to protect her from all the media attentions. The couple dreamt of welcoming their child and had many thoughts for their child.
Unfortunately, their happiness turned into a tragedy when they found that their child was dead in the womb, during the eighth month of pregnancy. The stillborn child was removed surgically in December 1999. She was named Ava Syme Reeves and was buried at a cemetery in Westwood Village. After the tragic incident, Jennifer suffered from depression and went on medical treatment.
Following the demise of their child, Keanu and Jennifer's relationship started to take an ugly turn. Eventually, things didn't work out and they ended their relationship in 2000. They remained as good friends then after.
Jennifer Died in a Tragic Car Accident
Jennifer Syme was just 28 years old when she left the world. She died on April 2, 2001, in a tragic car accident. On April 1st, she was returning to her home after attending a party thrown by musician Marilyn Manson. It was reported that she left the party early and was driven home by one of the guests.
However, she again left for the party venue driving her 1999 Jeep Grand Cherokee. And on the way, she crashed into a couple of parked vehicles and got ejected from the vehicle. She got multiple injuries and died on the spot. She was then buried next to her daughter's graveyard in Westwood Village Memorial Park.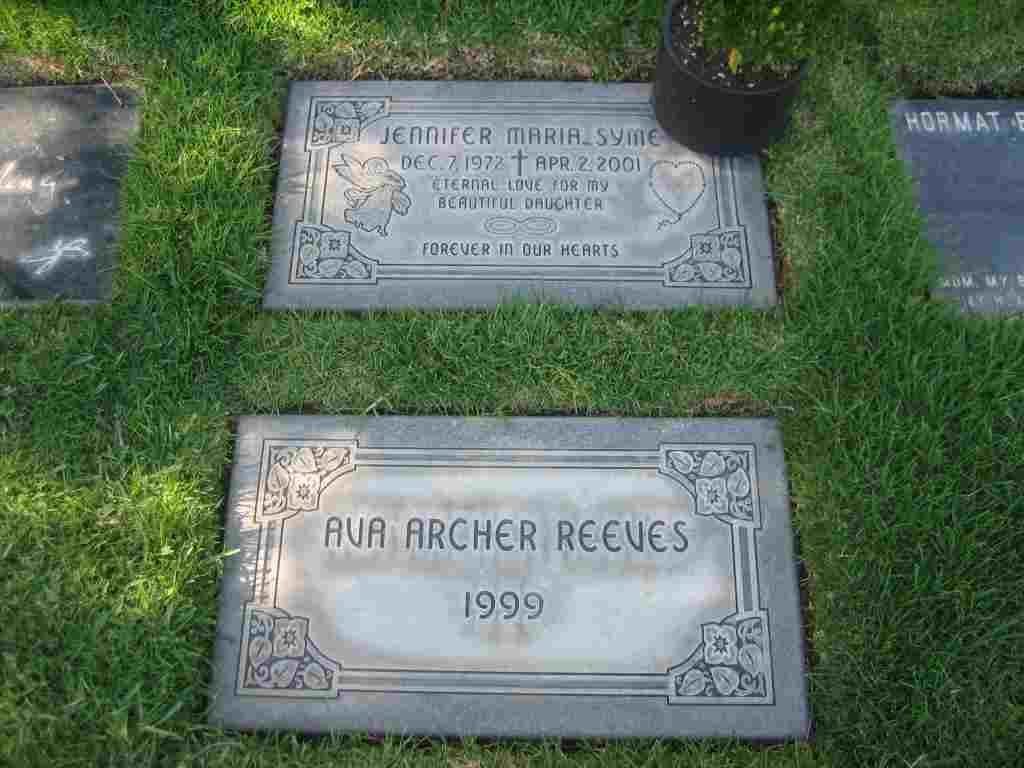 The LA Police investigation revealed that Jennifer wasn't wearing her seat belt and was found drunk. The tabloids reported that the packet of drugs was also collected from her jeep. However, Syme's mother later claimed that she was using the drugs as a medical prescription to deal with the depression she was going through.
Keanu Addressed his Girlfriend's Untimely Departure in an Interview
The untimely demise of Jennifer Syme was a great loss to her family and friend. Her ex-boyfriend Keanu Reeves was also shattered by her death. In 2006, Reeves addressed his grief in an interview as;
"Grief changes shape, but it never ends. People have a misconception that you can deal with it and say, it's gone and I'm better. They are wrong. When the people you love are gone, you are alone. "
He further added:
'I miss being a part of their lives and them being part of mine. I wonder what the present would be like if they were here-what we might have done together. I miss all the great things that will never be. Damn it! It's not fair! It's absurd."
Little About her Partner Keanu Reeves
Keanu Charles Reeves was born on 2nd September 1964 in Beirut. He was born as the son of Samuel Nowlin Reeves and Patricia. His mother was a costume designer and a performer. Born in a middle-class family, Keanu Reeves has worked hard to achieve success in his life. He is best known as a Canadian actor and musician. Keanu made his acting debut at the age of 9 with the theater production of Damn Yankees.
In 1984, he made his screen debut with the CBS American sitcom Hangin' In. Finally, in 1986 he got his first notable role in the movie 'River's Eagle'. And after this, his career took a peak and rest is all history. Keanu has appeared in blockbuster movies like Bill & Ted's Excellent Adventure, The Devil's Advocate, Speed, The Matrix Trilogy, Constantine, John Wick franchise and many more.
In 2005, he was awarded a star which is situated at 6801 Hollywood Boulevard on the Hollywood Walk of Fame for his incredible acting journey.