Known for her down-to-earth, forthright personality Jillian Fink, is best known for beautifying Hollywood celebrities for their red carpet appearances. Her makeup skills have helped her make a name in the beauty industry. She enjoys developing new beauty products and pioneering beauty trends. However, Jillian is mainly known as the wife of the "Grey's Anatomy" star, Patrick Dempsey.
When the duo first met, both of them weren't available. But, still, they ended up falling for each other and we got one of the most iconic couples in Hollywood, Jillian, and Patrick Dempsey.
FAQ about Mrs Dempsey
How Old is Jillian Fink?

54 years old

What does she do?

She is a makeup artist and has her own beauty product line.

Are Patrick Dempsey and Jillian still married?

Yes, together since 1999.

Where was Jillian Fink born?

Winthrop, Massachusetts, USA

Did she file for a divorce with Patrick?

She filed for the divorce but, the divorce didn't get finalized. She withdrew the case within no time to give her love a second chance.
Jillian Fink's Life before Fame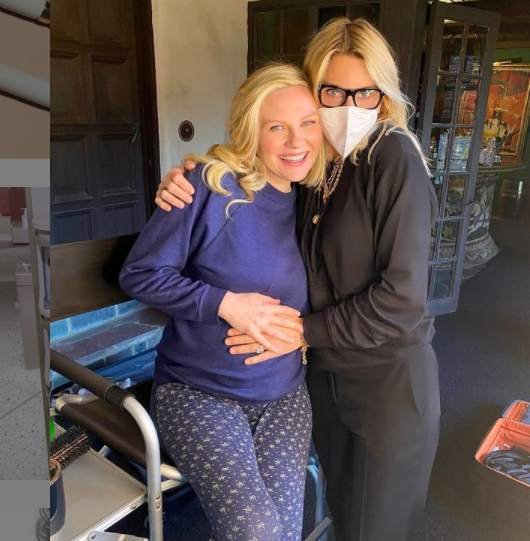 Jillian Fink Dempsey was born on February 4, 1966, in America. Her father was an education administrator from Denton, Texas. Meanwhile, there is no information regarding her mother and other immediate family members. However, we do know that she has a sister named Kristin Fink Mason. She grew up in California along with her sister. From the early age of her life, she was an ardent animal lover. Fink owns two French bulldogs named Horton and Clem.
As per education, after graduating from high school, she took admission to 'The Charles Ross School of Beauty' located in California. As she was always interested in makeup, she followed her interest and went on to hone those skills at the school.
Makeup was her First Interest Since Her Childhood
Jillian Fink is a talented makeup artist who is ruling the beauty industry in Hollywood. She is famous for experimenting with Hollywood celebrities' red carpet look. Her skills to give spectacular looks to her clients is her fortress. She has her own product lines of makeup. Her passion for cosmetics dates back to childhood when she applied makeup to her dolls. In 1988, she attended "The Charles Ross School of Beauty" in Southern California. Regarding the same, she said in an interview:
"In high school, I sold a private label brand of makeup to my friends and their mothers, I practiced on anyone I could get my hands on."
She Works as a Makeup Artist in Hollywood
Jillian began her career in the beauty industry in the early 1990s. In 1992, she earned her first on-screen makeup credit. She worked as a makeup artist on the television movie "Something to Live for: The Alison Gertz Story." However, she stepped into mainstream Hollywood when she was appointed as the lead hairstylist and makeup artist for the thriller, 'The Crew'. Her other recognition as the artist was her work on Skipped Parts, Stunt Fighter, Charlie's Angels.
Likewise, Jillian was the first global creative color director of the cosmetic brand 'Avon'. In collaboration with Avon, she announced the launch of new a line of makeup products. Moreover, as a professional makeup artist, she has styled many Hollywood stars for their red carpet appearances.
Some of her highly praised red carpet looks were for Kristen Stewart, Leslie Mann, and Kristen Dunst. Her famous work also includes the makeup look she gave to Jennifer Lawrence which was featured on the cover of Yodonna Magazine.
Apart from these, Jillian also owns a website, which is primarily for promotional and vlogging space but doubles up as a shopping site featuring her beauty products. She hand selects organic and naturally-driven ingredients while formulating her product line.
She aims to bring revolution in the beauty industry by manufacturing zero-chemical products that will help reduce the harmful effects of makeup. Also, Jillian has a 'YouTube' channel where she posts makeup tutorials to help her fans achieve celebrity-like looks.
Jillian Met Patrick at a Hair Salon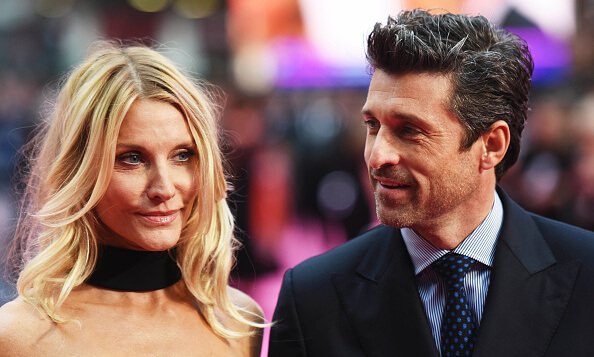 The makeup artist is married to Grey's Anatomy star Patrick Dempsey. Patrick met Jillian shortly after his divorce from his first wife Rocky Parker in 1994. The duo met each other at Fink's hair salon where Patrick scheduled a quick hair trim. In an interview with People, she recalled the moment she first saw Dempsey and said:
I was shocked when he came in for an appointment but at the same time, I was happy because he was so cute.
After Patrick's frequent visits to the salon, he caught the wind that she was single in 1997. He then finally asked her out for a date. Dempsey cooked pasta for Fink on their first date at Dempsey's house. Three months after their first date, the duo moved in together. Things moved rather quickly for the couple and the rest is all history.
Jillian and Patrick Got Married After a Whirlwind Romance
After dating for a long time, Jillian married Patrick on July 31, 1999. Their wedding ceremony was held at Patrick's family farmhouse in Maine. One of the attendees of their wedding, Kristin Fink mentioned that Patrick broke down into tears when he saw Jillian walking down the aisle towards him.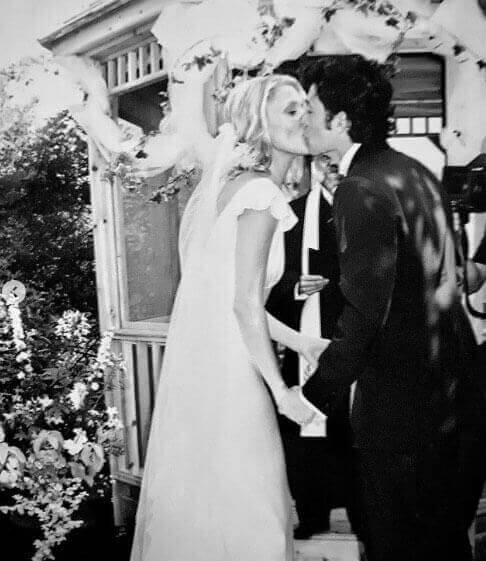 Since the day they were united, Jillian shares a beautiful relationship with her husband. She tests out makeup colors and nails polishes on Patrick. Patrick once told People:
"I had to explain to my guy friends why I have different colors on my hand," referring to the various shades of nail polish Jillian had tested on his nails.
Jillian and Patrick have come a long way in their marriage journey. They will soon be completing their 20 years on the 31st of July. Their 20 years of togetherness have blessed them with three kids and are living happily in Los Angeles.
She is Mother to Three: Tallulah, Darby & Sullivan
Their two-decades-long courtship has blessed them with three children. They embraced parenthood for the first time when they welcomed daughter Tallulah Fyfe on February 20, 2002. Currently nineteen years old, Tallulah is attending a college in Washington DC.
The pair after five years later gave birth to fraternal twins Darby Galen Dempsey and Sullivan Patrick Dempsey on February 1, 2007. The couple was residing happily with their three children until 2015 when Jillian filed a divorce in January 2015 after 17 years of togetherness. The news of their separation turned out to be the biggest nightmare for their fans.
Jillian and Patrick are Still Going Strong amid a Breaking Point
As per TMZ, Fink filed for a divorce in 2015 following irreconcilable differences. She sought custody of her three children along with child and spousal support. As soon as the news went public, the duo released a joint statement stating:
"It is with careful consideration and mutual respect that we have decided to end our marriage. Our primary concern remains the well-being of our children, and we ask with profound gratitude that you respect our family's privacy at this very sensitive time."
However, both weren't ready to give up on their relationship. So, the duo decided to work on their relationship and give it a second try. They even took the help of a counselor and it worked.
On November 4, 2016, Jillian filed to have the divorce papers dismissed. A few days later the court granted their request and ever since they are sharing a healthy relationship. Talking about the same, speaking with People, Patrick told:
Our marriage was not something I was prepared to let go of. I didn't feel like we had done all the work. And we both wanted to do that work. That's where it started.
After their reconciliation, Jillian and Patrick went back to the place where they said "I Do" to celebrate their 19th anniversary. The actor shared the photo from memory lane with a beautiful caption on his Instagram.
Her Makeup Line is Increasing
Jillian Dempsey makeup has become quite a successful brand with Jillian expanding her makeup line to eyeliners and concealers. She has already launched her Khôl eyeliners and spot stick concealers in the market. Her products being vegan and cruelty free has made it easier for people to appreciate her products even more.
Apart from that, she also introduced the lip locket necklace that was inspired by an edgy-chic Jillian Dempsey design that was actor Kristen Stewart's favorite . The locket could even store her lip tints.
She is Stepping into the Hair and Skin care industry
For Jillian going into the Hair and Skin care industry seems like a natural choice. Through her namesake brand, Jillian has launched eye masks and face sculpting tool called the Gold Bar. The reviews regarding the products have been generally good.
She has also recently revealed her hair styling product called Roomie and Roadie.
We look forward to what more she has to give through her skincare line.
How rich is Jillian Fink?
Jillian Fink has marked her position as one of the top celebrities' makeup artists in the US. Talking about Fink's net worth, she earns an impressive amount from her career. Though her exact net worth and salary is not disclosed, it is obvious that her earning is in million dollars. Meanwhile, her husband Patrick has a net worth of $60 million.