When British rock band Queen debuted in the early 70s, none would have thought they would go on to become one of the legendary acts to ever exist in music. But here we are decades later still jamming to Killer Queen, rocking out to Radio Ga Ga, clapping our hands to We Will Rock You, dancing to Crazy Little Things Called Love and trying to sing Bohemian Rhapsody. While each and every member of the band brought multiple talents that defined Queen, there is no denying the exposure their frontman Freddie Mercury brought them.
Freddie Mercury was a genius performer with a powerful vocal range and charismatic stage presence who knew how to take control of stadiums full of tens of thousands of people; the Live Aid '85. But taking aside his flamboyant stage persona, what do we really know about the man Freddie Mercury? Never having come out as queer throughout his life, Freddie Mercury had relationships with both men and women. One of his most significant partners was Jim Hutton who was with him in his final years. So who is Jim Hutton and what happened to him?
Jim was a Hairdresser
Born in Carlow, Ireland in 1949, Jim Hutton was working as a hairdresser to earn a living. Even after being in a relationship with Freddie, he continued to work as a hairdresser throughout their relationship.
Jim Hutton met Freddie at a Gay bar 'Heaven'
Unlike in the 2018 biopic movie where Freddie and Jim meet at an extravagant party, they actually first met at a London gay bar Heaven in the early 1980s. Their first exchange was far from an immediate attraction where Jim even failed to recognize Freddie as the frontman of Queen. He even refused a drink offered from Freddie since he was already seeing someone else at that moment. But fate had other ideas as they met again some months later at a restaurant and then again at a club 18 months later. After this the two soon started seeing each other and even moved in his London home Garden Lodge not even a year later.
Their relationship didn't Have a Smooth Sailing
In his book 'Mercury and Me', Jim Hutton revealed that the initial days of his relationship with Freddie were not exactly harmonious. They even got into a fight after Jim saw Freddie leaving Heaven with another man. Another similar incident happened after Freddie was seen leaving his apartment with another man. Their on and off relationship finally stabilized after Jim gave Freddie an ultimatum to make up his mind which he agreed upon. Recalling this, Jim explained:
"Deep down I think that he wanted to be secure with someone who was down to earth and not is impressed by who he was."
Jim Stayed with Freddie for Seven Years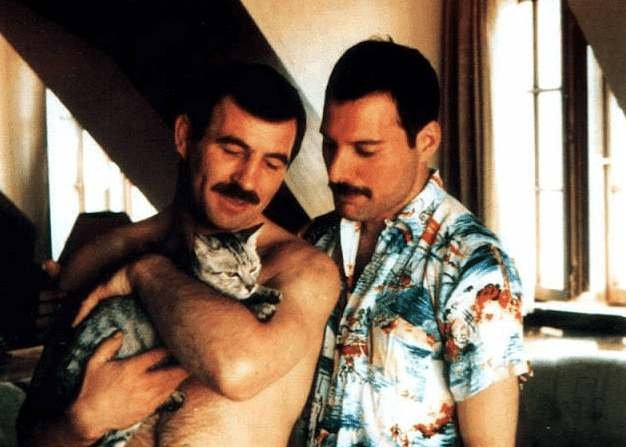 After their initial hurdles, the couple started to live quite a normal life in their home. While his professional life was full of glitz and glamour, Freddie would go on doing mundane things with Jim. Jim recalled:
"He loved his cats. I'd get in from work. We'd lie together on the sofa. He would massage my feet and ask about my day."
Throughout his life, Freddie never came out publicly as a homosexual and rarely talked about his lover. Whenever he was asked about Jim he would always say that he was really happy in his relationship. He once talked about his relationship,:
"I finally found a niche that I was looking for all my life. It's like I'm not. I don't have to try so hard, I don't have to prove myself. I've got a very understanding relationship."
To symbolize their commitment to one another, both Jim and Freddie even wore gold wedding rings.
The Live Aid concert was Jim's First Rock Concert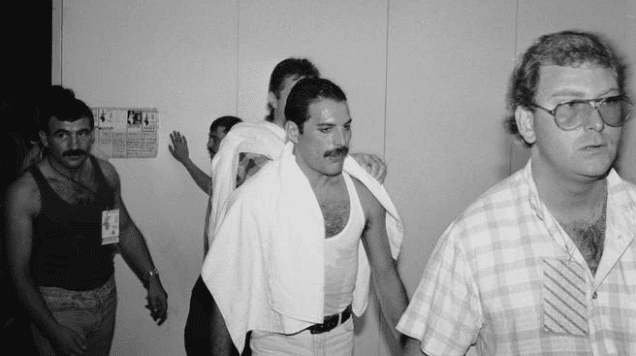 Even though Jim was living together with the frontman of one of the biggest rock bands of that time, Jim Hutton had never seen Queen perform live. The Live Aid concert 1985, held to raise funds for the relief of the famine in Ethiopia, gave the world one of the greatest performances from Queen which Jim got to witness live from the backstage. Reminiscing about the concert, he said, "I was gobsmacked. You could feel the effect his stage presence had on the crowd."
He stayed with Freddie throughout his battle with AIDS
It is said that Freddie Mercury showed symptoms of HIV as early as 1982 but he was only diagnosed as HIV/AIDS positive in late April of 1987. Freddie Mercury when questioned however denied that he had the disease. While he was battling with the disease, a small group of close ones stayed with him. Among them was his lover Jim Hutton. Remembering his revelation of his condition to Jim, he said:
"He said to me, 'I would understand if you want to pack your bags and leave.' I told him, 'Don't be stupid. I am not going anywhere.'"
Although Jim was nursing Freddie through his heartbreaking condition, it was pretty evident that he was not responding well to the medication albeit the medication itself was in its initial stage. Jim later on admitted that he was perhaps in denial regarding Freddie's deteriorating health and had noticed how skeletal he had become on the morning of his last birthday.
Remembering one of his last days, Jim talked about a day when Freddie suddenly wished to see his beloved art collection. He said:
"It was 6 a.m. He wanted to look at his paintings. 'How am I going to get downstairs?' He asked. 'I'll carry you,' I said. But he made his own way holding on to a banister."
Some days later, on November 24, 1991, Freddie Mercury passed away from bronchial pneumonia as a complication of AIDS.
What did Freddie Mercury leave for his partner Jim Hutton?
The tragic loss of his partner left Jim devasted and he claimed he went 'absolutely crazy'. Before dying, Freddie made sure that his partner would not have a hard time ahead in the future and left him a total sum of £500,000. However, Freddie left most of his wealth including the Garden Lodge where the couple was residing to his longtime friend and ex-girlfriend Mary Austin.
He moved to Ireland after Freddie's Death
Following the death of Freddie, Jim moved back to Ireland after Mary Austin allegedly gave him three months to move out of Garden Lodge. After going back, he used the money Freddie left him behind to build himself a home. A year later, he published his memoir 'Mercury and me' recounting some of his intimate moments with the singer. According to him, the book partially helped him through the grieving process of losing his loved one.
Jim Succumbed to Cancer
Jim Hutton was diagnosed with HIV in 1990 but he did not tell Freddie until a year later. Throughout his life, he continued to live with HIV and did so for almost two decades. But apart from that, he was also diagnosed with lung cancer that ultimately took his life in 2010. Jim was only three days away from celebrating his 61st birthday.