He was a movie star and she was a publicist. They met in New York when the actor knew noone. Found love for each other. Got married and then lived happily ever after.
Doesn't it sound like a plot of a Rom-Com? But in fact it's a true story of Paul Rudd and his wife of 18 years Julie Yaeger. Rudd's making headlines for all good reasons due to how popular the "Ant-man" franchise has become. And how young and identical he still looks from his movie "Clueless." I mean that movie was 26 years ago and the guy doesn't seem to age at all.
Well, may be it's his wife and his family behind his success as well as healthy lifestyle. After all, she has been together with Paul for exactly 26 years. And Paul never backs away from complimenting his wife for being his best friend and the best mother he could have ever imagine.
But who is Julie Yaeger exactly? And how did it all unravel? Let's find out.
Paul Met Julie through his Publicist
It was written in the stars! That's what I think about the relationship that panned out between Julie and Paul. It was 1995 and Paul was high on his success from his role as "Josh" in the rom-com, Clueless. According to Luke Crisell's website, Paul had just moved to New York. And, he knew absolutely no one. He went straight to the publicist's office and took off for his audition. A beautiful lady with a broad smile from the office tagged along with Paul and assured her that she would take care of his luggage while he was away auditioning. That woman was "Julie Yaeger." And just after few days, he asked her out for lunch.
And, that's how it all started.
Yep! he literally married the first woman he knew in New York. Now, if you don't believe in fairy tale, well you should.
Talking to Marie Clare in 2018, he still vividly remembers the time he first met his wife. Amy Heckerling, the director of Clueless wanted him to get a publicist. And hiring a publicist is what he did.
"She was the first person I met in New York. We started talking and there was a maturity with her – she had experienced some tragedy in her life, I had too, and the impression I got was, wow, this is a woman. This isn't a girl. I was really taken with who she was and how she had overcome and was in the process of overcoming adversities in her life. There was a perspective that she had and still has on the world that you don't come too easily – it's earned and most people don't have it at such a young age," he explained.
From Publicist to Screenwriter, Julie wear Various Hats
Not all heroes wear capes! Julie is definitely one of them. She is a wonderful mother to two beautiful kids and a wife to the most down-to-earth guy in Hollywood. She is the glue that gels the family together. But that's not the only thing she is good at.
As established earlier, she started as a publicist. She worked as a unit publicist in few movies like "Mr Jealousy" and "Niagara Niagara." She also got a small part in the 1997's commercial hit "Men in Black." Perhaps, dating someone from the industry does help.
Over the years, she has switched to various roles. She has worked as a digital media coordinator in companies like McDougall Communications and Good Way Group. In 2005, She also produced Tv Series, "The suite with Dave Karger."
Eventually, she put her focus to her new role as a screenwriter. She started her screenwriting career with 2017's "Fun Mom Dinner" directed by Alethea Jones. Unfortunately, the movie wasn't received well by audience or critics. However, the characters were given a good share of praise by the critics.
They Dated for 8 Years, Married for 18 Years, and have Two kids – Jack and Darby Rudd
According to Luke Crisell, the first thing he asks from his publicist was Julie. Well, he didn't demand her per se. But he was so attracted to her that he just went after her. One date turned into a hundred. And in no time at all 8 years passed by.
After dating for 8 years, Paul finally decided to put a seal on it. And, on 23rd of February, 2003, they got married in a private ceremony. It's said that it was a really tight-knit ceremony attended mostly by family members.
Together they have two kids, son, Jack Sullivan Rudd (born on 2006) and daughter, Darby Rudd (born on 2010).
Although Paul and Julie both keep their relationship under the radar, we can clearly see the love and compassion between the duo. Julie hardly misses any movie premiere and is always holding arms with his boo!
Julie and Paul both have Awesome Parenting Skills
Paul is always throwing golden nuggets on parenting skills. He never skips a beat when he's talking about his kids and how he's not the coolest dad for them. In an interview, he mentioned how his kids couldn't care less if he was this big Hollywood actor. Talking to ET online, he vividly remembers how stupid they think he will be playing Ant-Man.
"When I told my own son that I was going to be in a superhero movie, he asked what it was," Rudd recalled. "I said, 'We'll I'll be playing Ant-Man.' He said, 'What?' He was not that impressed." He even went on to say 'wow I can't wait to see how stupid that'll be.' Ouch! that must sting.
Paul and the kids are always about banter. They don't take a second to pull each other's leg. Talking to Mr. Porter, he remembers when he was knocked down on the ground in 'Undercover Boss,' the kids are like 'Oh, Dad's crying again.' That's some special bond they have with each other.
For Paul, the real Cassie is his own daughter Darby. "I do little things in the movie that are little things for her," he said talking in a Q/A session.
The Secret Sauce Behind Paul and Julie's 18 Years of Marriage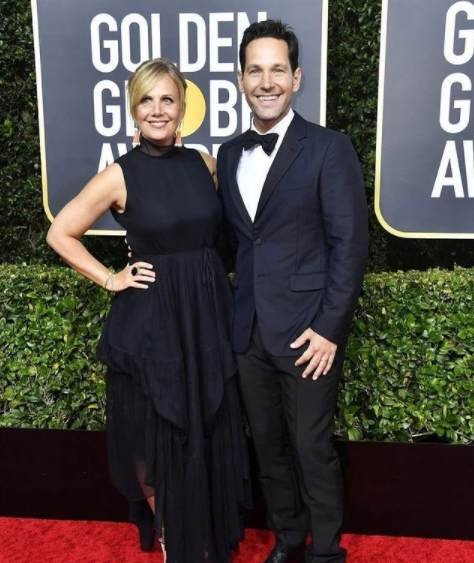 While many celebrities' relationships walk on thin ice, Paul's marriage with Julie has been a steady one. Paul and Julie are one of the most private couples in Hollywood. The couple has labeled their 'family' on the topmost place on their priority list. Both of them believe in letting go of each other's mistakes and accepting each other's opposite personalities. And maybe that's what had made their relationship stronger.
While most celebrities love going on vacations, Paul and Julie love spending most of their time joking and having funny conversations with their kids at home. They believe in celebrating days within the family away from the limelight. Recently, Julie threw a party to celebrate Rudd's 51st birthday at home as they couldn't step outside due to the ongoing pandemic. Julie, Darby, and Jack together created a scavenger hunt for his birthday. While talking in the show 'Friday Night in With the Morgans, she said:
We made him a little scavenger hunt and made him walk around the house. We made him go up and down the stairs and in each little spot there was a post-it telling him the next place to go.
Likewise, the family of four often make public appearances together on various red carpet events. Recently, Julie attended the red carpet for the premiere of the movie 'Fun Mom Dinner' with Paul. They have perfectly made a balance between their personal life and professional life. And, there is nothing in-between.
I would have loved our wily little "Mike Hannigan" to meet someone like Phoebe Buffay (of course! I'm a big Friends Fan). However, things aren't always meant to be that way. She might not have the quirkiness like Phoebe but she does know how to take care of him. And, that's what it matters.