Broken marriages and relationships are common in Hollywood. Celebrities often pass through failed marriages but finally are able to find their true partner after multiple attempts. The same goes for the actor Josh Brolin. It seems like he has finally found the true partner in Kathyrn Boyd who is two decades younger than him. While Josh needs no introduction, his now wife Kathyrn is not known by many. So, who is Josh Brolin's wife Kathyrn Boyd?
FAQ
| | |
| --- | --- |
| Who is Kathyrn Boyd married to? | |
| She is married to actor Josh Brolin. | |
| How old is Josh's third wife? | |
| 32 years old | |
| How much does Kathryn earn from her career? | |
| Unknown | |
| Are Josh and Kathyrn still married? | |
| Yes | |
Early Background: How Old is Kathryn?
Kathyrn Boyd was born on October 12, 1987, in the city of Atlanta. She grew up in Atlanta with her parents whose identity is unknown. For primary education, she attended 'The Lovett School" and graduated in 2005.
Kathyrn then graduated from the Grady College of Journalism and Mass Communication with a bachelor's degree in magazine journalism. She also did a brief course in photojournalism during her tenure at the college. Further, she moved to Itlay to do a course related to photography. Boyd there attended Santra Reparta International School of Art in Florence.
This much information is known about Kathyrn's early life before she bloomed into the world of stardom.
Career Progress
Soon after completing her education, Kathyrn commenced her career as a production assistant in the American entertainment industry. Her first gig was in 2010 when she served as a production assistant for the Bonanza Productions. She worked in the crime-drama TV series 'Past Life". Following year she worked as a production assistant in the American music film Footloose in 2011. Boyd has also worked behind the scenes on the production of other movies like The Watch (2012), Oldboy( 2013), Dumb and Dumber To, Sin City: A Dame to Kill For (2014), Inherent Vice (2014) and Everest (2015).
While she was working as an assistant in the entertainment world, she got the opportunity to work as a model. She was signed by "LA Models" in 2014. She has been featured on the cover of popular magazines like The Atlantan, Vogue, and Who What Where.
Also, the same year she tried her hands in acting. She joined the Screen Actors Guild-American Federation of Television and Radio Artists as a theater actress. As an actress, she has played roles in movies and television series like Bad Company, Rideshare, Loveless in a Brown Room, The Inspectors, and Ride to Vegas.
Apart from working as an actress, model, and production assistant, she has recently introduced herself as an entrepreneur. She is the founder of the denim brand "Midheaven Denim" located in Los Angeles. The clothing brand offers a line of premium denim made from Italian fabric especially to cater to the needs of tall women.
The idea behind the establishment of the clothing line emerged when Kathryn found difficulty in finding perfect jeans to suit her height. Her search was accompanied by many frustrating hours spent trying on pair after pair. Eventually, she recognized the niche of women like her and what came next was the fashion line Midheaven Denim.
However, her success has been overshadowed by her relationship with THANOS actor Josh Brolin. She bloomed into public scrutiny when her name was officially linked with the actor.
Beginning of Whirlwind Romance with Josh Brolin
Boyd and Josh first met each other when she was working as a production assistant. Both of them were working together on the same project. Further, in 2011, Kathyrn joined Brolin's production company "Brolin Productions". She served as a personal assistant to Josh before commencing their romantic relationship. As per multiple sources, Josh and Kathyrn started dating from March 2013, one month after Josh ended his relationship with his then-wife Diane Lane.
At the initial phase of their relationship, both of them kept their relationship a secret. However, Josh and Kathyrn were caught kissing on a romantic gateway in Rome. After dating for two years, the couple got engaged in 2015. The couple went down to Cabo San Lucas, Mexico for celebrating their engagement.
The duo was spotted celebrating at Bar Esquina with their close friends in the mid-may of 2015. Kathyrn was captured flaunting her stunning square-cut diamond engagement ring while she attended the premiere of the movie Sicario at the 2015 Cannes Film Festival.
One year later after their engagement, Kathyrn and Josh got married in a private ceremony.
Kathryn and Josh's Wedding Saga
Kathryn and Josh Brolin tied the nuptial knots on September 24, 2016, in Cashiers, Northern Carolina. They tied the knot in front of close family members and friends. Among the attendees were Matt Damon and Bradley Cooper. The guests used the hashtag #JBKBStuckTogether to share the pictures from their bachelorette party, rehearsal dinner, and the special day on social media.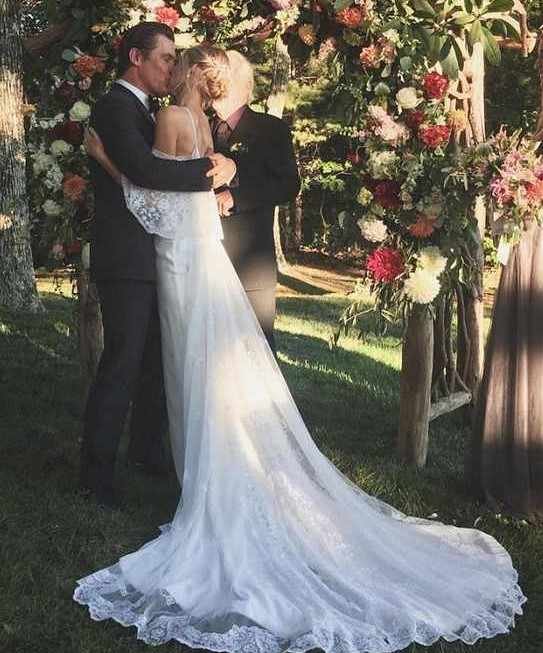 While they were busy celebrating their new life, rumors began circling that Brolin's step-mom didn't accept his marriage to Boyd. However, such theories were never confirmed by them. It is believed Kathryn and his step-mom have a good relationship today.
The duo has perfectly balanced their odd things out and is living happily supporting each other. The pair has proved age is just a number if true love exists in a relationship. Josh is extremely happy to find his soulmate on the third go. He never misses a chance to be with Kathyrn and often goes on vacation with his new family. In an interview with US Weekly, when asked about his married life with Boyd he told:
"When it's good, it's good. When it's not good, it's not good. The best thing I don't understand when people don't want to be around their wives . That's the best thing , because I don't really care to understand that."
Though the marriage is first for Kathyrn, it isn't for Josh Brolin. Prior to getting married to Boyd, he was married to Alice Adair and Diane Lane.
Josh and Kathyrn are Parents to Daughter: Westlyn Reign Brolin
The four years of courtship have blessed them with a daughter named Westlyn Reign Brolin nicknamed as Bean born on 5th November 2018. The proud parents shared the news of her arrival by posting on Instagram where they were sharing their to-be parent's journey from the beginning. After Bean arrived in the world, Josh couldn't stop himself from sharing his joy and wrote in his Instagram:
"Mama Kathryn was stellar during this miracle birth and Bean is a flawless gem through and through. We are blessed to the core and appreciate so much the love and support during this pregnancy from ALL who have partaken in our journey, directly and indirectly."
Further, the new mother also posted a video of baby Bean smiling on Instagram and wrote:
"Our family's newest and tiniest member. Nothing compares to this…..nothing. My heart is totally different forever. @joshbrolin thanks for this little life of ours."
Besides, she is also a step-mom to Tevor Brolin and Eden Brolin, Josh Brolin's children with his first wife Alice Adair.
Net Worth
Kathryn must have garnered a fair sum of money from her impressive career in the entertainment industry. Besides, she also owns her own clothing line from which she makes a fair deal. There's no doubt Boyd being a millionnaire. However, her actual net worth is not revealed yet. Meanwhile, her award-winning actor husband Josh Brolin has an estimated net worth of $35 million as of 2020.