The offspring of talented people are more or less born with the talent that has been passed down through their genes. But that does not mean working hard is optional for even those people. They say talent is something you make bloom.
The same can be said about actor Harrison Ford and screenwriter Melissa Mathison's son Malcolm Ford. While Malcolm Ford is gifted with a beautiful vocal range, he has managed to polish his musical skills and started to create his own identity. So, let us find out what makes Malcolm Ford interesting besides being the son of the Hollywood legend Harrison Ford.
His Early Life
Malcolm Ford was born on October 3, 1987, in the USA. Malcolm was Harrison Ford's first child with his second wife screenwriter Melissa Mathison. He has two half-brothers Benjamin and Willard from his father's previous marriage and one biological younger sister Georgia Ford who was born on June 30, 1990. Malcolm apparently went to a normal school in Jackson Hole, Wyoming.
Since Harrison Ford is known to be one of the most private celebrities, he tried to give his children a very normal childhood far away from the media spotlight. So, there is hardly any information regarding his children's earlier days.
Dealing with His Parents' Separation
Malcolm Ford's parents Harrison Ford and Melissa Mathison were married on March 14, 1983. The couple stayed together for almost 17 years before separating in August 2001. Their divorce was finalized on January 6, 2004. Melissa received an estimated 118 million US dollars for the divorce settlement. Harrison Ford also agreed to split any future royalty money he made from the films he made during their marriage including two Indiana Jones movies, Witness and The Fugitive. He also paid child support until the children reached the age of 21.
Malcolm was still in his teenage during his parents' separation. Apparently he took the news very badly and had a really hard time accepting the new situation of his life. To cope with this, he started doing drugs and eventually was admitted to a rehab facility. According to Daily Mail, he took part in the family therapy inside the facility. Gradually, his desire to have a fresh start in life increased and he started to overcome his addiction problem. Along the path of recovering himself, he found himself being more passionate about music.
A New Beginning With Music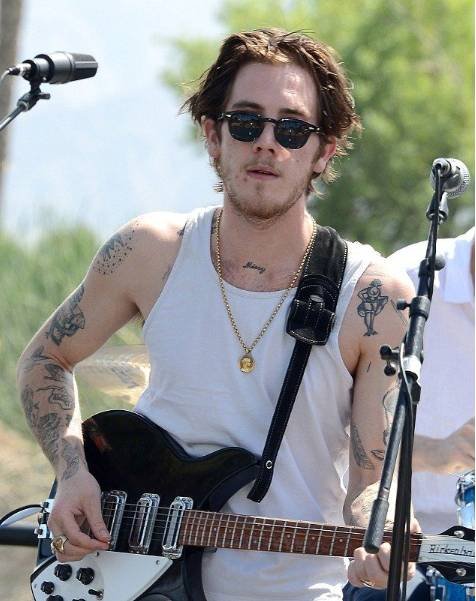 Divorce in the family always takes a great toll on the functioning of a family. Malcolm Ford, after coming in terms with his parents' divorce and his personal problems, started shifting all of his focus in music. In 2008, he met Jack Byrne, son of actor Gabriel Byrne and actress Ellen Barkin in New York where Byrne was still attending high school. At that time, Malcolm was already a college dropout. Both of them bonded through their common interest in blues music, Call of Duty and marijuana. Apparently, Malcolm got to learn guitar from Jack and exchanged weed in return.
Starting a Band
With the newly formed friendship with Jack Byrne, the pair decided to form a band. In 2008, their band 'The Dough Rollers' started off as a two-piece band. After a while, the band welcomed a new singer Julia Tepper who encouraged the boys to expand their musical horizon by trying out different genres. After two years of playing different minor gigs and shows, the band finally released their debut self-titled album in 2010. The album has a total of 10 tracks covering various music genres like country, blues, etc.
Soon after the release of their debut album, their singer Julia Tepper left the band. In 2011, the band released their second album 'Someday Baby' that had 12 tracks in it. For the further success of the band, the duo hired a drummer, Kyle Olsen and a bassist, Josh Barocas. With Malcolm serving as a lead singer and back-up guitarist and Jack Byrne contributing with vocals and guitar, the band finally became complete. The band then went on to sign with record label 'Third Man Records' that is owned by Jack White. Under the label, the band released their first EP titled 'Gone Baby Gone' in 2014.
The band has also toured with popular artists like Bob Dylan, Billy Idol, John Mellencamp and Queen of the Stone Age as a supporting act. The band has gradually started picking up more followers by performing different shows and supporting acts but they still have a long way to go mainstream.
Death of Malcolm's Mother
While Malcolm Ford was gradually picking up his life through music, tragedy struck again. On November 4, 2015, at the age of 65, Malcolm's mother Melissa Mathison died after a long battle with neuroendocrine cancer in Los Angeles. His mother was one of the most respected screenwriters of Hollywood, having been credited for her work in the iconic movies like 'E.T. The Extraterrestrial' and 'Black Stallion'. Malcolm was very close to his mother and her death devastated him.
His Relationship Status
Like his father, Malcolm Ford also enjoys being private about his personal life. The only news that we ever heard about his private life was when he was spotted going on dates with Canadian model Jessica Stam in 2008. Jessica Stam is considered to be the part of a crop of models described as 'Doll Faces' and was one of the top 15 top-earning supermodels at the time of their relationship. The couple reportedly only spent a few months together before finally breaking up. Apart from this, there has not been any news regarding the romantic relationship of Malcolm Ford.
Personal Life Breakthrough
Malcolm Ford is known to be an avid tattoo lover. His arm sleeves are covered with many big and small tattoos. It does give him the persona of a musician though. He had also appeared in the short documentary/comedy movie 'Water to Wine' portraying himself as a snowboarder. His father also appeared in the movie Jethro the bus driver as a favor for his son

His Siblings
Malcolm Ford has two half older brothers, one biological sister and one adopted brother from his father's third marriage.
Malcolm's eldest half brother, Benjamin Ford was born on September 22, 1966, from Harrison Ford's first marriage with Mary Marquardt. He works as a professional chef and owns the restaurant 'Ford's Filling Station' gastropubs located at The Marriott, L.A. Live, Los Angeles, and at LAX Terminal 5. He is happily married to Emily Tomerlin and has two children.

Malcolm's second eldest half brother Willard Ford was born on May 14, 1969. He owns a Strong Sports Gym, a boxing gym in Los Angeles and Ludwig Clothing Company. Willard also co-owns Ford & Ching. He has a son Eliel who was born in1993.

Malcolm's biological sister Georgia Ford was born on June 30, 1990. She has been following in her father's footsteps and pursued a career in acting. She has appeared in movies like 'True Story', 'American Milkshake' and 'The Visitor'.
Harrison Ford married for the third time with Calista Flockhart. Calista had previously adopted Liam who was born on January 1, 2001, and after the marriage, he also became a part of the Ford Clan.