The story of one of the notorious drug kingpin's of all time has been shown in the Netflix series Narcos. Perhaps you might have heard about him before too. Many have come across his life through the series and still want to know more about him and his family. However, people still wonder and doubt about the storyline of the series to be real. The doubt became more clear when his son Juan Escobar came forward and talked about the flaws in the story. With all these, people are eager to know more about the lady Maria Victoria Henao who stood by his side despite cheatings and traumatic experience.
Wondering if it's real? If you want to know about the true story of the lady, then hang on with the post till the last.
Early Life
Maria was born as Maria Victoria Eugenia Henao in Palmira Valle Del Cauca, Colombia in 1961. She was born to parents Carlos Henao Vallejo and Lenor Zuleta. Maria grew up in Colombia alongside brother Carlos Mario Henao Vallejo and sister Pastora Hanao Bayen. There she attended the local school for her primary education. Not much is known about her early life and about her family.
What we know is that she belonged to the middle-class family and her brother worked with Medellin Cartel. The Medellin Cartel was owned by Pablo Escobar. And in this course, she met the Colombian drug lord Pablo when she was just 12 years old.
Falling in Love with Pablo Escobar
Maria's love story started with Pablo when she was just 13 years old. Probably, she was too young to understand love. She misunderstood fantasy with love and quickly fell for him. But, she never regretted falling in love with an evil heart.
Pablo,11 years older than her wooed her with gifts and romantic ballads after they met. He showed off on his Vespa scooter including a yellow bicycle. The efforts of Pablo made her feel like a fairy princess. She then was convinced he was the man of her dreams. Victoria fell in love with the man because of his naughty smile and the way he talked with her. She recalled the moment and commented:
" He was affectionate and sweet. A great lover. I fell in love with his desire to help people and his compassion for their hardship. We would drive to places where he dreamed of building schools for the poor. From the beginning, he was always a gentleman."
When she was just 14 years old, the couple intercourse for the first time. Even though she wasn't ready she couldn't resist. She told:
" I wasn't ready. I didn't yet feel sexual desire. I lacked the tools to understand what the intense, intimate contact meant."
After a month, Victoria began showing signs of pregnancy. Just teenager at the time, then she witnessed the evil side of Pablo when he forced him for adoption. He took her to a house in the poverty-stricken suburb of Medellin where a woman inserted several tubes into her uterus. The woman told Maria to remove them when she began bleeding and thus her unborn baby died in her womb.
Despite the terrible experience, Maria went on to marry the notorious criminal when she was just 15 years old.
Marriage With Pablo Escobar
Maria and Pablo's romantic relationship wasn't all rosy. When the duo decided to get hitched, Maria's parents were against the decision. They were aware of Pablo's criminal activities. So, they had to elope. The couple exchanged vows in Santisima Trinidad church in Palmira, Colombia in 1976. Among the attendees were Maria's grandmother and aunt.
She settled into a life of domesticity. She continued her studies in between the household works. Some periods after, she became pregnant with Pablo's first child. At the age of 16, she gave birth to Juan Pablo Escobar. The couple again gave birth to a daughter Manuela  Escobar seven years later on.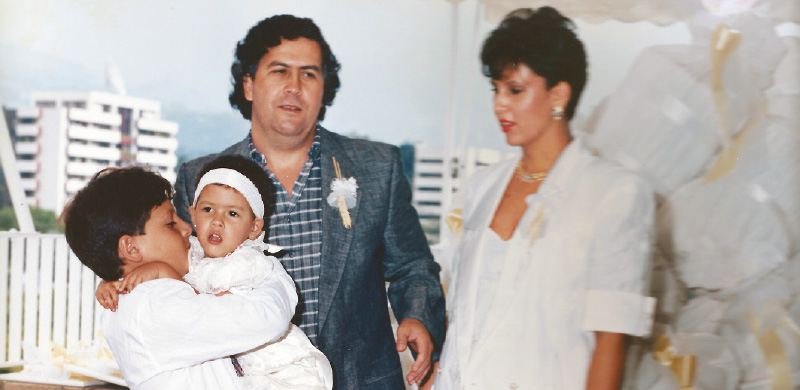 Even though Maria lived with Pablo under the same roof, she didn't know about his real business until he got arrested for smuggling cocaine in 1977. Prior she believed he was working in the real estate business. However, she didn't end her relationship with the man.
Pablo even cheated on Maria with multiple affairs and had an open relationship with mistresses. But, Victoria still stood by his side. She lived the life of riches in the mansions built from Pablo's criminal activities. Though Pablo had an image of a monster, he was a family man. He never stopped showering love on his wife and children.
Nevertheless, living the life of Mrs. Pablo Escobar was never easy. Though she had a lavishing lifestyle, she had to live in continuous fear. Pablo's deeds made the family-run away hiding from one place to another. Despite all the hardships, Maria and Pablo remained in a marital relationship until he was shot dead in 1993 by the Colombian government.
If it had been any other woman, she would have left Pablo. But, Maria loved the man from her heart. When asked about why she always stood by his side despite knowing he was a most wanted criminal, she said:
"I loved him and while many may find that response inadequate, the truth is that's the reason I remained by his side till the end of his life, even though I disagreed with his actions and decisions innumerable times."
Aftermath of Pablo's Death on Maria's Life
While the world celebrated the death of Pablo, Maria, and her children were figuring out how to deal with the entire scenario. In a blink of eyes, her life changed from the life of riches to the life of refugees. After the death of Pablo, the family became the victim of Pablo's activities. Maria and her children were treated as criminals. As a result, they had to fly to new places for survival.
Maria first tried to take refugees in countries like  America and Germany but she didn't get the asylum. In 1994, the Colombian government gave the Escobar family new identities and new names. Maria Victoria changed her name to Maria  Isabel Santos Caballero. She then went to South Africa and Brazil thereafter. Things didn't turn out as Maria wanted and soon left the country with her two children. 
In December 1994, Maria arrived in Buenos Aires, Argentina on a tourist visa. Her life took a smooth turn there. She established herself as a real estate entrepreneur. She was living a normal life until 1999 when her Argentine government disclosed her real identity. Maria and her son Juan were arrested in case of forging and money laundering. However, as there was no evidence they got released.
After many years of struggle, she has got Argentine citizenship and even voted in the elections. She has been able to build a home for her and her family in Argentina.
Present Life of Maria
As per sources, Maria is currently living in an apartment in Argentina. She is trying to maintain a low key life away from the controversies. Maria recently came in the news when she released the book "Mrs. Escobar: My Life with Pablo." The book recounts her life before and after her marriage with one of the world's toughest drug lords. She has shown her amazing writing skills and her ability to narrate things so vividly in the book.