On November 30, 2013, fans of the fast and furious franchise all around the world mourned for the loss of one of their beloved actors Paul Walker who tragically died following a single-car crash. While everyone flocked all over social media to leave heartfelt messages for the actor, many concerned eyes turned towards the one person who was the only one to carry on his legacy, his daughter Meadow Rain Walker. So, what do we know about Meadow, and what is she up to lately? Let us find out.
Meadow's Parents Got Separated Upon Her birth
Meadow Rain Walker was born on November 4, 1998, in Hawaii. Her father actor Paul Walker met her mother Rebecca Soteros in California and the two started dating in early 1998. After her mother got pregnant with Meadow, she thought of getting married to Paul but unfortunately, Paul was not ready for such a big commitment this early on in his life. With the differences between what both of them wanted in their relationship, the couple separated. Meadow's mother relocated to Hawaii where she was born and lived there for almost 13 years.
Meadow used to go to a local school in Hawaii where she was said to be excelling in her studies.
She was Raised by her Mother but Adored by her Father
Unlike many celebrities who prefer to raise their kids in a more private and sheltered home, actor Paul Walker was very open to the idea of raising his one and only daughter amidst all the media attention. Talking about his daughter who he nicknamed 'Bear', Paul Walker once said:
"I would imagine that even when I'm 40 and looking at her, I'll still be going… I'm a dad."
Since Meadow lived with her mother in Hawaii, she could only visit him during her holidays. To make her visits more memorable, he would often take Meadow to his film sets that he was working on at that time. This is how Meadow started to bond more with her father and even grew an affinity towards show business.
Meadow Walker Considers Vin Diesel as her Family and Godfather
Around the time when Meadow started spending more time with her father, he was becoming a rising star in one of Hollywood's biggest movie franchises 'The Fast and The Furious'. Meadow would visit the movie set and mingle with Paul's co-stars in the film. One of the actors with whom her father Paul shared one of the deepest relationships was actor Vin Diesel. The friends literally took the concept of family from their films in their real-life when Paul Walker chose Diesel to be his daughter's godfather.
For people who are not familiar with the concept of godparents, they are the people who are chosen by parents upon the baptism of their children. They are there to stay connected with the child throughout their life, offer mentorship, and even claim guardianship, should something happen to the child's parents. That is some heavy responsibility for Vin Diesel.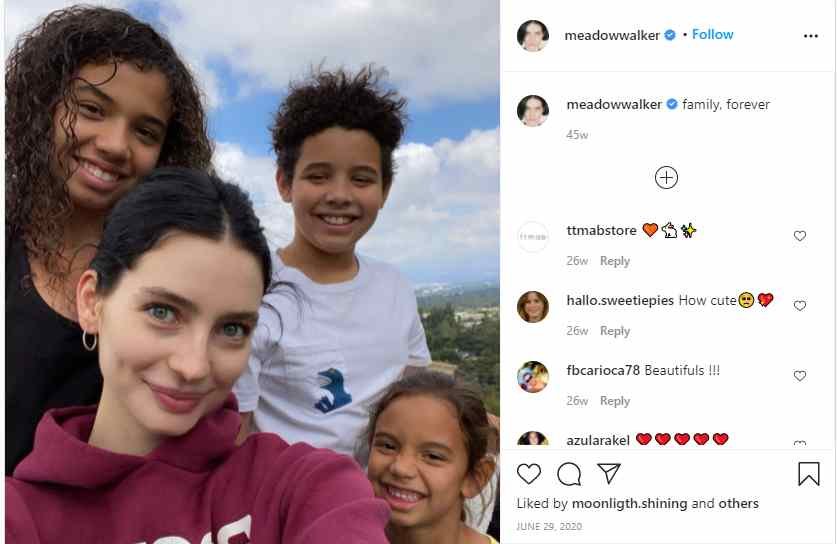 Following the death of her father, Vin Diesel has become one of the most important people for Meadow. As a proud godparent, Diesel has always supported and guided Meadow through all those times that she truly needed a family. Since they have always considered each other family, Meadow has also grown very close with Diesel's family. They meet each other frequently and recently Meadow even shared a photo of her with Diesel's kids with the caption 'Family, Forever' on her Instagram.
Meadow Moved in with her Father When She was 12
When Meadow turned 12, she asked her father if she could move to California to live with him. Many were intrigued about what prompted her to ask such a favour from her father. While some people thought her decision to move might have something to do with her mother's issues with alcohol In 2011, others believed that she just wanted to spend more time with her father. In 2011, after living with her mother for 13 years, Meadow moved to live with her father.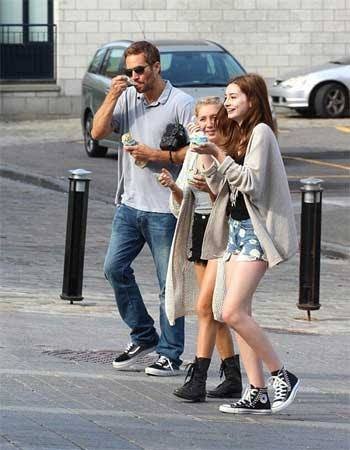 Paul was very happy about the new living arrangement. In an interview with WENN, he said:
"She's been with her mom her whole life and she wants a relationship with her pops. It's working out really well right now."
Meadow started going to school in California and was bonding up nicely with the whole walker family. According to her grandmother, Cheryl, Paul was overjoyed about the help that he could do in her day-to-day life like the school dance. 'He helped Meadow's date pin on his boutonnière and drove them to the dance and picked them up. It was so sweet' she shared.
Untimely Demise of Paul Left Holes on her Life that was Hard to Fill
The happy days of the bonding between father and daughter were cut short when Meadow's father Paul Walker passed away in a tragic accident on November 30, 2013. On the morning of his death, he had spent a nice time having breakfast with his daughter and even had planned to buy and decorate a Christmas tree. His fast and furious family and fans alike all reached out to show their condolences following the tragic event.
The whole family grieved together and helped Meadow to deal with the sudden loss of her father with whom she had barely started to get closer. Her mother, Rebecca had also flown to California to be at her side and was seen consoling her during a non-denominational ceremony for Paul at Forest Lawn Memorial Park.
Inheriting her Father's Fortune
There is no lie when we say that Paul Walker was a great dad. When Meadow decided to move in with him, he was beyond excited to have the chance to strengthen their relationship. In the documentary 'I am Paul Walker', his father Paul Walker III said:
"Paul thought the world of her. No father loved a child than he did Meadow."
Upon his passing, Paul Walker left behind his fortune of $25 million to his one and only daughter Meadow.
Custody Battle between Rebecca and Cheryl
With the sudden passing of Paul Walker, the future of Meadow became quite uncertain. In his will, Paul had named his mother Cheryl Ann as Meadow's guardian. However, Meadow's mother Rebecca wanted to take custody of her child. This insured a legal custody battle between the two. Her grandmother thought that her mother was not capable of handling the responsibility of a teenage daughter citing her two DUI incidents.
But after agreeing to enter a rehabilitation program on alcohol, the two settle the custody battle with Rebecca moving to California to take care of her daughter.
She sued Porsche Blaming her Father's death on the Company
In 2015, Meadow sued automobile company Porsche with the allegations stating that the Porsche Carrera GT that her father had died on was in fact a faulty one and should not have been on the streets. She went on to say that the car was lacking all the safety features that the car company was endorsing. The suit was settled outside of court in 2017 which was criticized by many on social media. Her lawyer Jeff Milan regarding the case told ABC News that:
"The bottom line is that the Porsche Carrera GT is a dangerous car. It doesn't belong on the street. And we shouldn't be without Paul Walker or his friend Roger Rodas."
Apart from this, her grandfather had also sued the estate of Roger Rodas who was the driver of the tragic accident. They eventually won the case and in 2016 won $10.1 million.
She is Estranged from Paul's family
Despite spending a lot of time with Paul's mother during his film shootings, after Paul's death Meadow continued to grow distant from her father's family. The source closer to the family revealed:
"The family is heartbroken about the thing- it brings tears just thinking about it. Meadow does not talk to Paul's brothers Cody and Caleb or their mother – she has shut everybody out – she doesn't talk to anyone in the family. "
They also claimed that the family is waiting for her to reach out to them and hope that one day the situation between them would change.
Continuing her Father's Legacy Through Humanitarian Works
Paul Walker was known for his humanitarian works all throughout his career. His daughter Meadow inherited his same level of compassion to do good for those who need it. Even after his death his foundation 'Reach Out Worldwide' is still going strong.
Following her father's footsteps, on September 12, 2015, the day of her father's birthday, Meadow also launched 'The Paul Walker Foundation' that is dedicated to doing good in the area of marine conservation. The foundation is an ode to her father who was known to have a passion for marine biology. "Reflecting on my father, I found reflecting on his passion. His passion for the ocean, his passion for recruiting animals, his passion for helping people, and his passion for spontaneous goodwill. The foundation would be partnered with the famous Monterey Bay Aquarium," Meadow wrote on her Instagram.
Meadow has also stepped up in her father's place to present the Paul Walker Ocean Leadership awards to those who had made a difference in protecting the world's ocean.
Apart from these, Meadow has also spent a lot of her time doing voluntary activities. A while back, she went to Ghana with 'pencilofpromise.org' in order to provide assistance to build a much-needed school for children.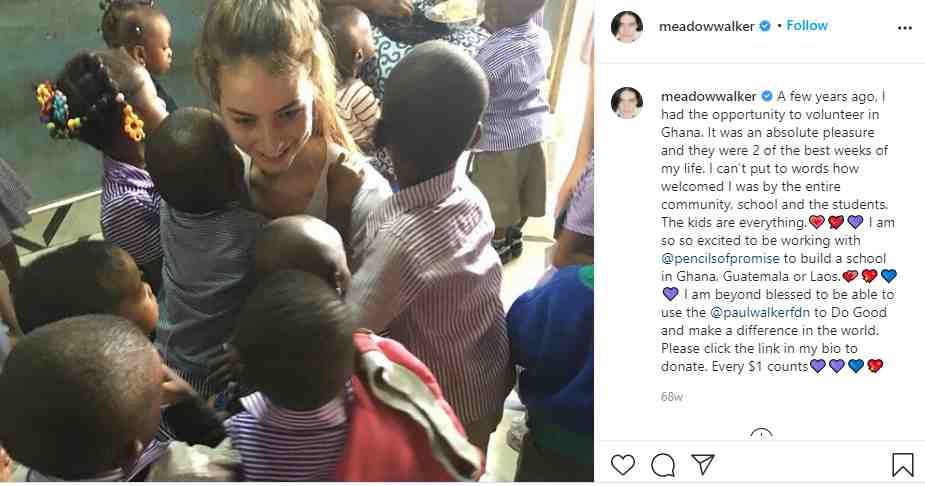 In the wake of the ongoing Covid-19 pandemic, Meadow has been working alongside her foundation to collaborate with different non-profit organizations like the Los Angeles Food Banks to provide food to children in crisis.
Walker Made Her Modeling Debut at The Paris Fashion Week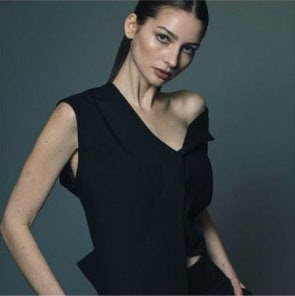 Meadow has moved to New York City to pursue a promising career in modelling. In 2017, she signed with the model agency Women Management and started building a strong portfolio for herself. Unfortunately, her profile from the agency talent list has been taken down. But, nevertheless, she wowed her fans by making her modelling debut at Paris Fashion Week alongside models like Bella Hadid and Jourdan Dunn.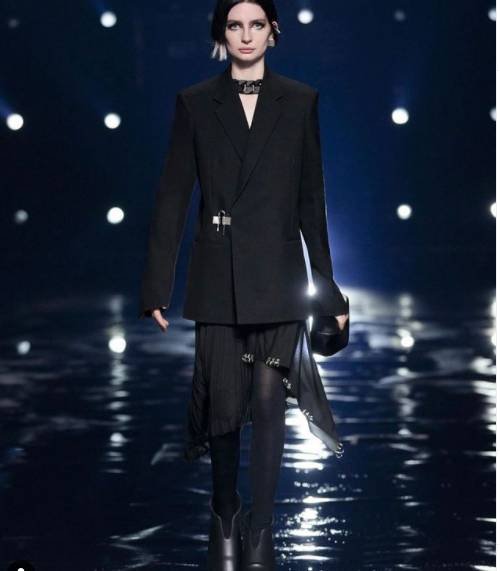 Meadow walked the runway for Matthew M. Williams for his first Givenchy show. She was all clad in an oversized structured blazer paired up with a flowy sheer chiffon skirt, opaque tights, and platform shoes. After the successful show, she thanked Williams for his complete support on her Instagram.
Meadow Walker is Friends with Some Famous People
Meadow is still very close with the fast and furious family. With Vin Diesel, she found a second family who always supports her in her endeavours. During the promotions of his movie Bloodshot, Diesel talked about Meadow and said:
"There's so much of him that lives in her – that kind of compassion and that's just beautiful to see and I just I just blessed that, that her, his whole family is in my life."
She has also sort of considered Jordana Brewster who played her dad's love interest in the film franchise, her surrogate mother after the death of Paul.
Besides them, in her teen years, Meadow was also friends with Canadian singer Justin Bieber. She would go to his concerts and hang out with him backstage too. She even attended the premiere of his documentary film 'Believe'.
Meadow is also friends with model Kaia Gerber who, like her, shares famous parents. She has gone on vacations with her and does not shy away to mention her as the love of her life in her Instagram posts.
Remembering her Late Father Paul Walker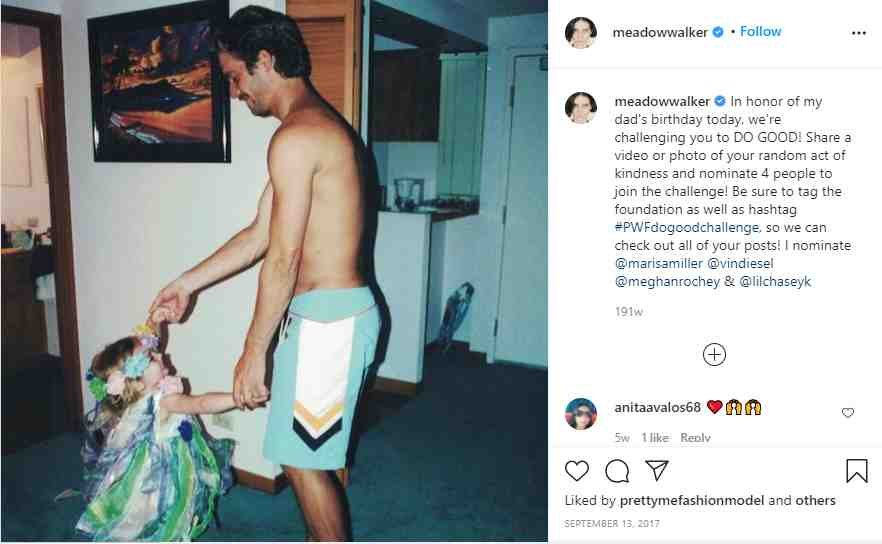 Undoubtedly if there is anyone who has the biggest impact on Meadow's life is her father Paul. Losing him at such a young age, it is quite inspiring to see her doing things that would ultimately make him proud of her.
Despite starting to dedicate more of her time towards building a career, time and again she relives the moment spent with her father through her social media post. She does not forget to wish him a happy birthday through her Instagram post and even on those posts encourages people to do good.
Meadow Made her Relationship with Boyfriend Public in 2021
Meadow Walker has gone Instagram public with her boyfriend Louis Thornton Allan. On July 9, 2021, her boyfriend posted a photo of them together with the caption 'Best Friend' with a purple heart to which the walker replied 'My love' also with a purple heart. Even her fast n furious family Jordana Brewster blessed the couple with all her love.
We don't know the exact date the two met each other but they seem to be appearing in each other's Instagram feed for quite some time. She even wears a necklace with his name on it.
Walker's boyfriend Louis is an actor and a model based in New York City. According to his Instagram bio, he took acting classes from Stella Adler, studio of acting in New York. He has acted in music videos for artists like Luke and Blu DeTiger.
Meadow Walker is Now a Married Woman
Just months after revealing her love interest, news of her engagement had surfaced in the media a few days back. She was engaged to partner Louis Thornton Allan. Meadow posted a video of herself swimming in the pool flashing her diamond engagement ring on her Instagram feed this morning. She was all in smiles as she showed her engagement ring.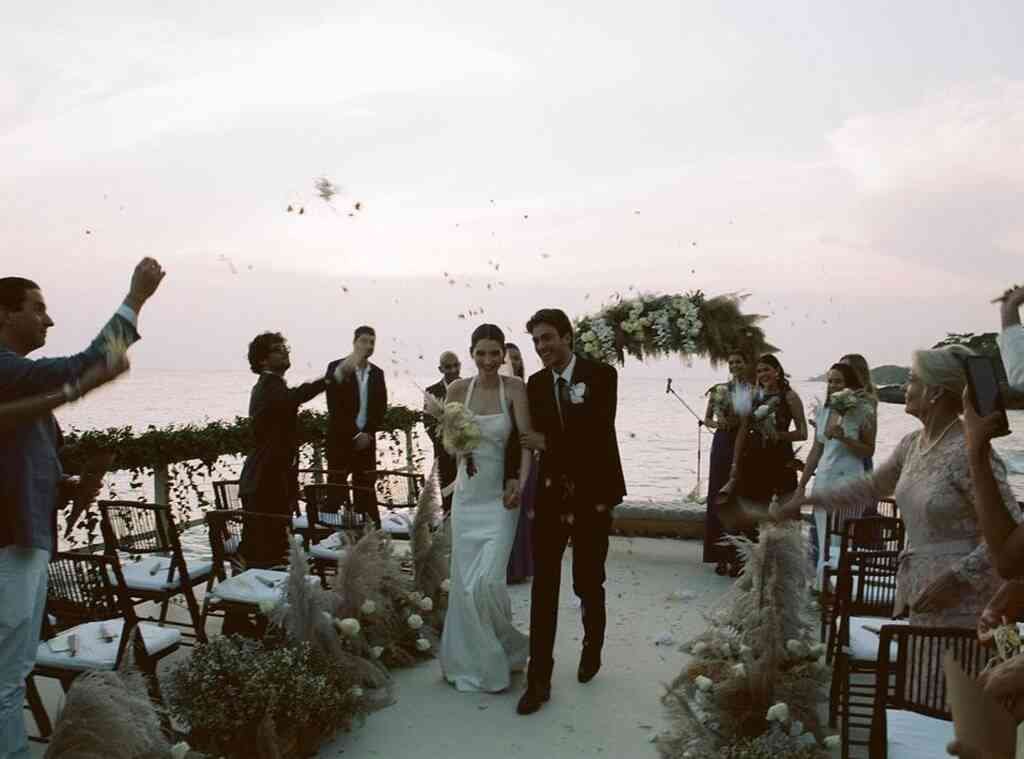 After being engaged for two months, Meadow Walker and Louis Thornton Allen have tied the knot in early October of this year. The private ceremony took place in the Dominican Republic and Meadow wore a beautiful Givenchy dress for the wedding.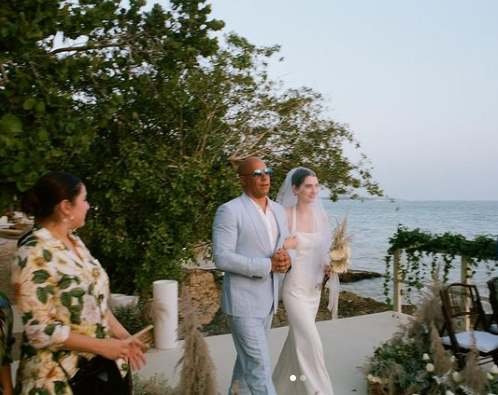 Actor Vin Diesel stepped up on his godfather duty and walked her down the aisle. Fast and Furious family Jordana Brewster who Meadow considers as her surrogate mother was also present in the ceremony. Meadow also revealed to vogue that due to the ongoing situation of the world many of the couple's family and friends were not able to attend the ceremony.
Meadow Rain Walker has undoubtedly grown up beautifully and we are pretty sure that even his father, Paul Walker would be proud and happy for her daughter.