When you hear the name Sean Connery, the first thing that pops in the head is 'James Bond'. The man is basically a living legend who embodied the role of the suave secret agent 007 and defined a role of a lifetime. With his growing success, people became more and more invested in his private life too. And like his on screen counterpart, Sean Connery was very popular among the ladies and lived a very lavish lifestyle.
While he dated multiple women throughout his life, he only got married twice. He was married to actress Diane Cilento from 1962 to 1973. He then went on to marry Moroccan-French painter Micheline Roquebrune with whom he is married to date. So who is this woman who managed to steal the heart of one of Hollywood's most desirable men? Let us find out more.
Micheline at Young Age
Micheline Roquebrune was born on April 4, 1929 in Edinburg, Scotland to Moroccan-French parents. She has not revealed much regarding her family and what her early childhood was like.
However, one of the interesting facts about her is that growing up she was not proficient in speaking English but rather could speak both French and Spanish fluently. She later learned English. As of now, Roquebrune is also known to have studied Arabic and understands quite a lot of the language. Talk about being an enthusiast in being multilingual.
Micheline Roquebrune Paintings: Diving into her Illustrious Career
Since her childhood, Micheline Roquebrune was known to be very keen towards sports, particularly golf. As a teenager, she participated in many golf tournaments. At that time, she probably visualized herself playing professional golf. However due to certain turn of events, she decided not to pursue a career in pro golfing.
By the time Micheline Roquebrune turned 23, she gradually became interested in art and started to reinvent herself as an artist. As a painter, she started to find her own footing and was able to express her voice in the form of her paintings. Greatly inspired by 'le bonheur de Vivre', her paintings ooze vibrant and realist style. She is known to create her paintings using simplified forms, unexpected cropping, and changes of scale that happen to draw the attention of the viewers right away. 
As an artist, Micheline Roquebrune has found some major success. She has held her art exhibitions in Chicago, Athens, Rome, France as well as in 'The National Museum of Woman in Arts' in Washington D.C. 
Apart from her artistic talent in painting, Roquebrune is also very interested in theatre productions. She has been credited as a producer for the Tony Award-winning Broadway show 'Art'. 
She was Married Twice Before Meeting Sean Connery
Prior to meeting Sean Connery, Micheline was already married to other people. Micheline had two unsuccessful marriages that ended in divorce. There is no information regarding her ex-husbands but she had three children, Oliver, Micha and Stephane from her two marriages.
Micheline Roquebrune and Sean Connery first Date
Micheline Roquebrune and actor Sean Connery first met each other in March 1970 when both of them were attending a golf tournament at Mohammedia golf club in Casablanca, Morocco. At that time, Sean was still married to his first wife Diane Cilento with whom he shared a son. Micheline on the other hand was living with her children, but her husband was said to have disappeared from their lives.
Despite the barrier of language between the two, it was love at first sight for both of them. According to Micheline, they ended up sharing a bed within 24 hours of the first meet. In an interview with France's Gala Magazine, she recounted their first romantic encounter and described it as one of the most passionate nights she had spent with anyone.
Following their first time together, the couple went on the remaining four days of the tournament, playing golf as strangers only to meet up afterward to have crazy lovemaking sessions.
But the reality hit them very soon, as both of them had to leave their short-lived affair behind and return back to their normal lives.
Booming Relationship with Sean Connery
After meeting each other in 1970, Micheline and Sean are said to have not stayed in touch with each other for about two years. However according to DailyMail, Sean Connery reportedly called her only three months after their first meeting claiming that he was in love with her.
There is no absolute proof regarding what timeframe is the exact correct one. What we do know is that during this period of time, Sean Connery had officially separated from his wife and was living a single life.
According to Micheline, Sean messaged her after two years suddenly and invited her to join him in Marbella, Spain. After receiving the message, the first thing that Micheline thought was :
"Who does he think he is?". But she accepted his offer and went to meet him. In an instant of locking eyes with him, Sean Connery apparently said, "I've missed you… I can't stop thinking about you and I can't forget you."
This is how they started going out with each other. 
The couple finally got married in May 1975 in Gibraltar and to this day are married to each other. The newly married couple then moved to their newly built Bungalow called Casa Malibu in Puerto Banus near Marbella. They're both of them spent their time indulging in their shared love of golf. In 45 years of their relationship, the couple did not have any children of their own but both of them were very involved in raising their children they had with their former partners.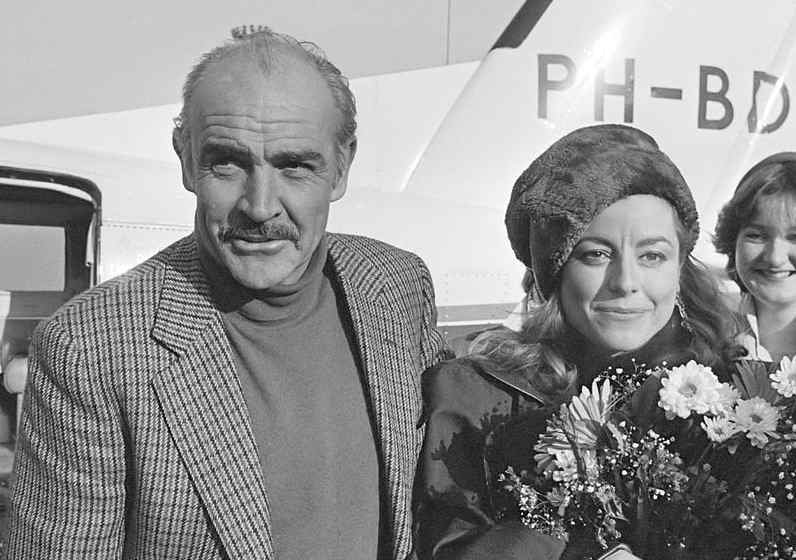 Despite being embroiled in many cheating allegations for much of his career, Micheline has always been supportive of her husband and accompanied him to different events throughout their lives. Even though Sean Connery was and still is regarded as a huge celebrity, both he and his wife loved their privacy very much.
After his retirement in 2006, Sean Connery became even more fierce about his privacy. Now, the couple resides in their house in the Bahamas that is actually located in a golf course and the couple spend most of the time doing activities appropriate for their age.
Personal life and Net Worth
Micheline Roquebrune is also very much private in her affairs. Her interest in both golf and art has helped her to stay active. Micheline net worth is estimated to be somewhere near 1 million US dollars. Her husband Sean Connery, on the other hand, has an estimated net worth of $350 million dollars.
Controversy Regarding Property Fraud
In 2010, the private couple gained spotlight after they were investigated for property fraud in Marbella, Spain after the sale of their house Casa Malibu. Apparently the couple was involved with a development company that built over 70 new flats on the land which was previously the house of the Connerys. The maximum number of flats that could have been constructed on the land was only five. 
Despite that, the flats went on sale for an estimated £45 million. Everyone included in the case was investigated for tax evasion that resulted in the defrauding of the Spanish authorities. While Sean Connery was cleared of the charges, his wife was still under suspicion for the crime.
In 2015, she was officially charged with Spanish property tax fraud for the sale of those illegal apartments. If convicted she would have to serve two and a half years of prison and an additional fine of more than £16 million.