With a career that stretches back more than 50 years, Clint Eastwood is known to be the man with few words. For his career, less has always been more. The same cannot be said for his personal life though. Clint Eastwood has had numerous casual and long-term relationships that varied in length and intensity, some of which even overlapped with one another.
Considering how much he is involved with so many different women, it is no surprise that he would father some children. As of 2019, he has fathered altogether 8 children with multiple women. and among them, the youngest is Morgan Eastwood. So, let us learn more about the youngest of the bunch; Morgan Eastwood who was born from his second marriage.
Who is Morgan Eastwood?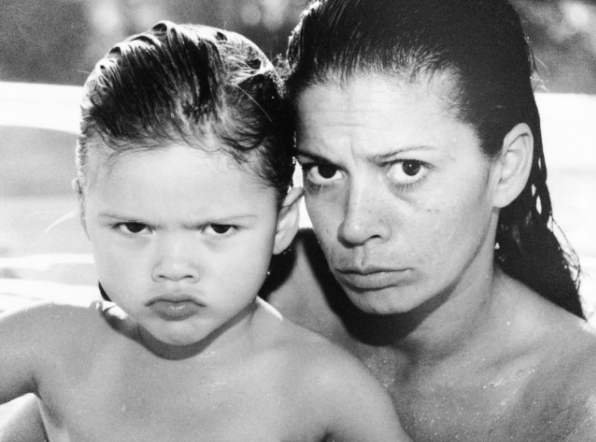 Morgan Eastwood was born on December 12, 1996, in Los Angeles, USA. Her father, Clint Eastwood is one of the iconic Hollywood actors and filmmakers while her mother, Dina Ruiz is an American reporter, TV news anchor, and actress. Morgan's father married her mother who was 35 years his junior in 1996. Her parents were reportedly already dating during the time her father Clint Eastwood's ex-partner actress Frances Fisher was still around. 
The early days of her life were very loving and comfortable. Her father was very present in her life and for the first time, the Eastwood family was free from any scandals. But apparently, their happiness did not stay the same for a very long time when in August 2013, her mother announced that the couple had been living separately for an undisclosed amount of time. Their divorce was finalized on December 22, 2014. Morgan was only 16 when the divorce process started. Her mother got her full custody and spousal support from her father.
She Holds Acting Degree From Loyola Marymount University
Education-wise, we are pretty sure that she was able to get a top-level education. Much about where she went to high school is kept under wraps. She then went on to study acting at Loyola Marymount University, in California. On her graduation day, the Eastwood family was present to congratulate her. 
Morgan Eastwood Loves Travelling
Morgan Eastwood is a very active person who loves to travel and visit different places. She goes to different music festivals, goes hiking, and loves to relax on beaches. She also once posted on her Twitter about the time when she spent 2 months on American open roads. Morgan is very active in social media. She has 72.5k followers on Instagram and 30.3k followers on Twitter where she regularly posts about her life events.
Carrying on Her Dad's Legacy: Stepping Into the Acting Business
Apparently being the daughter of one of the biggest Hollywood legends does come in handy. Morgan was able to make her on-screen debut in one of her dad's projects. It has been reported that she had appeared in the 2004 Academy Award-winning movie 'Million Dollar Baby' starring her father, Hilary Swank and Morgan Freeman. In 2008, she appeared as a girl on a tricycle in the movie 'Changeling'. She also has a soundtrack credit for Johnny Mercer: The Dream's on Me.
In 2012, Morgan appeared in a reality documentary TV series called 'Mrs. Eastwood & Company' alongside her mother Dina and older half-sister Francesca Eastwood. The series revolves around the Eastwood family's daily lives with Morgan's mother managing the acapella band from South Africa 'Overtone' residing with them. Her father Clint would also occasionally appear on the show.
Morgan has also started taking producing jobs at a very young age. She has produced two short films 'Daddy's Playground' and 'I See You'.
Morgan Has Seven Siblings: Laurie, Kimber Lynn, Kyle, Alison, Scott, Kathyrn, & Francesca
Morgan's father Clint Eastwood has been linked with numerous women with whom he had altogether 8 children. The children although being half-siblings seem to have a very warm bond within each other and always seem to support one another. Let us learn a little about all of the 7 older half-siblings of Morgan Eastwood.
Laurie Murray
Laurie is the eldest daughter of Clint Eastwood who was the product of his affair with a woman in Seattle during his first marriage with Margaret Johnson. Upon birth, Laurie was put up for adoption. After growing up, she managed to find out that Clint Eastwood was indeed her father. After this, they have maintained a very close relationship not just within themselves but with the whole family.
Kimber Lynn Eastwood
During his first marriage, Clint had also been in a relationship with actress and stunt woman Roxanne Tunis for 14 years. Kimber was born in 1964 as a result of that affair. She is a well-known producer and make-up artist.
Kyle Eastwood
Kyle is the first child of Clint who was born from his marriage with Margaret Johnson in 1968. She has acted in few movies but he found his real talent in music. He has been credited as a music composer on several films like 'Million Dollar Baby', 'Changeling', 'Gran Torino' and many more.
Alison Eastwood
Alison is the second child of Clint and his first wife Maggie, who was born in 1972. She works as an actor and director. Alison had co-starred in the 2018 movie 'The Mule'. She has also founded a pet rescue foundation called the Eastwood Ranch Foundation in 2012.
Scott Eastwood
The most famous Eastwood sibling is arguably Scott Eastwood who is the spitting image of his father Clint. Scott was born from the relationship between Clint and flight attendant Jacelyn Reeves in 1986. He is also an actor and has appeared in a bunch of movies like Suicide Squad, Pacific Rim: Uprising and The Longest Ride. You might have also caught him in the music video for Taylor Swift's song Wildest Dreams.
Kathryn Eastwood
Kathryn is the second child from Clint's relationship with Jacelyn, born in 1988. She is Scott's biological sister. Kathryn also has some acting experience under her belts like Virus of the Dead and Jersey Boys.
Francesca Eastwood
Francesca, born in 1993, was the product of Clint's relationship with actress Frances Fisher. She has been earning her name through various acting jobs. Francesca has appeared in Jersey Boys, Twin Peaks, Fargo, and many others. She had a baby with her boyfriend in September 2018. Morgan seems to be particularly very close with Francesca as the two of them were also part of the reality TV show. They also seem to often tag each other on their social media accounts.
Is Morgan Dating Someone?
In 2017, she tweeted that when she was in 5th grade, she had a boyfriend who gifted her a Claire's Jewelry. While her childhood love didn't last long, she has now finally got someone to hold on to forever. The youngest member of the Eastwood clan declared she is dating someone.
On the occasion of Valentine's Day, she posted a post on Instagram with her boyfriend where they went for a road trip. However, the identity of the boy is relatively unknown but they look happy together.
How Much Does Morgan Earn?
Morgan is just starting in her career but even now her net worth probably is higher than 1 million. Her father, on the other hand, has a whopping net worth of 375 million US dollars. Her mother also seems to have a net worth of 20 million US dollars.