What would you do if the one person who is supposed to protect you, turns out to be the one you need to be protected from? For years, rapper Eminem has been vilifying his mother for the way she raised him. The only other person who would possibly understand his struggles that he went through is his younger brother, Nathan Mathers.
Although both shared different fathers, growing up under the same circumstances in their household, they went on to share one of the deepest bonds in their respective lives. Today, they might be working on mending the broken bridges with their mother, but some memories will probably always haunt them all forever. So, what else do we know about Eminem's little brother Nathan Mathers?
Labeled as DJ, music producer, and actor in his Instagram bio, let's dig deeper into the life of Eminem's brother Nate.
Nathan Grew Under the Shadow of Eminem's Success
Nate was born on February 3, 1986, to parents Debora R. Nelson Mathers and Fred Samara Jr. He had an older half brother, Marshall Mathers better known as Eminem from his mother's previous marriage to Marshall Bruce Mathers Jr.
Nathan's brother, Eminem was mostly responsible for taking care of him while he was a baby. Reportedly, he would even change his diapers. The family then started to live in Detroit which was predominantly a black community.
Growing Up in a Difficult Household
We all probably know by now that growing up, the Mathers household was quite difficult for the brothers. The family was never at one place, constantly moving between Michigan and Missouri. Nathan's older brother rapper Eminem has been very vocal about his complicated relationship with their mother.
While in many of his earlier songs, Eminem had criticized their mother for the tough upbringing they had to go through, his 2014 song 'Headlights' became his apology letter to his mother. In the song, he made a few references to the incidents that plagued their relationship. One of such incidences was the removal of his little brother Nathan from their home to foster care.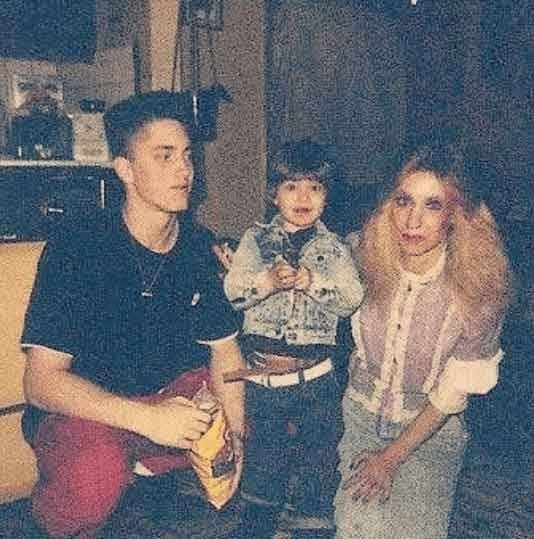 When Nathan was attending Roseville Elementary School, he allegedly used to get bullied. His mother tried to sue the school for that but the school counterattacked her with the same allegations. At that time, his mother was said to be mentally unstable and would isolate Nathan from meeting other kids and even not letting him go to school. This resulted in Nathan being removed from their home to foster care for about a year. Things never got good for the brothers in their home but the brothers' bond stood against everything life threw at them.
Having Eminem as his Legal Guardian
Nathan's brother Eminem had already started rapping when Nathan was born. He then moved out of their mother's house but would always send money to their mother doing different odd jobs. He would also talk with Nathan on the phone hoping that he would not be going through the same abuse that Eminem went through living with their mother. Throughout all of his struggle with finding his big break in the hip hop scene, Eminem would always look out for his younger brother.
After finding success with his music, Eminem went on to become the legal guardian of his younger brother. Since his 16th birthday, Nathan started to live with his brother. He has gone on to say that living with his brother is much better than living with his mom who he claimed to be even crazier in real life. Their mother was eventually denied to be a part of her sons' lives.
Nathan's Relationship With His Brother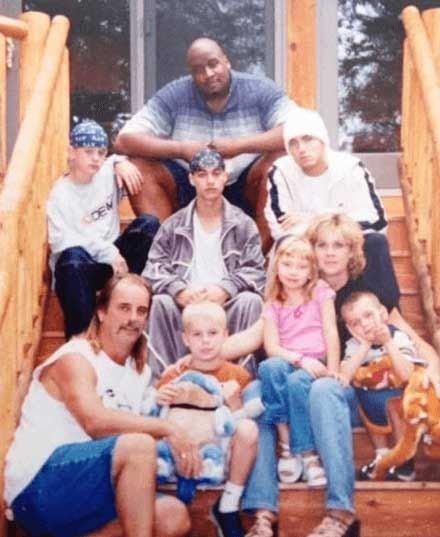 While the brothers shared troubled childhood, the relationship between them has always been very good. Once talking about Nathan, Eminem said:
"Yo, my brother is mad cool. He's the most popular kid in the school. He's got like 10 girlfriends. He even dyed his hair blond and got his ears pierced. He looks just like me. He came to my concert and the girls were all over him. They didn't even want to get with me. He was sitting on his girl's lap and I was like 'You go, you little pimp' He is cool and we call him little Nate Dogg".
Nathan would often accompany him in his concerts and events. Eminem brought Nathan along with him to his 'Up in Smoke Tour'. He was also seen in multiple Eminem's music videos like 'The Way I Am', 'Without Me' and 'Sing For The Moment'.
Nathan was also with his brother during his tough times like his court case. He was also reported to be in the same house when Eminem's then-wife Kim Scott attempted suicide. Nathan probably supported his brother throughout his struggles with his family.
Nathan Tried Rapping but Couldn't Succeed
Being the brother of such a huge artist would surely inspire you to do your best in whatever you choose to do. After idolizing his brother for so long, it was no surprise that Nathan would pick something closer to him. Nathan also started rapping and used the alias 'Nathan Kane'. He has released a few songs like 'Slide on Over', 'I'm not Asking', 'Touch Ya Body' and 'Shadow of Celebrity'. Nathan however could not find success as a rapper.
Nathan has also dabbled into acting and has worked in a 2019 horror film 'Devil's Night Dawn of The Nain Rouge'. Apart from this, Nathan also works as a DJ and a personal trainer.
Kane is Married to Longtime Girlfriend Ashley Mae Whitney
Unlike his brother Eminem, Nathan has found a much stable romantic partner with whom he has a beautiful family together. Since 2001, Nathan has been in a steady relationship with his girlfriend Ashley Mae Whithey. They had their first child, a beautiful daughter probably around the late 2000s. After a few years, she got pregnant again and the couple welcomed their first son, Liam. On February 25, 2017, the couple's youngest son, Carter was born. A year before their son Carter was born, Nathan had also proposed to Ashley.
Nathan married his longtime girlfriend and baby mama, Ashley Mae on May 7, 2018. They exchanged vows surrounded by close family and friends in a private ceremony held in Miami Beach, Florida. All three of their children were present at the ceremony.
Nathan has been very active in social media too. On Instagram, he has 76.9k followers and on twitter, he has 17.5k followers. He regularly posts photos and tries to stay connected with his followers as much as he could. He seems to be living a happy life with his wife and kids.
Replacing his Last Name 'Samara' with 'Mathers'
In January 2018, Nathan Kane Samara officially became a 'Mathers'. Instead of keeping up his father's last name who bailed on him when he was just an infant, Nathan took upon the chance to take up his brother's last name 'Mathers'.
Since his childhood, Nathan has always looked up to his brother who was more like a family than his father could ever be. It is really nice to see these two brothers still being so close to each other. The same last name makes their relationship even more special. 
Nathan has now taken up acting as one of his Career Choices
Ever since Nathan appeared in the music video of Eminem's song 'Stan' as the younger brother, Matthew of the character Stanley, most people believed that Nathan would be featured in other acting roles too.
While he continued appearing in his older brother's music video, it wasn't until 2020 that he would work on a movie called 'Devil's Night: Dawn of The Nain Rouge'. Despite the movie being a critical and commercial failure, it was definitely a step forward for Nathan in terms of finding a footing in the acting industry.
Nathan's Net Worth
 While it's pretty hard to estimate someone's net worth who is relatively infamous, few sources claim that he has a substantial net worth. Some even claiming his revenue to be around a million a year. Being a DJ, music producer and an actor, one can assume that Nathan does have a comfortable life.