Luke Combs is one of the few stars who got massive fame in a short period of time. The country rising star has won CMA Award and was even nominated for the Grammy Awards. You may be wondering, what's his formula behind that? Obviously his hard work and passion towards music, but he may not have reached his career height if he wasn't supported by his girl Nicole Hocking. Nicole Hocking is the person who has been with him through his ups and downs. He won't hesitate to call her his lady luck. But, ever wondered who she is??
Nicole Hocking's Bio
The country star's girlfriend turned fiancée Nicole Hocking is a social media influencer who needs no introduction. She has been enjoying the media attention for a long time ago. But, many may not know about her life, prior she came in the limelight. Throwing some lights on that section, Nicole Hocking landed on this earth on July 22, 1992. The blonde beauty was born in Fort Myers, Florida. Her upbringing took place in Florida, USA before she moved to Nashville. Her mother Mary Hocking and sister Jenna Hocking still resides in Florida. There's no information about her father.
The 26 years old have completed high school education from a private school located in Florida. After graduating from high school, she enrolled herself in the Florida Gulf Coast University. She graduated from the University in 2014. During her tenure at the university, she was a member of Kappa Delta Sorority. In fact, her sister Jenna has also graduated with a degree in hospitality management from the same university.
During her college days, Nicole used to work at the local bars for earning. After graduating from University, she moved to Nashville, Tennessee in search of work.
Hocking's Professional Life Breakthrough
Nicole started her career working at the local bars in her hometown, Florida. Ever since she completed her education, she has been involved in the music business. Her arrival at Nashville offered her a job at the Broadcast Music Inc. (BMI). While working with BMI, Nicole encountered many A-listed actors including Jimmy Buffet, Post Malone, and Chrissy Metz. She gained massive popularity in social media and became a social media personality. Her association with the music helped her meet the love of her life, Luke Combs. Combs was a nameless man when the two met each other. Luke told People:
"There was no publishing deal, no record deal, and no booking deal. Everybody was like, 'Yeah, this is never gonna work', and so I didn't have anything when we met."
Nicole helped Combs to make his place in the music industry by introducing him to some successful music stars managed by her company BMI. While Luke is signed under River House, he has worked with BMI songwriters. He co-wrote his triple-platinum debut single, "Hurricane" in association with BMI songwriters Ray Fulcher and Jordan Walker.
Since Combs debut in 2017, Nicole and Combs together make entries in various events like Billboard Music Awards, CMA Awards, and CMT Awards. Recently, the couple made an appearance in the 2019 Grammy Awards.  Combs was nominated for the "Best New Artist". However, Dua Lipa took home the award. Hocking has even shared the screen with Luke on his music album "When It Rains it Pours."
Started from the low, Luke Combs has become a promising singer of the country by now. Hocking in addition to her work has gained massive popularity being in relationship with Luke Combs.  Currently, Hocking works at Hilton West Palm Beach. In 2018, on her birthday she organized a Facebook fundraiser for Captains for Clean Water, a Florida-based nonprofit organization. Hocking was able to raise $795 for the cause.
Nicole Hocking and Luke Combs's Sweet Beginnings and Love Life
The social media star and the North Carolina native first met when Luke was a struggling artist. The duo started dating since early 2016 after the release of Combs' debut album, "This One's for You", and its follow-up, "This One's for You Too".
Luke dropped out of college to pursue a career in the music industry. He is the first country artist to have five number ones on the country chart with his first five singles. Nicole supported him when nobody trusted him. Luke has earned awards like New Country Artist of the Year and New Artist of the Year. He was even nominated for a Billboard Music Award in the Top Country Album category.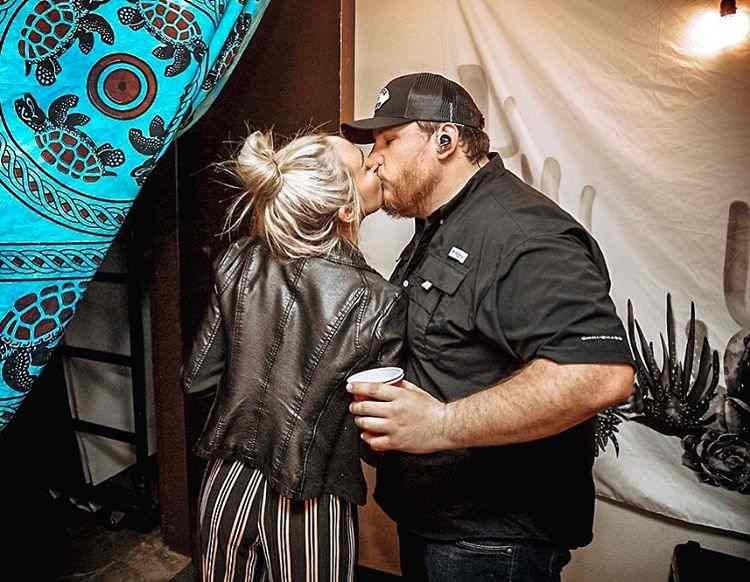 Luke gives all credit to Nicole for his success. Luke never hesitates to share how grateful he is to have Hocking in his life. He time and again gushes over his girlfriend in the public platform. In 2018, when he took home CMA Award for New Artist of the Year award, he thanked Hocking for her support by making a post on Instagram with the caption:
"I won a CMA award last night but I showed up a winner because of this amazing woman. Thank you for believing in me, supporting me, and eating cookout with me at 1.30 AM after the awards. I love you so much Nicole Hocking, you're incredible inside and out."
Besides, supporting Luke to garnish his career, Nicole also helped him quit an unhealthy habit of dipping. In an interview with Taste of Country, Combs confessed:
"I'm trying to quit dipping- well actually, I have quit. It was cause of my girlfriend. She hated that I dipped and you know it was just time. Time to just kick it."
He further added:
"I always lied to myself and was like, 'Oh it's okay you know.' But really the worst thing in the world for your voice is any sort of acid reflux, heartburn type thing. Obviously, I eat a lot of greasy stuff anyways, and then I dipped, so that's really what kills your voice more than anything. Quitting dipping was the most obvious lifestyle choice, but it has been difficult. I do miss it every day, but I'm getting better."
The romantic couple perfectly balances each other and help each other improve and minimize the flaws in their life. The adorable couple took their relationship to another level when they got engaged.
Officially Engaged to Luke Combs and Wedding Plans
The social media star is now engaged to her boyfriend for two years, Luke Combs. The "One Number Away" country star took the help of Instagram to announce the news of their engagement. They got engaged in November last year. Luke shared a picture of himself with his girl enjoying the Hawaiian sunset where Nicole was flashing her sparkling engagement ring.  He captioned:
"She said yes a while ago, but this is a way better place to take pictures than the kitchen. Can't wait to spend forever with you @nicohocking. I love you!"
On the other hand, Nicole too shared the same photo with the caption 'You're stuck with me forever."
Since Combs proposed her in the kitchen, the young couple waited until they had the stunning backdrop of Hawaii to reveal the big news. Regardless of the fact that the moment happened in a place that may not be glamorous, the moment they experienced will be never forgotten by them.
On October 6, 2018, Nicole posted a picture of her engagement ring on her Instagram with a beautiful caption dedicated to Luke Combs.
The engaged couple had bought a house together and now even are parents to a cute puppy named Jojo.
The couple's wedding is likely to place some time in 2020. However, the couple hasn't started planning for their wedding and haven't set any particular wedding date. Combs told People:
"We're just crazy busy. Especially this year. We just haven't had any time to sit back and be home for more than three or four days. And it's just a really overwhelming process, doing what we do."
Nicole also revealed that she may hire a wedding planner to assist them out for their big day. The two really cherishing the moment together. It seems like they really dislike being apart. Currently, Luke is on his "Beer Broke My Heart Tour" and he is really missing his girl. He shared on his Instagram:
"This is my baby and this is my favorite picture of her. She's gonna be mad at me for posting it probably because it's not perfect but she is. This picture encompasses everything that has made me fall in love with her. Her natural beauty, her smile, personality, and the way she lives life. She's having a rough day and I'm far away, which is the hardest part of what I do, but I'm coming home baby, I'll see you soon. I love you.
Net Worth
The internet personality has gained a massive fan following in social media platforms like Twitter, Instagram, and Facebook. She has made a healthy amount from her career at the BMI as well as from online presence. She also accumulates wealth by endorsing various brands on Instagram. Nicole is living a luxurious lifestyle and she must be playing in millions. However, her exact net worth is something that needs to be uncovered. Meanwhile, her partner Luke has an estimated net worth of $5 million.