In Hollywood where romantic entanglements are often subjected to controversies and news headlines, it's quite rare to see a couple living a completely happy and comfortable life. Actress Evangeline Lilly and her partner Norman Kali are one such pair who have somehow managed to keep their relationship meaningful even after a decade of being together. While we might not know every ups and down of their relationship, it's pretty clear that Evangeline Lilly has found her biggest supporter in Norman. Norman Kali, a man confident enough to set his own career aside to become a stay-at-home dad, what do we really know about him? Let us find out.
Norman's Hollywood Career that never took off
Better known as the partner of Evangeline Lily, Norman Kali was born in Hawaii in 1978. There's very little to zero information available about his family members and early life. However, we do know he dropped out of high school at the age of 16. After dropping out of school, he began working odd jobs. Then he relocated to Los Angeles with the hope to pursue a career in Hollywood.
In order to follow his dream of working in Hollywood, Norman dropped out of school and moved to Hollywood at the age of 18. Since then, he has worked on numerous projects as a production assistant and assistant director. One of his notable works as a production assistant includes the popular American drama series 'Lost' where he met Evangeline Lilly. The show aired on ABC from 2004 to 2010 over six seasons. Besides, he has also served as a production assistant in movie series like The Hobbit: The Desolation of Smug, North Shore, and 50 First Dates among others.
Likewise, Kali worked as an assistant director on the sets of projects like Undercovers, Special Deliver, The Prince of Motor City and the list continues. Apart from these, his work credits also include serving as a location manager for the American action thriller movie Tears of the Sun and special effects assistant for the action-comedy movie Tropic Thunder.
Currently, he is not involved in any Hollywood projects and is enjoying his life with partner Evangeline and his two kids.
Norman and "The Antman" co-star Started Dating in 2010
Norman has found his soulmate in Canadian actress Evangeline Lilly. The duo has been together for 11 years going way back in 2010. Norman and Lilly first met with each other while both of them were working together on the hit ABC Tv show  'Lost'. After commencing a romantic relationship with Norman, Evangeline moved to Hawaii to live with him in his homeland. Meanwhile, she got pregnant while living together and the duo welcomed their first child in 2011. 
Kali has Two Kids From Evangeline Lilly: Kahekili and Baby Kali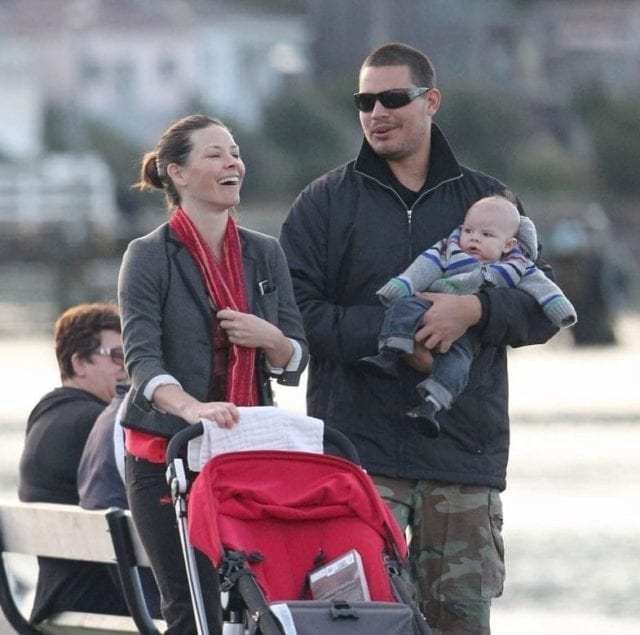 Norman Kali welcomed his first child with Evangeline on 21st May 2011. They named their son Kahekili Kali which means 'Thunder' in the Hawaiian language. Lilly kept her pregnancy a secret until her baby bump got visible and was captured by the media. After becoming pregnant, she took a break from her acting career to look after her family.
Norman's partner has always been vocal about how far she wanted to be a mother and concentrate on motherhood. In an interview with Women's Health, she said:
'I have always wanted to have a child of my own and I will always want to go through the gift that women have been given to experience that so I hope to be a mother at some point."
Further, she added:
"I think I can allow myself one child-and from then on, I think I would have to adopt. It makes sense not to add to the population problem."
Meanwhile, the couple again gave birth to their second child in October 2015. Like her first pregnancy, the actress kept her pregnancy under wraps until she debuted her bump at the premiere of her movie Ant-Man in June 2015. She has always been eager to expand her family and has revealed she and her husband Norman had investigated adoption. In an interview with Ocean Drive Magazine, the actress spoke about her pregnancy and said:
"What I wanted originally was six kids. I frickin' love being pregnant. I'm one of the lucky women who just had a blissful pregnancy, but I wanted to adopt four."
She added:
'My partner and I have really been through the ringer in the adoption world and it's hard so we'll see what happens. Life is magically beautiful, and it brings you what is perfect."
Currently, the family of four resides in Hawaii. Though Norman and Evangeline already have welcomed two kids, they don't seem to be getting married anytime soon.
Evangeline and Kali Aren't Married and here's Probably Why
Although Norman Kali and his partner Evangeline have been together for so long, 11 years to be precise, they do not have any marriage plans. As reported by Eonline, Evangeline doesn't believe in the institution of marriage. The brunette beauty spoke about her thinking on marriage with Ocean Drive magazine and said:
Every other 16-year-old girl wanted to look at bridal magazines, I could not have been more bored with the notion. I have an American son and an American partner, so marriage logistically make sense at one point."
Further, she commented:
My partner is a stay-at-home father, so if he wants to be on my health plan, or taxwise, or maybe on paper, we want to have our I's dotted and our T's crossed, but emotionally neither of us really feels the need for it. We love each other today, and we hope we'll love each other tomorrow. In my world, I don't believe in forever promises. I don't think it's realistic.
There are arguments that she wants to put her career as a priority rather than marriage. However, we believe it's her first marriage with Murray Hone that sucked the soul out of her. As it only lasted for a year, she probably believes marriage isn't something for her. She is happy with Kali and her two kids. And hopefully, she will tie the knot when she is ready!