Binging on the success of Fast and Furious franchise, Vin Diesel went on a dating sprint when we went out with 5 different woman from 2000-2006. But in 2007, life threw a curve ball and he finally found the right woman in Paloma Jiménez.
"She is my everything. She is a rock and a good mother," these are the exact words of Vin Diesel about his partner Paloma Jiménez. Although the couple aren't married till this date of writing, the wedding could be just around the corner. And, after nearly 15 years of relationship and three beautiful kids together, the couple look happier and stronger than ever. The best part about their relationship is the connection they share that isn't hindered by their 16 years age difference.
So who is Paloma Jiménez and how did she meet "The Saving Private Ryan " Star?
Here is what we know about the Mexican model who once worked with major brands like Coca-cola and Pantene.
Paloma is a Mexico born and bred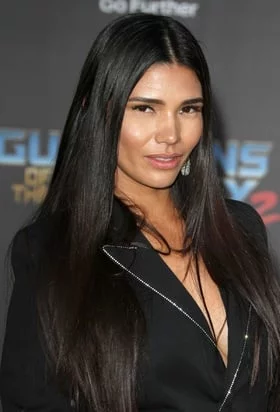 When I hear the word Mexico, Salma Hayek is the name that rings the bell for me. Just like Salma, Paloma Jiménez is born and bred in Mexico.
Born on 22 August 1983 as 'Karla Paloma Jiménez Denagustin' in Acapulco, Mexico. Jiménez started her career in Mexico as a model before shifting to U.S for further career opportunities. With a staggering height of 5 feet 10, she moved up the ranks easily with her charm.
Paloma Jiménez is an Accomplished Model Having Worked with International Brands
Before hitting the red carpet with Vin, Paloma had a series of works lining up for her. From an early age, the beautiful brunette entered the modeling world. Her first modeling gig came from her home country Mexico and later she switched on to U.S where she got bigger opportunities.
According to Fashion Model Directory, Paloma was previously represented by Two Management, LA and Looks Modeling Agency in Mexico. She has done photoshoots with various agencies including Latin magazines with Aridio and Jo Lance. Here is a rare footage of Paloma's Shoot.
In 2005, Paloma was the cover girl of Mexican edition of the "Maxim" magazine. She also appeared at the cover of another outlet,"Max" in 2006. The same year she attended the fashion show Spring/Summer 2006 'Ready to Wear.'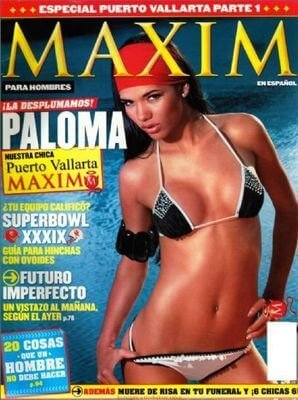 The Mexican brunette has served as the brand ambassador of the massive brands like Coca-Cola, Honda, Grypho, and Pantene.
Paloma has Appeared in TV Shows
Well, there is a hardly a case when an accomplished model doesn't try their hands on acting. Many have done it, hit the green buzzer, and made it to the top. Unfortunately for Paloma, acting is a pass for the tall model. However, she has appeared in TV shows.
Jimenez first appeared on the popular Mexican show 'Otro Rollo' in November2, 2004. She was there with Alejandra Gujman and host Adal Ramones. The show featured live music, interviews, comedy sketches, and other forms of entertainment. The show went off air on May 8, 2007 after running successfully for twelve years.
Likewise, she has also appeared in the show 'The Tonight Show with Jay Leno' in 2013 along with husband and kids. Diesel was promoting his movie 'Fast & Furious 6' on the show.
How Paloma and Vin Managed 15 years of Remarkable Relationship?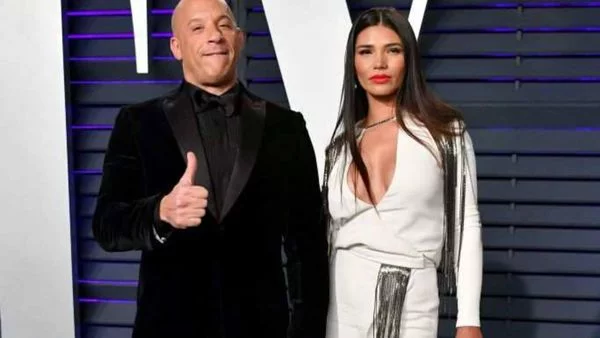 When Paloma crossed the path for the first time with Vin Diesel , she was focusing on her modeling career. While it was love at first sight for the Vin, Paloma chose not to pay attention to him. However, Vin left no stone unturned in impressing her. After showcasing all his charm, Paloma finally accepted his proposal.
The pair are together since 2007 but still, aren't married. It seems like they do not feel the urge to exchange the vows. The huge age gap of 16 years have also not created any trouble for the couple. They respect each others thought despite having differences and give space in the relationship. That's all you need to have a successful relationship and hence no storm can set you apart.
Vin is lucky to have a supportive partner in the form of Paloma Jimenez. Paloma sticks by Vin's side through thick and thin. She is always there for him on his movie premiers or events.
In 2013, Jimenez was right by his side when Vin Diesel earned himself a star on the Hollywood Walk of Fame. Diesel's mother Delora and father Irving were also present to see their child receiving the honor. Besides, Paloma often walks the red carpet with Vin Diesel, as she did for his film, Riddick in 2013. The two look absolutely adorable together like the couple made in heaven.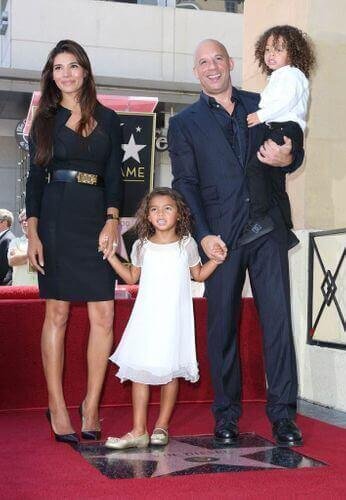 Vin too absolutely adores Paloma. Even after more than a decade of relationship he can't miss a sight of his girlfriend. During the premiere of "Triple X, The Return of Xander Cage", we can see how much he loves her when he talks about her. 'She is beautiful and everything to me. She is a rock and a good mother.' This is what he had to say about his gorgeous girlfriend.
Paloma Jimenez Kids: Hania, Vincent, and Pauline
Though not married, Paloma Jimenez and Vin diesel have already welcomed three children-two daughters and one son together.
Their eldest daughter Hania Riley Sinclair was born on April 2, 2008. She often accompanies her parents at various events, including movie premieres and the red carpet. She was captured attending the premiere of the movie of Guardian of the Galaxy in 2014.
Hania resides with her parents in Los Angeles where she is attending the local school. She practices judo and jiu-jitsu and holds a black belt. The eldest of the Diesel clan shares a special bond with her father. She is way more mature than the age of her children. When she was just seven years old, she sent a heartful message to Vin wishing him good luck for his movie.
In 2015, when he appeared in 'The Tonight Show Starring Jimmy Fallon', he revealed how sweetly his daughter texts him and wishes him for his projects. He shared one of the texts sent by Hania while he was filming The Last Witch Hunter to him that wrote:
"Hi Daddy! I love you so much and I am so proud of you. I miss you so much and I believe in you that you will make an awesome movie. I love you so much. I miss you so much. "
Likewise, Paloma further expanded her family and gave birth to Vincent Sinclair in 2010. The little munchkin is all grown up and copies his dad in numerous home videos, which Diesel uploads in his social media accounts.
Recently, the father-son duo shared a message of hope amid the ongoing coronavirus pandemic. Vin posted a video on his Instagram highlighting the positive aspects of Coronavirus where Vincent says the pandemic has made us a global family.
Further, they welcomed their youngest daughter on March 16, 2015. They named the baby Pauline Sinclair as a tribute to their dearest friend late Paul Walker. Vin and Paul who died in November 2013 have been good friends for a long time. They both starred in the 'Fast and Furious' action movie franchise. Since his demise, he has been paying tribute to him through various means. After naming his daughter after Paul, it was the best way to keep alive Paul in his memories. In 2015, in an interview with 'Today' he told :
"There's no other person that I was thinking about as I was cutting this umbilical cord. I just…knew he was there. It felt like, you know, a way to keep his memory a part of my family and a part of my world."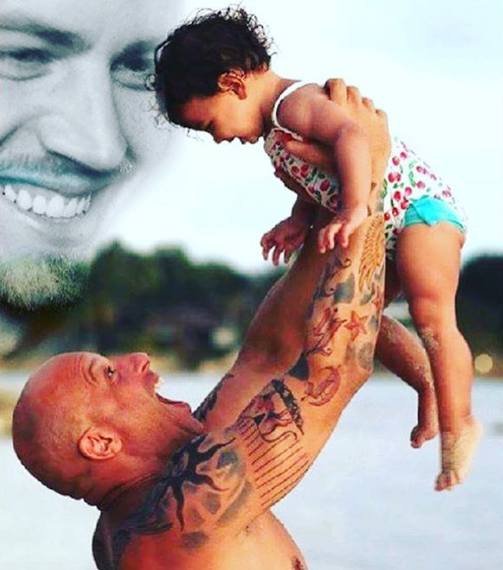 Moreover, Paloma and her family maintain a warm relationship with Paul's daughter Meadow Walker and regard her as their own daughter.
Paloma and Diesel: Are They Still Together?
Apparently, it's really hard to find something about Paloma. She is kind of a ghost when it comes to social media. Also, Diesel likes to keep his personal space uptight. When asked about his personal life in general, he was quick to remind his fans that he doesn't come up with 'I'm open sign.'
"I'm not gonna put it out there on a magazine cover like some other actors. "I come from the Harrison Ford, Marlon Brando, Robert De Niro, Al Pacino code of silence."
In 2016, rumors flew that the couple were no longer together. However, it turned out to be just another run of the mill speculation. The couple is still together counting many more years together. The two have been together for nearly 15 years now.
Rumors were there that Paloma Jimenez was considering going back to modeling and 'taking back control of her life' when she found out about Diesel's extra affair. However, reacting to the rumors Vin said that the story was false and their relationship was not hitting the rocks.The lovebirds are still together, supporting each other and taking care of their children.
How much does Paloma Earn?
Paloma Jimenez has worked as an actress and a model before quitting her career. She was one of the top-model of her country and was associated with big brands. Paloma definitely has collected a fair sum of money from her professional life.
As per online sources, the longtime girlfriend of Vin has an estimated net worth of $5 million as of 2020. Meanwhile, her partner has an impressive net fortune amounting to $200 million.
Paloma's life has been sphered between her kids and Vin Diesel. She believes in living the moment rather than capturing them. She hardly uses Facebook and Twitter but has maintained an account on these platforms. Likewise, she is yet to make her presence on Instagram, unlike other celebrity partners.
The classic Mexican model is happy being the girlfriend of Vin Diesel and the couple has no plans of getting married soon as per some sources.
Paloma's Kids are Close to Meadow Rain Walker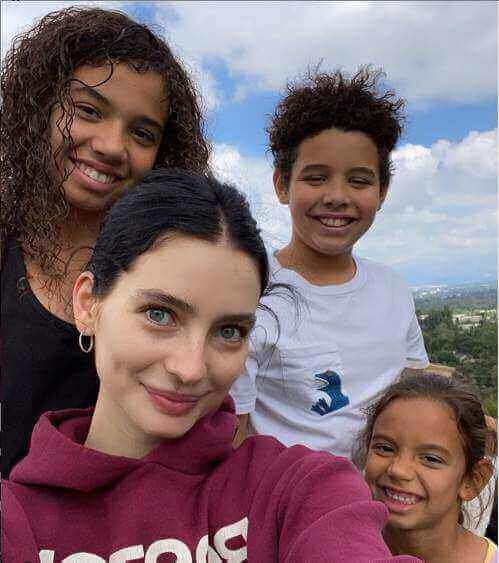 Paul Walker's daughter Meadow Rain Walker is continuing her late father's friendship with actor Vin Diesel and his family. Even though Paul is no more alive, his daughter Meadow has a close relationship with Vin. She regards him as his godfather and her second family. Likewise, Vin also addresses Meadow as his own daughter. On the occasion of her 21st birthday, that actor shared a picture of Meadow alongside Pauline with a caption that said:
'I could say that I am so proud of the person you are becoming..but the truth is I have always been proud of you. Happy birthday, Meadow. I know it's your 21st and you wanted to go to big in Japan, but the family has a cake waiting for you when you get home, so hurry. Love you kid. Uncle Vin.'
Moreover, Meadow also recently shared an adorable selfie with Hania, Vincent, and Pauline where all four were in all smiles enjoying each other's company.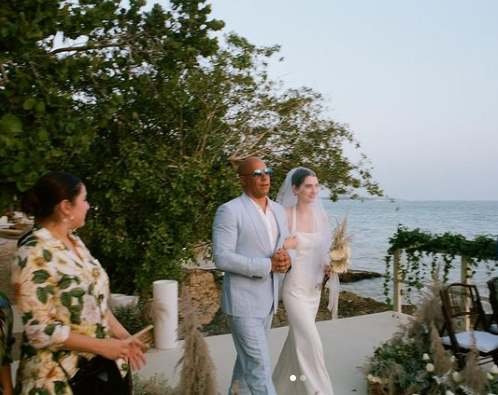 On October, 2021, Vin also walked down the aisle with Meadow when she got married with her then boyfriend Louis Thornton-Allan.