Many celebrities in Hollywood do not want to publicize their private life in the media. You are constantly being judged and criticized for the things you are saying and doing remaining under the public eyes. The public image of celebrities is constantly tainted by how they are portrayed in the media. One such celebrity who was always hounded by tabloids is English Actor Jude Law. Gaining worldwide recognition through Anthony Minghella's 'The Talented Mr. Ripley', actor Jude Law has been in the film industry for almost three decades now.
The unhealthy amount of information the media had about him has been stuck with him for years. His romantic endeavors too were the subject of public attention that ranged from multiple affairs and cheating scandals. Though he has gained huge success in his professional life, he was always the victim of bad luck when it comes to love. But, the story took a twisted turn when he met Phillipa Coan. He eventually fell in love with Phillipa within a short time frame and settled for forever. So, who is Phillipa Coan?
Phillipa has Kept Her Childhood Memories into the Shade
Phillipa Coan was born in 1987 in London, England. Unlike Jude Law's previous partners, Phillipa has successfully avoided unwanted media attention. Therefore, very little to zero information is regarding her parents, siblings, and early life.
Phillipa Coan is a Scholar
Phillipa Coan is known to be very serious about her education. After completing her General Certificate of Secondary Education (GCSE) and A levels which are somewhat equivalent to American high school studies, Coan decided to continue her studies. She then enrolled in the University of Birmingham for her Bachelor's degree in Psychology in 2004. Coan graduated with first-class with honors from Birmingham in 2007.
Phillipa Coan then went on to complete her Master's degree in organizational psychology with distinction from City, University of London. She attended the campus from 2007 to 2008. Further, In 2010, she enrolled at the University of Leeds to pursue her doctorate program in organizational psychology and behavior change. She completed her Ph.D. in 2014. According to her website, Coan is also a Visiting Research Fellow at Leeds University Business School
Apart from these, she has also received a practitioner diploma in executive coaching and certification in systemic team coaching from the Academy of Executive Coaching in 2018.
Coan Serves as a Business Psychologist and owns STRIDE
Phillipa Coan began her career working as a visiting lecturer in the University of Birmingham. She served at the institute of occupational and environmental medicine department from April 2009 to December 2010. During her tenure, she gave lectures on Acceptance and Commitment Therapy that formed the part of a course titled 'Workplace Mental Health'.
Alongside her job as a lecturer, Phillipa also worked as an associate consultant psychologist in Work Psychology Group Limited. She worked there for three years from January 2009 to January 2012. There she performed tasks like conducting job analysis, developing competency frameworks, designing e-learning tools, delivery of behavior change workshops, and many more.
As of now, she represents herself as a business psychologist and behavior change specialist. Coan has been working as a business psychologist since January 2012. She has carried out many independent consultancies works for a number of public organizations like NHS, universities, etc, and private organizations like RBS and PwC. Her work mainly includes organizational culture change projects, evaluating strategic leadership development programs through different teachings and workshops.
In 2015, Phillipa Coan established her own consultancy company 'STRIDE' which uses psychology to help companies save money, carbon, and energy by encouraging the employees to change their behaviors. Her company 'STRIDE' has further expanded in 2019 after opening its sister company 'Stride Coaching'. According to the company's website, it provides coaching and training using behavioral psychology to help their clients stride forward. Her vast experience covers her services across sectors like manufacturing, health care, engineering, finance, oil, and gas.
Apart from these, Phillipa Coan serves as a chartered member of the British Psychological Society's Division of Occupational Psychology. She has years and years of practice and experience in her field of work. And she is determined to continue working on developing a more sustainable work environment within any organization.
The Humble Beginning of Relationship with Jude Law
The first time Dr. Phillipa Coan met actor Jude Law is presumed to be somewhere around February 2015. They were introduced by a mutual friend. They were first seen together publicly at the Hay Festival, a literary festival in Wales, UK, in 2015. There Jude performed in an event called 'Letters Live' in which performers read out real letters from famous literary figures. Coan accompanied Law for the event and the two of them were seen very close with each other.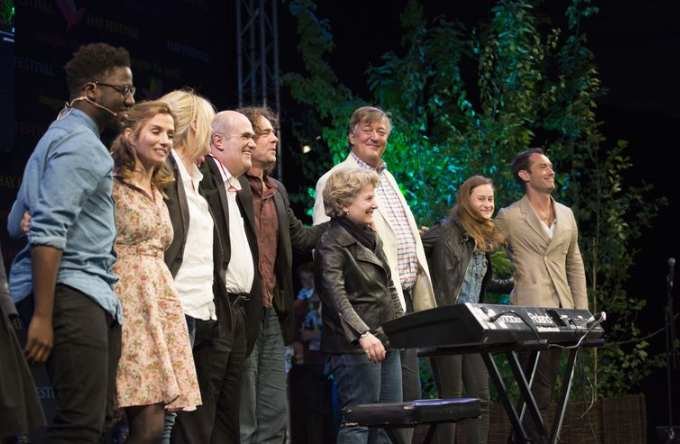 Jude Law was totally smitten with Phillipa during the initial days of knowing each other. He found it refreshing to date a girl who doesn't come from the showbiz. In one of the interviews, he said:
She is mine and no one else's. I am very very happy. Our relationship is a very private thing, and I think part of the fact it works so well is exactly because of that.
In one of his interviews with DailyMail UK, the actor revealed that he was very happy with the relationship. And he wants to keep the things between them very private as privacy is what made their relationship special.
Jude and Phillipa Turned Their Romance into a Lifetime Commitment
Dr. Phillipa Coan and actor Jude Law officially tied the knot on April 30, 2019. They tied the knot after dating each other for almost four years. Even though there were rumors of them planning a grand wedding, they opted for a simple wedding in presence of close friends and family. The intimate ceremony was held at the Old Marylebone Town Hall in London. The bride reportedly wore an off-white ruffled short dress and carried a bouquet of flowers. Likewise, her husband wore a corduroy navy blazer, matching pants, and a navy fedora hat.
The couple seems to have a wonderful relationship over the years. They are often seen together going to games, red carpets, and even taking short evening walks.
Phillipa and Jude Welcomes Their First Child Together
Actor Jude Law and Phillipa have recently given birth to their first child in September 2020. The actor confirmed the news on the show "The Tonight Show Starring Jimmy". In the interview, Law revealed:
It's really wonderful. We feel pretty blessed that we were in a time where we could, as a family, just nest and enjoy each other's company and every day as it came. It was an unusual but kind of enforced love-in.
While the baby is Coan's first child, Law is already a dad to five children from his previous relationships. Jude was previously married to actress Sadie Frost from 1997 to 2003. They met while working in the 1994 film 'Shopping'. During the period of their relationship, he fathered three children.
The eldest son Rafferty was born in 1996 and is now a model and an actor. Rafferty is believed to have accompanied his father on his wedding day as one of his best men. His second daughter, Iris who is four years younger than Rafferty is also a model. His third child Rudy like his older siblings is a also model. He has even won a contract from Dolce and Gabbana.
Actor Jude Law had his fourth child, Sophia in September 2009 with then-girlfriend Samantha Burke. He then went to have his fifth child, a baby girl, Ada with ex-girlfriend Catherine Harding in March 2015.
Dr. Phillipa Coan is very active in social media. She has her own Linkedin page and Twitter page. On her Twitter account, she has 766 followers and she has been following 164 people. Dr. Phillipa Coan's official net worth has not been released to the public yet. But, looking at her career, we can guess her net earnings must be in the millions. Meanwhile, her husband Jude Law has an estimated net worth of $45 million.