In the year 2000, the world knew of Hollywood actress Kate Hudson after her critically acclaimed performance in the comedy-drama 'Almost Famous'. One of the things that started gaining attention along with her spanning career was her relationship status. One of the relationships that had a great significance in her life was with her former husband Chris Robinson who was the frontman of the American rock band 'The Black Crowes'.
While the couple eventually got separated their bond remained as they tried to work things out to raise their son Ryder. So, how has their son turned out to be? Let us read more to find out.
When did Kate Hudson Give Birth to Ryder Robinson?
Ryder Russell Robinson was born on January 7, 2004, in Los Angeles, California, USA. He is the first child of actress Kate Hudson and her former husband musician Chris Robinson. His parents got married on December 31, 2000, and got divorced on October 22, 2007. Both parents share the joint custody of their son Ryder.
As Ryder's parents got separated from each other, they started seeing other people and had other children too. As of now, Ryder shares a half-brother Bingham Hawn Bellamy and a half-sister, Rani Rose Hudson Fujikawa from her mother's side.
He also has a half-brother Cheyenne Genevieve Robinson from his father's third marriage with Allison Bridges.
Ryder's Comes From a Family of Celebrities
While both of his parents are in Hollywood, he also has some very famous relatives. His grandmother Oscar-winning actress Goldie Hawn and her partner of 35 years actor Kurt Russell have also been a big part of his life.
Ryder being a part of such a huge Hollywood family always had the media spotlight over him. While his parents were separated, they really tried to give him a loving home under normal living conditions.
His mother Kate Hudson once revealed in one of her interviews that oftentimes she felt like a bad mother but after raising three kids, she now has full confidence in her parenting skills.
Following the divorce of Kate Hudson and Chris Robinson, Robinson wanted to have full custody of their son, Ryder. Both of them compromised at that point in their life and decided to split the custody half and half. According to some sources, Ryder could float between either parent as long as it does not hamper his school.
However, in 2017, news came out that Ryder's father Chris Robinson had filed a document on February 6 to reopen the child custody agreement between him and his ex-wife Kate Hudson. Apparently, he had a disagreement regarding the parenting style of Hudson and wanted to have full custody of his son in order to provide his son with more guidance. He also wanted child support from his ex-wife.
These court documents contained the consent of both parents to go through evaluation interviews and get Ryder's thoughts regarding his living situation. All health, education, employment, and other related records of both parents were accessible for the evaluator sent by the court. Hudson was even ordered to pay the initial $7500 deposit for the evaluation costs.
As of lately, Ryder's parents are still co-parenting Ryder. However, according to some close sources, Ryder did apparently express a desire to live with his father. Despite all of this, Ryder shares a very good relationship with both of his parents. Since both of them are very focused on their individual career, people would assume the child is being neglected but that does not seem to be the case here.
Even though his parents got divorced and most of the time, Chris is on the road promoting his music, they make the best of all the time they could spend with each other. He is always spending quality time with both of his parents.
Ryder Maintains a Heathy Relationship with Half-siblings Bingham & Rose
Ryder grew up with his little half-brother Bingham who was born in July 2011. They were often spotted together whenever their parents would take them out. The boys would also accompany their mom in different red carpet events.
On October 2, 2018, Kate Hudson and her husband Danny Fujikawa welcomed their baby girl Rani Rose Hudson Fujikawa. Ryder became a big brother to a little girl and from the photos, we could tell that he really adored her. Ryder was also very helpful and caring for his mother at the time of her motherhood.
Now the family of five, they like going on strolls and spending their evenings together.
Mom Kate has the Sweetest Gifts for Him on his Birthdays
On his 15th birthday, Ryder's mother Kate shared a sweet family video on her Instagram wishing him for his birthday. Ryder, on the other hand, had other plans when he called out his mother for not asking his permission before posting the video with an eye-rolling and a crying-laughing emoji.
His mother Kate simply replied with a smiling face surrounded by heart emoji. Maybe he is a teenager who was just embarrassed by his mom like every one of us when our mother does something to embarrass us.
Ryder has also already celebrated his 16th birthday. This time too Kate posted a throwback video of when he was still two years old. She also featured Ryder on her Instagram asking:
"Look at the birthday boy. How's 16 treating you?". To which he replied, "It was great until you started filming me".
Likewise, on his recent 17th birthday, Kate posted a video of her along with her kids Bingham and Rani, where the trio was captured singing 'Happy Birthday' to Ryder. She shared the video on her Instagram with a caption that said:
Happy Birthday @mr.ryderrobinson 17 today! A family morning celebration for our big man. My loving, warm-hearted, hilarious, considerate, unruffled, loyal, resilient son….you got this.
Looks like Kate is going to embarrass her son next year too.
Just like his dad Chris, Ryder has an Interest in Music and Sports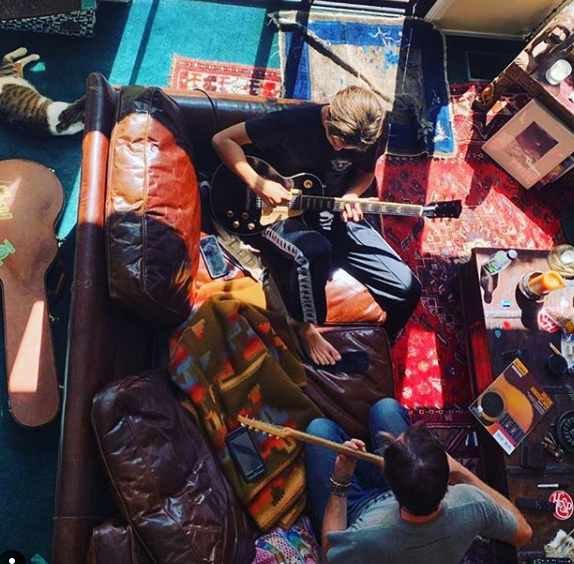 Ryder has his own Instagram account that has 103K followers though he does not seem to post much. He also seems to be interested in basketball as he has been to many NBA games and cheered for the teams with his mom. Lately, he seems to be getting interested in music and learning to play the guitar. Maybe he is being influenced by his father's musical career.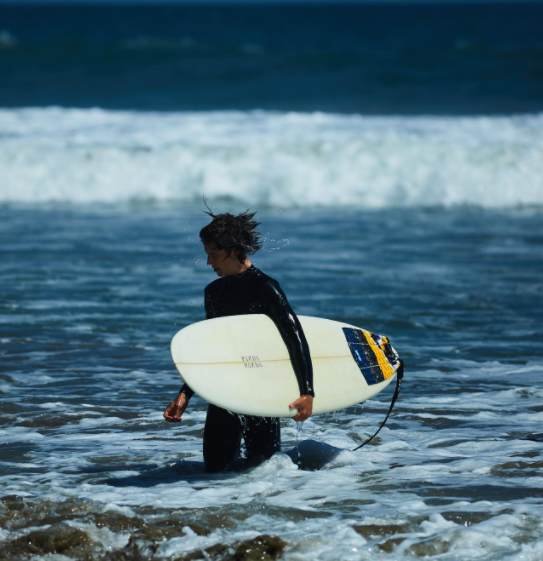 Apart from these, he also loves surfing in the sea. He often shares pictures of him enjoying surfing on his Instagram feed.
Ryder Gave Tribute To His Dad Chris on Instagram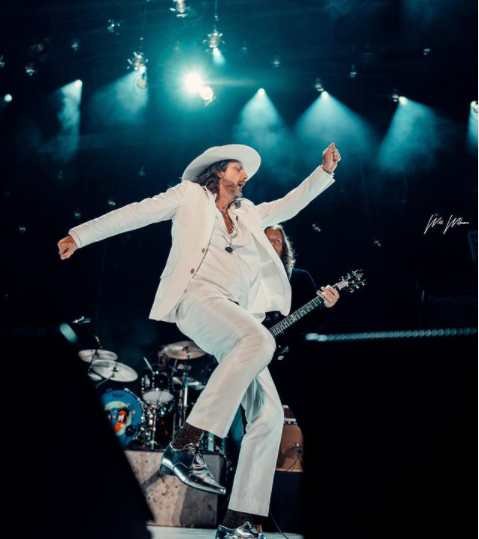 The firstborn of Kate and Chris recently paid tribute to his dad as his rock band 'The Black Crowes' goes back on the tour. Ryder celebrated the reunion by sharing an iconic photo of his father Chris Robinson in his Instagram story. The photo was reposted on 'The Black Crowes' official Instagram page.
Ryder is Dating Judd Apatow's Daughter Iris Apatow
Ryder is in a relationship with Judd Apatow and Leslie Mann's daughter Iris Apatow. As per reports, Iris and Ryder both live in the west part of Los Angeles and have attended the same school in Santa Monica. They have known each other for a long time as they grew up together before they commenced their romantic relationship.
The duo made their relationship public on Valentine's Day this year. Celebrating the day of love, Ryder posted a picture of him with the actress where he was seen kissing her on the cheeks on his feed with a heart emoji in the caption. As soon as he posted the picture, their family members started blessing them with comments in the comment section.
Likewise, when Iris was asked about whether her parents have approved her relationship with Ryder or not in a chat session with E! Online, Iris replied 'Yes, Of Course!'. Further, she went to reveal that her elder sister Maude Apatow is fond of her boyfriend and has accepted their relationship. She said:
My whole family loves him. And my sister loves him. She's the first person to be like,'He's the best'".
It seems like families from both sides have given the couple seal of approval for their relationship.
Ryder Robinson's Net Worth
Since he is not exactly working any jobs, his net worth is tied up to his parents. His mother being a successful actress, producer and entrepreneur have a net worth of 80 million US dollars. His father, on the other hand, has an estimated net worth of 9 million US dollars.