When the world was becoming crazy for Grammy Award winner Britney Spears, she was in her own world romancing her boyfriend. After going through lots of heartbreaks, Britney finally found her man. Britney held the hand of fitness model Sam Asghari. She first met him while shooting together for a music video. Soon after she got settled for a lifetime with Sam Asghari, it was a happy life for both of them until life took a drastic turn and they decided to end their relationship.
Though Sam Asghari is a model in Hollywood, he is more famous as the ex-partner of Britney Spears. However, he holds his identity beyond that. So who actually is Sam Asghari?
Sam Moved to the USA at the Age of 13 Years
Sam Asghari was born on 4th March 1994 in Tehran, Iran. He was raised by his father Mike Asghari and his mother Fatima Asghari. When he was two, his father shifted to the USA to work as a tow truck driver to uplift his family's life. Sam is the youngest among his siblings and has three sisters named Maddie, Ellie, and Faye.
As per wiki. he moved to the USA when he was 13 years old to live with his father. Asghari shifted to Los Angeles in 2006. Talking about the event, in an interview with Men's Health, he said:
"I had to leave my friends and family who I was very close with, and I knew I was moving away and never coming back."
Sam Was a Sports Enthusiast
Sam intended to become a sports star when he was young. His move to the USA eventually helped him settle for sports. While he was in high school, Sam was a part of the school football team. He had a successful high school football career.
After graduating from high school, he joined Moorpark College in California. He continued playing football at the college too.
Asghari's Dream of Becoming a Footballer Was Buried
Throwing some light on his struggle days, Sam neither wanted to become a model nor an actor. Sam Asghari dreamt of becoming a football player since his childhood. He took the first step towards his goal when he was in high school. In high school, he was a football player. But, as he got enrolled in college, he was kicked out of the college football team.
Having seen his dream get buried in the mud, he stopped exercising and paid little addition to nutrition. As a result, his weight hit an alarming 290 lbs. Following his weight gain, he suffered from depression. He reveals his experience in an interview that says:
"I was eating Doritos for breakfast, fast food, sugar, candy, no protein, a lot of carbs, and drinking sugary sodas. My nutrition was extremely horrible. The stress and fear of not going anywhere in life combined gave me my depression."
At that time, Sam was involved in 3 jobs, one of which was gym sales representative. In 2013, six months after missing out on the college football scholarship, he quit two of his jobs and started his full-time career at the gym in the Gold's gym.
The decision to quit two of his jobs paid him well as he lose weight by nearly 100 lbs. The guy really worked hard to shed his weight. He then worked as a personal trainer even working out for two hours a day and controlling his diet to focus on proteins, vegetables, and complex carbs. With the new look, the Iranian- born hunk jumped into the showbiz industry as a model and an actor from just fitness training.
Sam then Pursued His Career as a Fitness Model
Sam's sister Faye introduced him to modelling for the first time. He made his first runway debut for designer Michael Costello in Palm Springs, California. He then bagged various magazine features including Men's Health and Man Magazine since the inception of his modelling career. His modelling career grew a little bigger in 2016 when he was signed by Wilhelmina Models. Likewise, he was featured in the song "Work from Home" by the American girl group Fifth Harmony. Under Armour also signed him as a model.
While he continued getting bigger projects, he also met the love of his life during one of the projects.
Sam Asghari and Britney Spears Met While Shooting Together
Sam and Spears's love story started when they were shooting for the singer's hit album "Slumber Party" in 2016. As total strangers, the two had to shoot super-steamy scenes in a very public space. In January 2017, Spears revealed how their love story blossomed in between the takes. She shared her first encounter with Asghari with AMP 103.7's Fast in the Morning With Nathan Fast and Sybil Summers. She stated:
"We were shooting and we were doing this scene where I was doing the walk scene through the hall to go through the door to go to the bedroom, and we were sitting there and we were waiting and waiting together for 20 minutes at a time."
She further added:
"So we were basically forced to talk to each other and he has no idea. I mean, he knows my name, but he doesn't know me as a person. He's like 'What is this girl like'? And I have no idea who the hell is."
They were forced to talk with each other. The couple finally broke the ice by talking about Sushi and the things they like. On their Sushi date, they exchanged their phone numbers. But, the relationship was a slow burn as the singer forgot the Persian model after wrapping the music video.
Beginning of the Whirlwind Romance with Britney Spears
Asghari and Spears weren't in touch for many months after their first meeting. As it was in their fate, once a stranger and now a hot couple, came in touch with each other after five months. Spears literally forgot about the Iranian hunk and later remembered him when she saw the number. She said:
"I kept his number, and it was so weird — it was like five months later, and I found his number in my bag. I was like, 'He is really cute. This guy is really cute.' So then I called him, and ever since then, he is just a really fun, funny person."
Shortly after, they started spending time with each other and the rest is history. The couple kept their relationship secret during the initial phase and once it got the lid off, the pair never stopped giving major couple goals. Asghari made their relationship public with an Instagram post in 2016. However, as his fans questioned the post, Sam deleted the post as quickly as possible. The romance rumour was officially proved true on March 3, 2017. On that date, Spears shared a post on her social media account with the caption "My Baby's Birthday".
The romantic pair may have their fair share of quirks, but the duo is relationship goals at the end of the day. The couple constantly supports and gushes about one another. Apart from that, they flood their social media accounts posting their sweetest and funniest moments.
Asghari isn't the first one Britney Spears Has Dated
Britney Spears is a name that needs no introduction. Just like the singer's high-profile life, she has a history of high-profile relationships. Spears has had many bad experiences in her love life including two failed marriages. The singer tied the nuptial knot for the first time with Jason Alexander in 2004. They exchanged vows at a chapel in Las Vegas on the occasion of New Year. But, many of her fans and well-wishers were shocked by the news that she cancelled the marriage just 55 hours later. Well, that move was quite surprising.
After annulling the marriage, Spears got hitched to Kevin Federline, her backup dancer the following year. Soon after tying the knot, they gave birth to handsome son Sean Preston in 2005. After a year, the couple welcomed a baby boy again in September 2006. It seems like things were already getting sour between them before the arrival of their second baby. Just after two months after his birth, the pop queen filed for a divorce in November 2006. The couple fought for the custody of their children. Currently, Kevin has full custody of his two sons.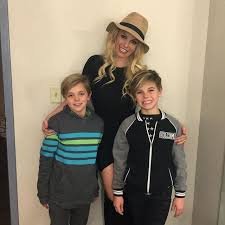 The pop queen finally got the man of her dream when she met Sam Asghari. The couple is head over heels in love with each other and there are no signs of separation between them.
Sam and Britney Got Engaged After Years of Dating
Back in January 2018, the romantic pair were rumoured to be engaged when the singer was spotted with a ring on her left hand while she was vacationing in Hawaii with her sons. Meanwhile, the speculation got fueled when Spears reappeared with the ring the following day, walking hand in hand with Asghari. However, neither Spears nor Asghari talked anything about the rumour at that time. Later on, it was found that the couple isn't engaged.
But, the rumour has finally turned true now. The duo finally got engaged on 12th September 2021 after five years of knowing each other. Spears and Sam both shared the happy news on their official Instagram account. Spears shared a video of her and Sam alongside her 4-carat engagement ring designed by Forever Diamonds NY. Also, Sam shared pictures of them with a close-up photo of the engagement ring worn by Spears on his Instagram to announce the news of their engagement.
Sam and Britney Suffered From Pregnancy Loss
Just when everything seemed perfect, an unfortunate event has taken place in the lives of Sam and the singer. Britney suffered from a miscarriage and the duo lost their unborn child. They shared the news about their loss on May 14 in a joint statement that said:
It is with our deepest sadness we have to announce that we have lost our miracle baby early in the pregnancy. This is a devastating time for any parent.
As soon as the news surfaced, fans from around the globe poured love into the couple and expressed their support. Seeing worldwide support, Sam thanked their fans for reaching out to them via his Instagram story. He wrote:
We have felt your support. We are taking things positively and moving forward with our future. It's hard but we are not alone. Thank you for respecting our privacy. We will be expanding our family soon.
Sam Married the Love of his Life Britney in 2022
Sam and Britney finally tied the knot on June 9, 2022, after five years of dating. Their intimate wedding ceremony was held at Britney's California at the pair's Thousand Oaks home. The wedding was a star-studded event with many A-listed celebrities like Madonna, Paris Hilton, Selena Gomez, Drew Barrymore and Ansel Elgort. Branden Cohen, one of the representatives of Sam Ashghari confirmed the news of their marriage to the Associated Press and said:
I am very ecstatic that this day has come, and they are married. I know he wanted this for so long. He is soo caring and supportive every step of the way.
Marriage Didn't Last Long for Sam and Britney
Though the courtship was going well for Sam and his wife Britney, things started getting sour in July 2023. As reported by US Weekly, Sam and Britney faced ups and downs in their relationship in July this year but they were trying to preserve their relationship. However, both of them failed at their attempt. And one month later in August 2023, Sam filed for divorce from Britney Spears citing irreconcilable differences. After the split, Sam posted on his Instagram regarding his divorce. He said:
After 6 years of love and commitment to each other, my wife and I have decided to end our journey together. we will hold onto the love and respect we have for each other and I wish her the best always.
As per sources, Sam has asked for spousal support from Britney and also to bear the attorney fees. Further, he has included July 28 as their date of separation.