When your parents are Vanessa L. Williams & Rick Fox, sooner or later you will enter the showbiz race. And, this is exactly what's happening with Sasha Gabriella Fox, the youngest daughter of singer turned actress Vanessa L. Williams.
A model and actor by profession, Fox has already appeared in movies like "A Diva Xmas Carol" and "Justice for All with Judge Cristina Perez." Just turned 21, Sasha has also been featured in "Vogue Magazine" representing Serena William's fashion line, "Serena." Talk about grabbing the opportunity by the scruff of the neck. Do we think she is just getting started? You betcha!
So how did it all start for Sasha? Is she heading toward the direction of her parents (Vanessa, rick) and step-sister, Jillian Hervey? Here is what we know about the new rising star of the Fox family tree.
FAQ on Sasha Gabriella Fox
How old is Sasha?

She just turned 21 in May 1.

What does Sasha do for a living?

She is a student who also works as a model for two talent agencies, One Management & Natural Models LA.

Where does Sasha Fox study?

She graduated high school from " The Hervey School." And now she is studying film production in Chapman University's Dodge College of Film & Arts.

How many siblings does Sasha have?

Four. Melanie Hervey (1987), Jillian Hervey (1989), Devin Hervey (1993) & Kyle Fox.
Sasha was Born to a Powerful Couple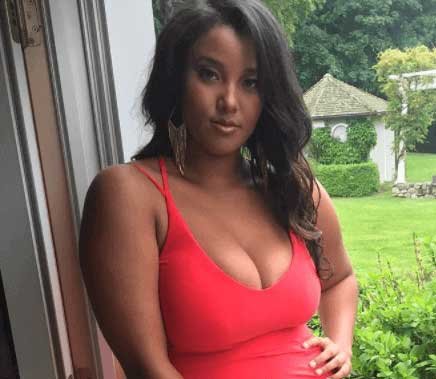 Sasha Gabriella was born on May 1, 2000, in Los Angeles to three-time NBA champion Rick Fox and Soul Food's actress Vanessa Williams. She spent her childhood in LA with her parents until the age of 4 before they divorced. After her parents parted their ways in 2004, she struggled to move from one parent's house to another. However, she was pretty lucky to get time to spend with her parents equally despite their separation. Sasha's paternal and maternal grandparents are Milton Augustine William Jr, Helen Williams, and Dianne Gerace respectively.
Before getting married to Rick, Vanessa had tied the knot with Ramon Hervey. Sasha has two half-sisters Jillian Hervey and Melanie Hervey and a half-brother Devin Hervey. After giving a divorce, Williams married for the third time to Jim Skrip in 2015.
Sasha shares a close bond with her siblings from what we see from her posts. In June 2019, Sasha was there to celebrate her sister Jillian Harvey's birthday with the rest of the family joining the party.
In Sasha's 20th birthday, Jillian shared a beautiful post of her holding Sasha in her lap. Reminiscing about the past, she wrote,
Having a night cap and toasting to my sister @sashafoxyy who just entered her twenties
According to Sasha's Instagram, she lives back and forth from LA to New York.
In 2018, Sasha graduated from The Hervey School in New York. Her parents as well as her siblings joined forces to show their support for the little one's big day.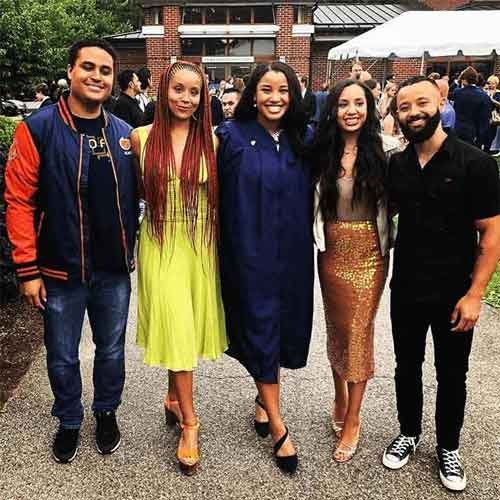 She also seem to love athletics and was also part of the volleyball team. Her proud mother shared a picture from Sasha's volleyball meet that wrote:
"They won 3 games. Next Stop the Championship."
During Sasha's final year in the High School, Vanessa shared few words that told:
"She is my baby. I have one more year with her at home in high school and then she's off to college. I am happy for her, she's matured, it's amazing in high school how big the maturity leap is per year and I think she's really gonna do well in college."
Her mother Vanessa revealed that Sasha is now at Chapman University's Dodge College of Film and Arts studying film production.
While receiving life time achievement award in arts from Chapman University, Vanessa revealed how thrilled she is to see her youngest one graduating from Chapman.
I'm very impressed with Chapman and it's been the perfect place for Sasha to thrive. She loves everything about it. She loves her department. She loves the faculty, her students, her friends, her roommates, the campus.

I mean, she could not be happier and it couldn't be a better fit. So I'm thrilled as a parent. She's number four and she's definitely had the best college experience out of everyone, so that makes you very happy.
Sasha Following Her Parents Footprints to Showbiz
Being the daughter of a future Hall of Famer in daddy, Rick, and veteran actress Vanessa, Sasha did have few perks growing up. When Sasha was not even one, she got her first uncredited role as a baby in the 2000's movie "A Diva Xmas Carol" in which her mother Vanessa starred. Likewise, in 2012, at an age of 12, she appeared in one of the episodes of the reality tv show "Justice for All with Judge Cristina Perez." She played the role of Crystal Robertson in the episode "Mom's gift is sister's grift/The Chain Gang" which aired on October 2, 2012.
In November 2019, she tagged along with her dad, Rick Fox in Oprah Winfrey Network's first production, "One Fine Christmas." The movie circles around three dysfunctional families who are so busy in their own lives that they don't value the significance of the holiday season. Sasha stars as Haley the daughter of a workaholic mother, Susan (Vanessa Williams), not to be confused with her real mother.
Although she is the narrator of the movie, she doesn't have a significant role as compared to other characters. All we see is her whining and complaining all the time. Perhaps the writers could have done a little justice to Haley's character.
In an exclusive interview with Sasha and Rick, she told how she always wanted to do acting for a while. And, it was Vanessa and Rick that stopped the push as they wanted her to finish her high-school first. One Fine Christmas was her debut film and we hope to see many more.
Apart from few roles in the movies, she has also written, and directed her first short movie "Superdate" released in 2013. The movie is the story of two kids who express their love at their young age. Superdate got good reviews from its audiences and performed fair at the box office. Talk about talent!
Powering into the World of Modeling
Besides her acting chaps, Fox has also shown prowess in modeling. I guess the gene of her mom is taking over! Vanessa too was the first Afro-American to be crowned "Miss America." So it's obvious that her kid picked up some skills from her. In August 2019, she revealed through her Instagram post that she is a part of a "Serena" fashion brand owned by American's own tennis sensation, Serena Williams.
Currently, she is working as a model under two agencies, One Management and Natural Models LA. Sasha is an active member of the curvy roster of the talent agencies. You can also see her flaunting her beautiful curvy body in the profile of the agency sites.
She is already walking towards the path paved by her famous parents. However, Fox has yet to make an impact on the big screen like her parents.
Well, she is just 21, so perhaps there is more to come from the curvy model & we hope to hear the name Sasha Gabriella Fox in the near future. But for now, she is more focused on her education while she is still nurtured by the talent agencies.
Relationship of Sasha's Parents: Rick Fox and Vanessa Williams
Sasha Gabriella Fox's parents are no slouch. They are one of the biggest names of the entertainment industry. Her father Rick Fox is a three times NBA champion and future hall of famer.
When Fox was a player in the National Basketball Association, he has played for the Boston Celtics and Los Angeles Lakers. He is also an E-sports franchise owner who owns an E-sports team "Echo Fox". He has landed role in the movies like Blue Chips, Eddie, He Got Game, Resurrection and many more. Till now he has featured in many movies and series which has massively increased his fan base.
Likewise, Vanessa Williams crowned the first African-American to win Miss America in 1984. She has a top-notch career in both the movie and music industry. Vanessa has released many hit albums which includes Save the Best for the Last, Running Back to You, The Way That You Love, The Right Stuff, and many more. She is well-known for movies like A Diva's Christmas Carol, Hanna Montana: The Movie, The Odyssey, Soul Food, My Brother, The Courage to Love, Desperate Housewives, Shaft and many more.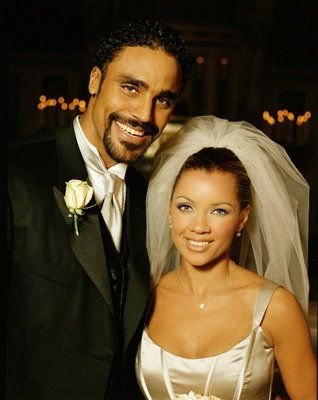 Vanessa and Rick tied the knot in 1999. They dated for a few months before exchanging the vows. They first walked down the aisle in the Caribbean during the summer of 1999. After that, the couple came back to the USA where they organized another wedding ceremony for their friends and family. The ceremony was held in New York in September 1999. The following year they gave birth to an adorable daughter whom we know as Sasha Gabriella Fox.
As Sasha was growing, her parents' relationship turned ugly and finally called off their marriage. Rick Fox filed a divorce from Williams in August 2004.
Although they are separated, the ex-lover have Sasha Fox that connects them together. They both attended Sasha's high school graduation and are often seen together when Sasha is around.
Sasha's Date For Her Prom Got Admired By Many
Sasha has not been linked to any guy, but she did attend her high school prom with her friend Aaron on May 27, 2017. Many may suppose him as Sasha's boyfriend but he isn't. Sasha was wearing a beautiful red gown which made her look like the throwback version of her mother during "Dreamin". Her friend Aaron also looked damn hot in the black suit. The proud mother shared the video of her daughter being ready for the prom on Instagram.
IS Sasha Earning By Herself?
In the past, she worked on few projects but that wouldn't have made a lot. Till high school, she would mostly depend on her parents for her financial needs. Vanessa even surprised her with a new Mercedes on her 16th birthday. Vanessa showers her love for Sasha through her surprises.
At the moment the 21 years old Fox is enjoying her college days at Chapman and probably still gets a good chunk of financial support from her parents. However, She has also started working as a model so she probably shares her part of the bills. She is still to make a name for herself in the modeling world, so it would be hard for her to make a living out of it yet. Our best guess would be she is making around $20k to $30k.
But she doesn't have to worry about that as she has got all the backing she needs from her parents. On top of that, she is studying film production which means she will make it sooner rather than later.
Sasha Flaunts Her Lifestyle in Instagram
Fox popularized herself in the acting career at her very early age. In addition, favored by the stardom of her parents, she has gained a massive fandom. Even though she keeps her life private, she shares her lifestyle and memorable moments on Instagram. She is available on Instagram with the handle at @sashafoxyy.
Apart from Instagram, she doesn't seem to have any presence on other social media platforms. However, you will find a number of non-official handles made by her fans.