You have got a plan for yourself, you put all your energy and work hard to achieve it. Then, life throws you a curveball and suddenly you need to choose a different path ahead in the world. That's what has happened to Tavior Mowry. Raised with the dream of becoming a footballer, he suddenly took a big step and changed his life goal. But what was the reason?
Scroll down to know everything !!!
Synopsis 
Tavior Mowry is the youngest member of the Mowry family tree. He is the brother of the famous Mowry siblings; Tia, Tamera and Tahj Mowry. Tavior is a former football player from UC Davis. He has recently pursued a career into the music world after he met with a career-ending injury.
Tavior Mowry's Early Childhood
Tavior Mowry came to this earth on July 5, 1993, at Fort Irwin, California. He was born to parents Timothy Mowry, the US veteran and Darlene Mowry. He was raised along with his siblings named Tia, Tamera and Tahj Mowry. They all are well-known celebrities who have gained fame from their teenage. As Tavior belongs to the big family, he has experienced what it's like to live in the shadows of having famous siblings.
Raised in the military family, Mowry learned about hard work, passion, and discipline from an early age of his life. The former football player belongs to English and Afro- Bahamian ethnicity and by nationality, he is American. As for his height, he is 5 feet and 9 inches tall which complements his personality as well.
Mowry's Education and Career
Regarding his educational qualification, he attended Westlake High School. He was one of the best players in his school's football team. He has garnered interest in sports like football from his childhood days. While in his high school football team, he showed his outstanding performance of having rushed 3,278 yards and done 43 touchdowns. This led him to be merited for the All- Marmonte League honoree twice.
Moreover, his successful football career gained him scholarship at the University of California. During his tenure in the university, Tavior was also the part of the football team where he showed his promising performance. In 2013, he joined his team UC Davis to play against Northern Arizona followed by a match in Idaho State. His outstanding performance in the team allowed the team to gain massive success in nine other games that too in 2013. He held the second-most carries for the UC Davis finishing with 53 for a third-best 184 yards. The same year he was declared as MVP of his team.
However, a miserable incident of a significant injury hit his aspiring football career as a result of which he has to face setbacks. After his football career terminated, he ended up taking the job as a wine salesperson. Tavior Mowry later decided to quit his soul-sucking job as a wine salesperson to pursue his love for music.After giving some thought, he decided to attend audio engineering school. Till now, he has worked with star kids like The Kooks, Jessie Ware, and Talib Kweli. Besides, Tavior is also a self-taught guitarist, pianist and a bassist. When asked in an interview about how he is planning on positioning himself in the newfound career, he said;
"Something that I have taken off the field into this studio is that if you can play all the positions, you won't find yourself on the bench. And that is kind of motto that I live by. So, you know, I can fill in the cracks. I can fill in the holes wherever I am needed. And I feel that the more diverse you are, the more opportunities there are for you."
His Famous Siblings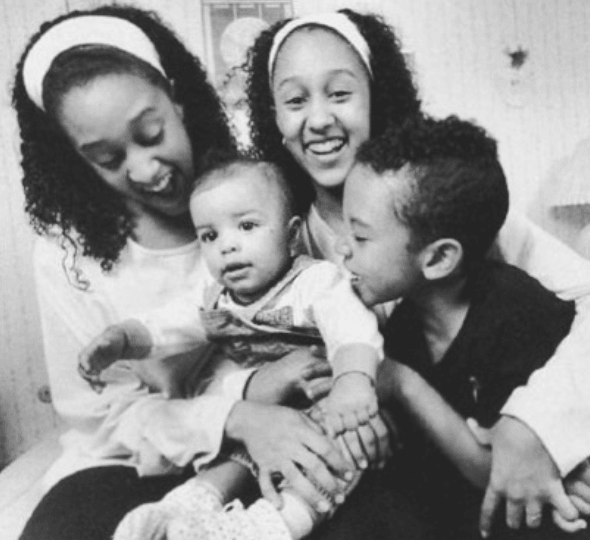 Tavior Mowry grew up in a family surrounded by three siblings who are as talented as him. He has always garnered attention because of his famous siblings.  He has two sisters named Tia and Tamera and an elder brother named Tahj Mowry. While his siblings have made a career in acting, he tried to come out of the shadows of his popular siblings and made a career in football. However, he has taken a step toward the music industry.
His sister Tamera is an award-winning American actress, a model, and singer who became famous from her teenage days. She gained fame for her teen role as Tamera Campbell in the hit comedy series Sister, Sister opposite to her twin sister Tia Mowry. Likewise, Tamera is also known for the medical drama String Medicine for portraying the role of Dr. Kayla Thornton. She is married to Adam Housley – the Fox news reporter and award-winning correspondent. The couple has a son named Aden John Tanner Housley and daughter Aria Talea Housley.
Tavior's other sister Tia is an actor and producer by profession and is best recognized for her work in the TV series The Game.Besides, she has also written books like Oh, Baby! Pregnancy Tales and Advice from One Hot Mama to Another, and Twintuition which she has co-written with her sister Tamera. Tia has tied the nuptial knot with the Hollywood actor Cory Hardrict and is blessed with two children, Cree Taylor Hardrict, and Cairo Tiana Hardrict.
Besides, his only brother Tahj is also an actor by profession who rose to fame after he portrayed the role of T.J. Henderson in the sitcom Smart Guy.
Tavior Mowry's Heartthrob
The younger Mowry brother seems to be quite secretive when it comes to his personal life. He hasn't shared much information about his personal as well as his love life. However, going through his social media sites, he has given a slight signal that he is in a relationship. He has shared some pictures of his and his heartthrob. His heartthrob seems to be very close to Mowry as he has named her as Miss Z. It looks like their relationship has just started to blossom. Nonetheless, there is no more information related to Miss Z. Tavior is trying his best to cover details related to his Miss Z.
Net Worth
Tavior Mowry might have added more amount to his net worth if the tragic incident hadn't happened which ended his football career. However, he has begun his career into the world of music. Therefore, as of 2019, his net worth is estimated at over $500,000.
His sisters Tia and Tamera's net worth is estimated to be $8 million. Likewise, his brother Tahj Mowry's estimated net worth is $1.5 million. The Mowry siblings share a strong bonding with each other which can be seen in their social networking sites. Further, Tavior loves to ride luxury and sporty bikes and cars. His daily routine includes exercising and workouts to have that muscular body.
Being the sibling of the popular personalities, he has garnered a lot of admirers. He is active in social media platforms like Instagram, Twitter, and Facebook. He is available on Instagram at handle taviormowry16 with 174k followers. Similarly, you can follow him on Twitter by handle @Tdaontaem16. He has 9.349k followers on Twitter.
Tavior Mowry is a living example that it's possible to change paths in life and to kick start a new journey if you believe in yourself.