One of the most popular forms of entertainment that American media loves to focus on is their reality TV shows. Over the years, these same reality TV shows have given the public some of the biggest celebrities. One such star is real estate tycoon Todd Chrisley who became famous through the reality TV show 'Chrisley Knows all' that centers around him and his wealthy Christian family.
The show is incredibly popular in the US with its eighth season premiering in 2020. While the whole family is getting more exposure thanks to the show, the one person who barely gets any mention is Todd Chrisley's ex-wife and mother of his two children, Teresa Terry. So, who is Teresa Terry, and why don't we hear much about her? Let's find out.
Todd Chrisley Met his First Wife, Teresa during their Teenage Days
Teresa Terry met Todd Chrisley for the first time when she was only seventeen and he was nineteen. At the time Teresa was a high school senior in a public school in Westminster, South Caroline. Shortly after their first meeting, the couple started seeing each other. Speaking about their early dating period, Teresa said:
"It was all very southern, very laid back, eating meals with the family, that sort of thing. Todd and I would go to the movies, hang out. He was never one for big crowds. He always belonged somewhere else."
Teresa spent a lot of time with Todd's family as it was the hangout destination for the couple and their friends after school and on weekends. The family always welcomed them warmly and Todd's mother, Faye, even used to cook for them.
Teresa's Unplanned Pregnancy Tested the Strength of their Relationship.
Born in 1971 in South Carolina, USA, Teresa had to deal with a premature pregnancy problem at the tender age of 19. Life threw a curveball at her when she became pregnant with her first child with her then-boyfriend Todd Chrisley.
According to Teresa, after the unplanned pregnancy news, Todd was not exactly thrilled with the news. And both of them decided that it was only right if they got married. Teresa later revealed:
"Most likely, we wouldn't have gotten married if I hadn't been pregnant, but we did and it was a big deal."
The couple welcomed their first daughter, Lindsie on September 17, 1989. After fifteen months, Teresa went on to have another child with Todd Chrisley. The couple welcomed their son, Kyle on August 29, 1991.
Teresa's Rocky Relationship with Todd was never meant to last forever
To call the married life between Teresa and Todd Chrisley bad would probably be an understatement. While initially bound by the responsibility of being new parents, the couple's earlier days were somewhat happy. Teresa revealed that at first, she found it exhilarating to move from one house to another. With her husband Todd, who had an impressive amount of talent in interior designing, she would also help to look over the houses and properties the couple would be refurbishing. According to Teresa, Todd was a control freak in terms of anything regarding the refurbishment process.
However, a marriage that only existed in the first place due to an unplanned pregnancy, could only go so far. The same personality that demanded perfection in Todd's professional career started to show signs in his marriage with Teresa. As time went by, Todd increasingly grew more controlling over Teresa.
In one of her interviews with the Daily Mail, Teresa revealed:
"There were times when Todd would scream uncontrollably at me for no apparent reason – only to change the tact and give me the silent treatment for days and days."
He was said to have given a set of instructions to her on how to present herself, how to behave, and even how to raise their children. She said, "I like to put a ball cap, put my hair on a ponytail and go out. But with him, your hair always had to be fixed and you had to be dressed to the tens. I grew tired of being constantly corrected and I would run my mouth."
She also added:
"Sometimes, I think he doesn't realize the way he is. He's so used to being controlling and vindictive that he doesn't even see it anymore."
Teresa Became Victim to Todd's Domestic Violence
While it was mentally exhausting to keep up with all the controlling demands of her husband Todd, she was also being subjected to physical abuse during the later period of their seven-year-long marriage.
In November 1994, Teresa filed a domestic violence case against Todd and shortly after left his house. Regarding the same, Terry recalled one dreadful night of December 1992, when Todd who was in an intoxicated state, allegedly destroyed her personal property and 'battered his mother' and Teresa.
She also claimed that around October 1994, Todd battered her while she was driving until she pulled over and ran away. At one time, when she went back to collect some of her belongings, he allegedly 'stripped her off of her jewelry'. And even threw her out of her marital home until he became tired of taking care of their children.
On the case against Todd, Teresa went on to say that he allegedly wielded a knife and threatened to kill her. Following the altercation, she fled to a neighbor's house and only left when Todd finally left their shared home. She also detailed another night three days later, when he allegedly 'tore all her clothes, including her undergarments from her body and battered her with his closed fists'.
Teresa and Todd Chrisley Divorce
With her life turning into a living nightmare, the only solution Teresa could think of was to leave the house that she shared with her husband and children. She took her then three-year-old son Kyle with her. Likewise, she had intended to collect her five-year-old daughter who was staying with her paternal grandparents at that time.
"I don't remember why Lindsie was there but when I went to get her he wouldn't let me have her," she said. On November 8, 1994, Teresa filed a criminal complaint against Todd alleging the 'unlawful abduction'. 
Teresa's Legal Battle for Children Custody
Even after filing a case for domestic violence and leaving their shared house, Teresa and Todd continued to have legal battles regarding child custody. Teresa and Todd finalized their divorce in 1996 but both of them continued to hold their ground regarding child custody. Teresa revealed that the long custody battle became the very reason why she was not able to maintain a meaningful relationship with her daughter Lindsie. The court finally granted both the parents joint physical and legal custody. Eventually, Teresa dropped her domestic violence case.
After separating from Todd, Teresa moved to the city of Atlanta with her new partner and children. With the family being away from a rather toxic environment, Teresa believed that her new life in the new place would be much happier. But that too became wishful thinking.
Even after moving to Atlantic City, Todd reportedly did not leave her alone. Todd allegedly went as far as hiring a private detective to track her down. One of the incidents that were also recorded in the official court papers was quite scary for her. One night, she reportedly noticed a red laser directed towards her house and saw Todd standing in front of the property.
According to the reports, she thought she was going to get shot but apparently, he had only filmed her in her new home. But the worse had yet to come. Apparently, the secretly filmed tape was sent to the television special on cheating wives. Talking about it she said:
"He sent the footage to a Television special on cheating wives. The first I knew of it was when my parents called because they'd seen it on TV. You just cannot imagine how vindictive he can be."
Todd however has always denied allegations regarding domestic violence against his wife or mother in his testimonies.
In 2012, Todd once again went after his ex-wife Teresa and reportedly sued her for $1 million in child support which he ended up losing.
Her children with Todd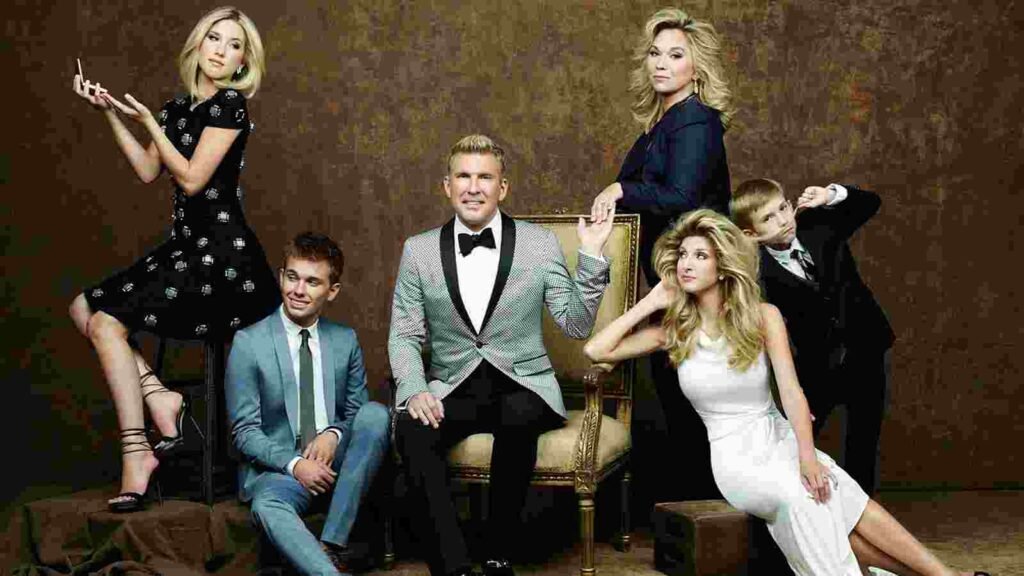 While Teresa has stayed away from the public, her children with Todd however would go on to become reality tv stars through the show 'Chrisley Knows Best'.
Her eldest daughter Lindsie had appeared in five seasons of the show and throughout had an on-again and off-again relationship with Will Campbell. The couple has a son Jackson.
Her youngest son with Todd, Kyle is a recovering addict with bipolar disorder. He also appeared in the first season of the reality TV show but stopped, after getting involved with drugs again. He reportedly announced in 2019 that he was sober again.
Where is Teresa now?
After separating from Todd, she met another man and had two beautiful children with him. As of now, she is said to be living in Oklahoma with her husband and children away from the limelight that consistently surrounds her ex-husband.
While she has always said that she does not regret being married to Todd as she had two amazing children to call her own. Knowing her story we can only hope that her remaining life would be filled with happy memories.