A lot of romantic movies show how falling in love with someone should somehow be an act of grand gestures. We cannot help but roll our eyes at these movie cliches because real-life romances are not always about these grand gestures. A lot of times, you spend every day doing simple, routine, and boring activities with your partner and call it an act of love. Four-time Emmy award-winning actor Jim Parsons quoted the same when describing his relationship with husband Todd Spiewak. The duo have been together for more than two decades and the love between them is still growing deeper. So, who really is Todd Spiewak who Jim Parsons says is 'his most favourite person on earth. 
Todd's Life Before Fame
Todd Spiewak was born on January 19, 1977, in Boston Massachusetts, USA. Not much is known about his parents as they are not in much spotlight. But it was reported that they were still together and seem to have a healthy relationship with their son and his partner Jim Parsons. Jim even thanked Todd's parents in one of his Emmy-winning speeches, thanking them for being good to both Todd and him.
While not much information regarding his early childhood and education has surfaced in the media, it is known that he graduated from Boston University with a Bachelor's Degree in Fine Arts in Graphic Designing. Following his graduation, Todd moved to New York to follow his graphic design career path which helped him achieve more creative control.
Todd Worked in the Advertising Industry Before Meeting Jim
While his partner Jim Parson is recognized in Hollywood for his acting talents, Todd himself is not far behind in his career. Being drawn to follow a creative path following his developed interest in graphic design, at first Todd did a lot of freelances. Meanwhile, doing freelance jobs ended up giving him a graphic designer a lot of credibility that finally helped him land a permanent job.
As he continued to work harder and let his creative juices overflow, he landed several reputed jobs and recognition. He has worked with highly reputed companies like American Express, Barnes & Noble, and The New York Times.
Spiewak then Explored New Areas in His Career
After meeting his future husband Jim Parsons, he also took a liking to films and TV series. He and Jim co-founded a production company called Wonderful Productions, LLC. Their production house first produced the documentary 'First In Human' and the television film 'The Family Gene' in 2017.
He is credited as an executive producer for the show 'Young Sheldon' which is the spin-off of the hit sitcom 'The Big Bang Theory' starring his husband as one of the leading cast members. The spin-off prequel is also a hit and currently running its fourth season. He has also produced the film 'A Kid Like Jake' which also has his husband in one of the leading roles. Adopting so many projects has helped him grow in his career a lot and he continues to do so.
Jim and Todd Met on a Blind Date in 2002
Jim and Todd first met on a blind date in 2002 organized by their mutual female friends on a Karaoke night. At their first meeting, both of them instantly felt a connection with each other which they often rephrase as falling in love at first sight. Soon after their first date, they started seeing each other and moved in together to share a common home. Since both of them were starting out in their respective careers, both of them were equally very supportive of each other.
Both of them kept their relationship a secret and didn't reveal it to the world. However, in 2010, Jim mentioned Tom's name in his acceptance speech at an award show. Many speculations were made about their relationship but non of them revealed the reality. Later in 2012, in an interview with the New York Times, Jim finally accepted his 10 years of relationship with Todd and disclosed his identity as gay.
Todd and Jim Dated for 15 Years Before Tying the Knot
Todd and Jim who started dating in 2002 finally tied the knot in 2017. They were often asked about the secret to their long-lasting relationship. Once asked about their relationship, Parsons answered that their relationship was an act of love, coffee in the morning, going to work, washing the clothes, taking the dogs out– a regular, boring life.
One of the many questions people have about their relationship is why it took them so long to validate their relationship. While promoting Young Sheldon in 'The Late Show with Stephen Colbert', actor Jim Parsons shed light on this particular question and said:
"We just didn't care about the act of it that much, to be honest with you. That sounds cold in a way but I finally thought: 'Well, let's have a party then for the celebration and we'll go ahead and legalize this thing."
Todd and Jim Had a Lavish Wedding in 2017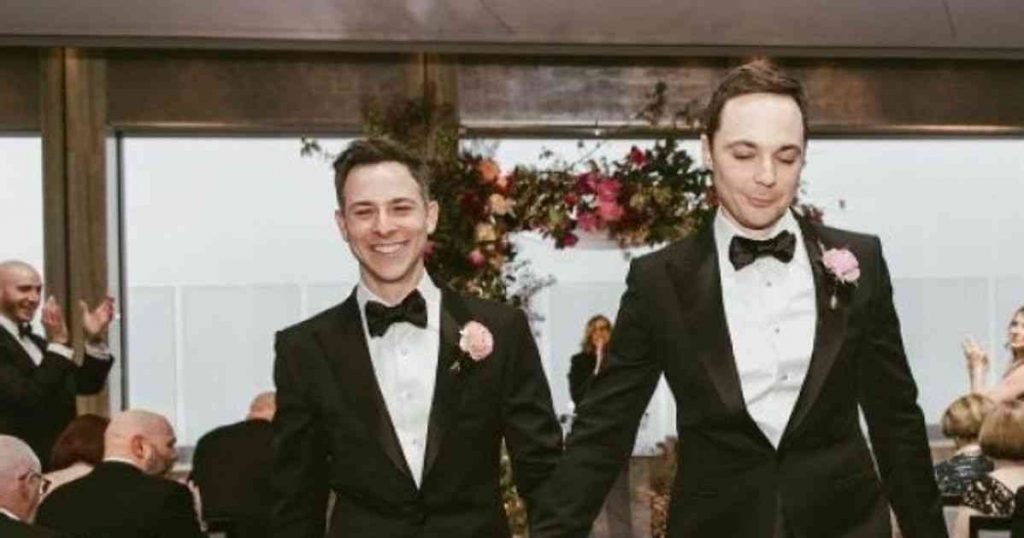 There is nothing more beautiful than two souls finding their happiness and for humans, marriage is one way to achieve it. Todd and Jim were in a relationship for 15 years before they finally decided to do things in legal ways. The duo tied the knot on 13th May 2017 in presence of close family members and friends.
The couple opted for a more traditional wedding that took place in the 'Rainbow Room' in New York City. They both wore Tom Ford tuxedos and they got married surrounded by flowers, guests, and all the fun galore. They also had an equally extravagant wedding reception and the couple shared a romantic first dance as a newlywed couple.
Their wedding photos were posted on Jim's Instagram and both of them looked happy. When commenting about the wedding, Jim said:
"It was fantastic … much more fun than I thought it would be, I wasn't too nervous, [it was] just a lot to organize and I thought, 'Well, this will be sort of fun … Let's get through this,' then it was all fun." "It was the latest I stayed up in many years," he added. "I'll be honest with you — I'm still paying for it. I got a cold, I was at the doctor earlier and got antibiotics."
They might be very secretive about their relationship but their wedding certainly made a lot of buzz. The couple now lives in Gramercy Park, a neighbourhood in New York City, and also owns a residence in Los Angeles so that they can get more involved in the movie and television industry.
Todd's Husband Jim Parsons is a Bid deal in Hollywood
While the man might not need any sort of introduction right now, he did not always have the same amount of stardom. One of the main things that made Parsons so good was his dedication. Even when he was just a child, he knew that he wanted to be an actor. So, he went on to do a series of minor roles in television series and movies.
His breakthrough moment came when he landed the role of the iconic Sheldon Cooper in the hit series "The Big Bang Theory". Jim's character overshadowed every other character in the series and he went on to win numerous accolades including four Emmys. His portrayal of Sheldon Cooper is forever engraved as one of the greatest comedic actors of today's generation. Now, he has a 'Hollywood Walk of Fame' star and has a net worth of almost 100 million US dollars.
Todd Loves Painting Dogs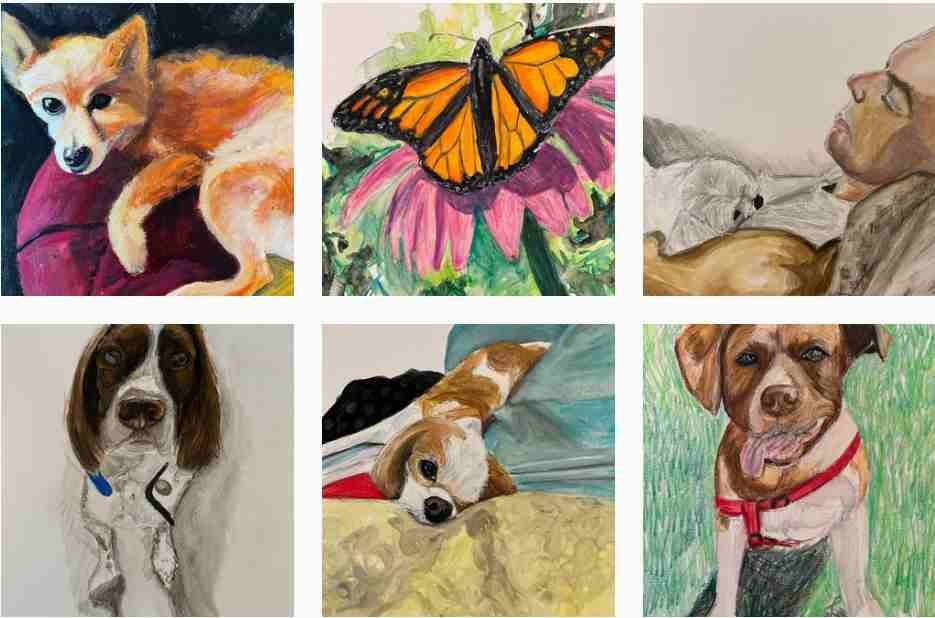 Both Jim and Todd are dog lovers. And recently, Todd debuted on the Instagram with Instagram handle a_dog_a_dog_2022. In the account, he shares paintings of the dogs painted by him in his free time. As per the bio, he paints almost one picture of a dog every day.
Todd has even gifted a dog painting to his partner Jim on the occasion of the birthday of one of the dogs owned by them.
Todd Lives a Low-Key Life While His Husband Doesn't
While Todd does not seem very keen on using social media, his husband Jim sometimes posts photos with him in them. They always seem really happy to be around each other.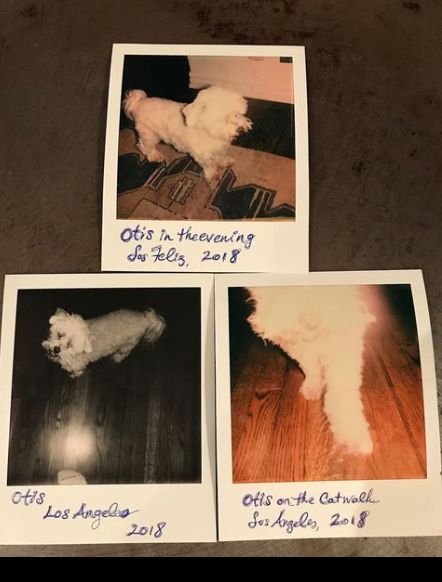 Apart from this, they have two dogs; a Maltese named Otis and a Shih Tzu named Rufus. On the latest news, we know that while Todd is very much prepared to father a child, Jim, on the other hand, wants to enjoy a little more time with just his husband and their dogs.