Gaining notable popularity at the young age of seventeen after starring in the 1985 adventure movie 'The Goonies', American actor Josh Brolin has gone on to build one of the most successful careers in Hollywood. Whether you know him from his critically acclaimed movies like 'No Country For Old Men', 'American Gangster' and 'Milk' or his commercial success from movies like 'Avengers: Infinity War', 'Avengers: Endgame' and 'Deadpool 2', there is no denying the talent this man has.
For more than three decades in Hollywood, his career has been steadily climbing up, whereas his own personal life has seen many ups and downs; from multiple divorces and even a broken engagement. While romancing actresses like Minnie Driver and Diane Lane were all over the news, one of the things most people might not know about is the actor's first marriage with actress Alice Adair. During their six years of marriage, the couple had two children; Trevor and Eden Brolin. So what are his children up to nowadays? Let us find out more about Josh Brolin's eldest child; Trevor Brolin.

Trevor Brolin Comes From a Starstudded Family
Trevor Mansur Brolin aka Trevor Brolin comes from a family of actors. He was born on June 26, 1988, to actor Josh Brolin and Alice Adair. Both of Trevor's parents are in the acting field. His grandfather, James Brolin is also an actor, producer, and director. His grandmother, Jane Cameron Agee was a wildlife activist and an aspiring actress at Twentieth Century Fox.
Trevor's grandfather is now married to another famous singer and actress Barbara Streisand making her Trevor's step-grandmother. His younger sister, Eden is also following their father's footsteps and has appeared in multiple TV shows like 'Beyond' and 'Yellowstone'.
Early Career as a Filmmaker over Acting
To the surprise of everyone, Trevor Brolin chose to pursue filmmaking rather than acting in the early stages of his career. He has been involved in the production of a few short films like 'Felt' as an executive producer, writer, director, and cinematographer. Brolin also had a brief role in a short film 'All Kids Count' in 2011. He also helped compose the music for the short film 'X' written and produced by his father. As of now, it does seem that Trevor has stepped away from filmmaking.
Brolin's Love For Arts
Although Trevor Brolin did not get big in Hollywood, he continued on finding a new path as an artist. His Instagram account is filled with many brilliant art pieces he has created over the years. Some of his work has also been showcased in art galleries. He is also known to sell these pieces through the same platform.
Working as an Assistant General Manager
While working on his art projects helps in boosting Trevor's creative fuel, Trevor Brolin also works as the assistant general manager and operation manager of Revel Entertainment located in Albuquerque, New Mexico. Revel is an entertainment venue that offers live music, arcade games, comedy nights, and game nights along with plenty of food and drinks.
Trevor Maintains a Cordial Relationship with Family Despite Living Away
Despite being miles away from each other, Trevor Brolin shares an intimate relationship with his family members. He and his father meet up regularly and always show their support for each other. He also shares deep affection for his younger half-siblings and goes to visit them on a regular basis. Though his parents Josh and Alice are not together anymore, they still manage to have family time to celebrate the moments together. He has also maintained a good relationship with his stepmother, Kathyrn Boyd. Recently, Josh shared a picture of him with Trevor and Eden on Instagram and Kathryn showered them with love in the comments. Josh shared the picture with a beautiful caption that wrote:
My girl and my boy(@edenbrolin and @funtonofun) who jump started my heart almost 33 years ago and has kept me real, kept me true, and has shown me and what a diamond asset humility is. I love you both so much.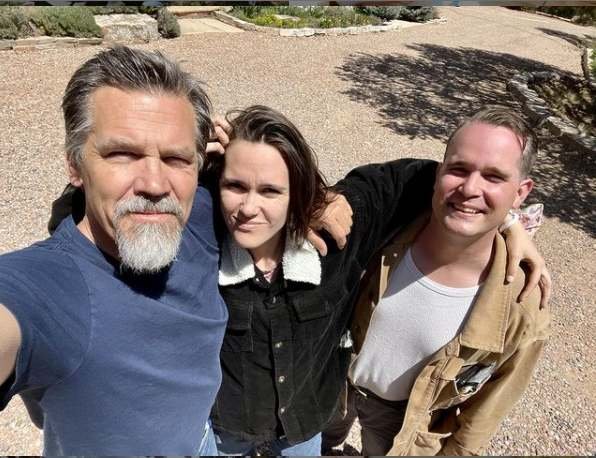 In an interview, his grandfather James revealed that his older grandchildren sometimes seek him for life advice and that if they needed him he would be there for them in a heartbeat. The family also tries to celebrate different small occasions like birthdays together as much as possible. Seeing each and every member of the family having some presence in each other's lives makes us believe that the Brolin brood is one tight-knit family.
Trevor's drawing is Now Part of his Father's Body Art
Trevor has always had an affinity for art and we can very well see it throughout his social media accounts. And now he has another canvas with his art and that is his father's body. On August 14, 2021, Trevor's father posted a photo of getting a body ink for a drawing of his son, Trevor. The tattoo artist who worked on Josh, Dr. Woo also posted the photo with the caption 'Good times with the Brolin's. Love seeing their kids' drawings on their parents'. This indeed is such a beautiful moment shared between a parent and their kids.