American singer, songwriter and actress Ariana Grande is known for her wide vocal range and chart-topping singles like 'The Way', 'Problem', 'Bang Bang', 'Thank U, Next' and many more. But having one of the most successful singing careers of this generation is not the only thing Ariana is associated with. She also is known to have quite a big collection of tattoos. Ever since she got her first tattoo in 2012, she has gradually added more. As of 2019, she has more than 40 tattoos on different parts of her body. Let us see what tattoos does she have and the story behind why she got them.
1. Tattooed Heart
Let's start with her very first tattoo. In 2012, while Ariana was amidst of recording her first album 'Yours Truly', she invited a tattoo artist in her recording studio to get inked with a 'Tattooed Heart' on her right foot's index toe. She was recording a duet with 8ky who also got the matching tattoo. Sadly the song didn't make the final cut for the album but the song that inspired the ink Tattooed Heart was included in the album. The tattoo is fairly simple and is just a bold outline of heart shape. Nowadays, it is quite difficult to get a glimpse of the tattoo but she documented all the procedures of getting it in a video and shared it with her fans.
2. Mille Tendresse
On March 14, 2014, she got a new ink that read Mille Tendresse; this time on the back of her neck. The French words Mille Tendresse which can be translated as 'a thousand tenderness' comes from the popular novella 'Breakfast at Tiffany's' by Truman Capote. Ariana Grande has often cited that Breakfast at Tiffany's starring Audrey Hepburn is one of her favorite movies. Her ex-fiance Pete also at the time of their relationship had the same words tattooed on his neck. After they broke up, he covered them up by the word 'cursed'. Looks like the breakup wasn't good.
3. Bellissima
In 2014, Ariana tattooed the Italian word Bellissima on the left side near the chest. Her late grandfather Frank Grande frequently used to call her Bellissima which means 'Beautiful'. She got this tattoo with some of her friends who got their first tattoo as well. She claimed this moment as one of the bonding experience among them.
4. Crescent Moon
In 2015, Ariana got another tiny ink of the outline of a crescent moon below her left ear. The tattoo is the reference to her third studio album 'Dangerous Woman' which was previously called 'Moonlight'. The album still includes the track with the same title. One of her backup dancers and best friend Brian Nicholson also has the same matching tattoo.
5. Honeymoon
Only two days after announcing her crescent moon tattoo, Ariana went on to get another tattoo. On April 16, 2015, she was in Vancouver, Canada for her Honeymoon tour. In one of her meet and greet, she was seen to have two new tattoos on her right fingers, one of which was inspired by her Honeymoon tour and one of her songs, Honeymoon Avenue. The song itself holds special meaning to Ariana as she told in one of her interviews with Billboard in 2013 that the events happening in the song have happened to her in real life.
6. אלד
Another tattoo that was revealed at the same time as the Honeymoon tattoo was a small Hebrew phrase. The tattoo refers to the tenth name in the 72 names of God which is spelled with Hebrew letters 'aleph', 'lamed' and 'daled'. The phrase is tattooed at the inner side of her right ring finger. The direct translation of the phrase is ' Protects the evil eye and bad dreams, and helps the rebirthing process'. This tattoo was inspired by her religious faith in Kabbalah and her brother Frankie has the same tattoo too.
7. Tattooed Heart 2nd Version
During her Honeymoon tour in Paris, eagle-eyed fans spotted a new ink in one of her shows. The tattoo in question was a small outlined heart tattoo on her right ring finger which is pretty similar to the first tattoo she had got.
8. Hi
If you are a fan of Ariana or have listened to her song 'Thank U, Next', you might know that he once dated footballer Ricky Alvarez. On June 13, 2015, the couple showed their matching tattoo on Ariana's Snapchat story. You could hardly see the tattoo in that story. Luckily, the world got a glimpse of her tattoo which was a simple word 'Hi' that was carved on the toe of her left foot. The tattoo has now been covered up after the couple's split.

9. Babydoll
On January 14, 2016, Ariana posted a photo on her Snapchat account where her new tattoo 'Babydoll' was unraveled. The tattoo is present on the opposite side of her middle finger where she had 'Honeymoon'. Her maternal grandmother who she refers to as Nonna gave her the nickname 'Babydoll'.
10. Female / Venus Symbol
Through her Snapchat, Ariana revealed that she had got multiple tattoos. One of the tiny tattoos she got was of the outline of the symbol of venus or female gender on her left middle finger. The work was done by LA artist Dr. Woo.
11. A
At the same time, she got her venus tattoo, she also carved the letter A on her right thumb. Fans thought that she inked her own initials but it was revealed that the tattoo was actually a nod to her longtime best friend, Alexa Luria.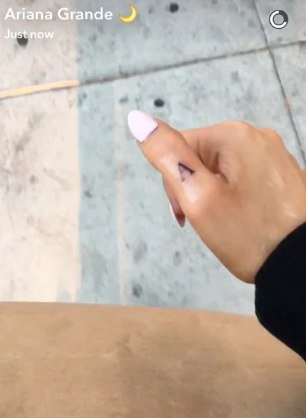 12. Bee
2017 was one of the most tragic years for Ariana Grande when after one of her 'Dangerous Woman Tour' concert in Manchester, a suicide bombing attack took place at the event. The terrorist attack resulted in multiple deaths and injuries. Two weeks after the attack, the One Love Manchester benefit concert was held to raise money for the victims and their families. At that time, Ariana and all of her crew got a matching bee tattoo as a permanent tribute to the city. Bee is the symbol of the city.
On May 17, 2018, Ariana finally revealed the tattoo on her Instagram two days after the one-year of the tragic event. It is present behind her left ear. It is revealed that New York artist Mira Mariah did the beautiful piece.
13. Lumos
Ariana Grande is a big fan of the wizarding world of Harry Potter which is why on May 21, 2018, she got herself a tattoo 'Lumos' on the side of her hand. Lumos is a charm spell that is used to create light in the Harry Potter world.
14. Cloud
In May 2018, Ariana got a matching tattoo of 'Cloud' on her finger alongside her now ex-fiance Pete Davidson. This tattoo would be the start of a phase where Ariana ended up getting a bunch of new tattoos within a period of 6 months.
15. Court
On June 7, 2018, Ariana revealed that she had inked the word 'Court' on her knees in honor of one of her closest friends Courtney Chipolone. The tattoo is rarely visible but we can get a glimpse of it on her '7 rings' music video.
16. H2GKMO
During their relationship, both Pete Davidson and Ariana Grande got a bunch of tattoos, one of them is a matching tattoo 'H2GKMO' below their right thumb. It refers to the infamous catchphrase that Ariana often uses 'Honest to God knock me out'. Pete has now covered the tattoo with a black arrow.
17. Lightning Bolt
On one of her makeup artist's Instagram post, Ariana was seen donning a new tattoo of a lightning bolt behind her right ear. It is most likely a reference to Harry Potter which is one of Ariana's favorite series.

18. Always
According to People magazine, Ariana tattooed 'Always' in Pete Davidson's handwriting. This ink is located on her rib cage. This tattoo was visible on one of the stills of the music video of Nicki Minaj Bed that Ariana posted on her Instagram. Pete Davidson has the same tattoo on his upper back.

19. Unknown tattoo
In a since-deleted photo posted by Pete Davidson on June 22, 2018, Fans noticed a new Ink on the left side of Ariana's thigh. The tattoo is almost impossible to make out and Ariana has never said anything about it.
20. Reborn
On June 26, 2018, Ariana posted another matching tattoo with her ex-fiance, Pete Davidson. The word 'Reborn' was inked on her left hand which is most likely a reference to the song by Kid Cudi and Kanye West. This tattoo has since been covered.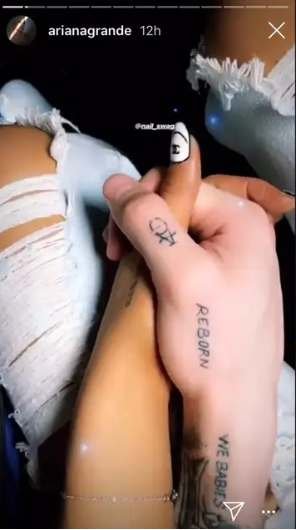 21. 561
On the same day, her reborn tattoo was revealed, she also revealed another ink on her left thumb. The tattoo '561' is the area code for the place she was born and raised, Boca Raton, Florida.
22. Pete
When she was still engaged to comedian Pete Davidson, she also tattooed his name in cursive on her left ring finger. After their break up, she covered the tattoo and even performed by covering the tattoo with a bandaid.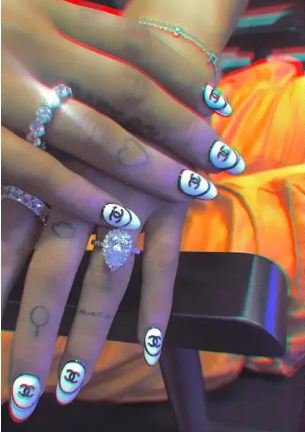 23. 8418
Ariana also got inked with number 8418 on her left foot in June 2018. The number is a tribute to her ex-fiance Pete's late father who was a firefighter and had the same badge number. He died during the 9/11 attack. Pete has the same tattoo on his left arm. Unfortunately after their breakup, she covered up the tribute tattoo.
24. Chihiro
On August 29, 2018, Ariana got herself the biggest tattoo to date. She enlisted the help of Mira Mariah again to get herself inked with Chihiro, the main character of a popular Japanese anime movie 'Spirited Away'. The character Chihiro travels to a spirit world and throughout the movie matures from an easily scared girl to a more responsible and confident young girl. Spirited Away is the only Japanese anime movie to ever win an oscar and its effect on pop culture is phenomenal.
25. Olive Branch
After her split with Pete Davidson, Ariana went on to cover multiple tattoos that she previously got during the course of their relationship. One of the first tattoos that she covered was the 'Reborn' tattoo. On October 30, 2018, Ariana posted a photo on Instagram that showed her new 'Olive Branch' tattoo on her left hand which was used as a coverup.
26. Moon and Stars
Ariana added another ink to her collection in November 2018. This time it was a crescent moon and stars on her left foot. The tattoo can be seen in her music video for her song Breathin.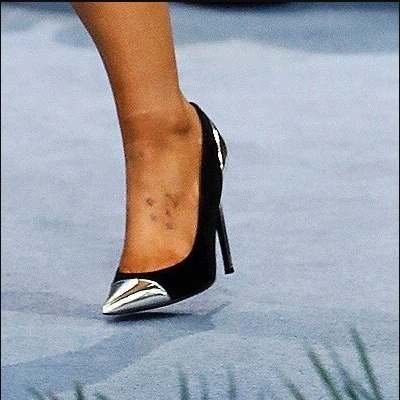 27. 9 ¾
Ariana was also seen with a new tiny tattoo on her right index finger. The new tattoo '9 ¾ ' is assumed to be a reference to the platform number in the train station in the Harry Potter series. We can get a glimpse of the tattoo in the music video for her hit song 'Thank U, Next'. Unfortunately, it looks like she has covered this tattoo as of now.
28. Black Heart
Her tattoo Pete that she engraved for her ex-fiance was covered after their split. The cover-up tattoo that took its place was a tiny black heart. The music video for 'Thank U, Next' was the first time, the tattoo was revealed. As of now, the tattoo has been covered.
29. Black Heart 2
On November 7, 2018, Ariana released her new music video for her song 'Breathin'. In that song, we can get a glimpse of a new 'Black Heart' ink behind her right ear under her tattoo of the lightning bolt.
30. R.E.M
Along with the second black heart, the video featured another tiny tattoo. The new tattoo 'R.E.M' can be seen right below the black heart. This new ink is a reference to one of her favorite songs by the same name from her fourth album 'Sweetener'.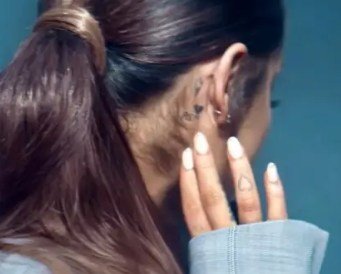 31. Myron
After splitting up with her ex-fiance Pete Davidson, Ariana continued to cover up any tattoo that reminded her of him. Next was her tattoo 8418 that she got as a tribute to Pete's late father. In November 2018, Ariana covered that tattoo by another tribute tattoo 'Myron'. Myron is the name of her dog who used to belong to her late-boyfriend Mac Miller. After his death, Ariana took custody of his dog, Myron.
32. Crescent Moon, The Sun and Stars
For her new tattoo, Ariana again enlisted the help of Mariah who came to her apartment to give her the ink. The tattoo in question is the combination of a crescent moon, the sun, and stars on the top of her left hand. While getting herself a new ink, it was also reported that Ariana's grandmother who was 93 years old got her first tattoo 'Ciccio', a nickname given by her late husband inside her ring finger.
33. うたいましょう
On December 31, 2018, Ariana got herself a new tattoo on her left arm that she revealed in one of her Instagram posts. The new tattoo was a small Japanese phrase うたいましょう or 'utaimoshou' which can be directly translated as 'Let's Sing'.
34. Eevee
Ariana then went on to add another big ink to her collection. Her new tattoo was a tribute to her favorite pokemon 'Eevee' on her left arm. On December 13, 2019, she posted her tattoo on her Instagram with the caption 'I've wanted this for so long'. The tattoo was done by Kane Navasard.
35. 7 Rings or Japanese BBQ Finger
To commemorate the release of her new single 7 Rings, Ariana got a tattoo a new tattoo on the palm of her left hand that was carved in Japanese Kanji characters. She posted her new palm tattoo on her Instagram. After seeing the post, fans were quick to notice that the translation for her tattoo was something far away from 7 rings. Her tattoo ended up translating as Shichirin, the word for Japanese style grill. Ariana addressed the criticism surrounding her tattoo saying that she had left out some character since it became too painful for her to complete the tattoo.
Ariana then consulted with her tutor to try and fix the tattoo, however, even the new tattoo ended up having another bizarre meaning. Japanese is read vertically from top to bottom starting from right to left. Looking at that, her new fixed tattoo ended up translating as Japanese BBQ Finger which does not even make sense.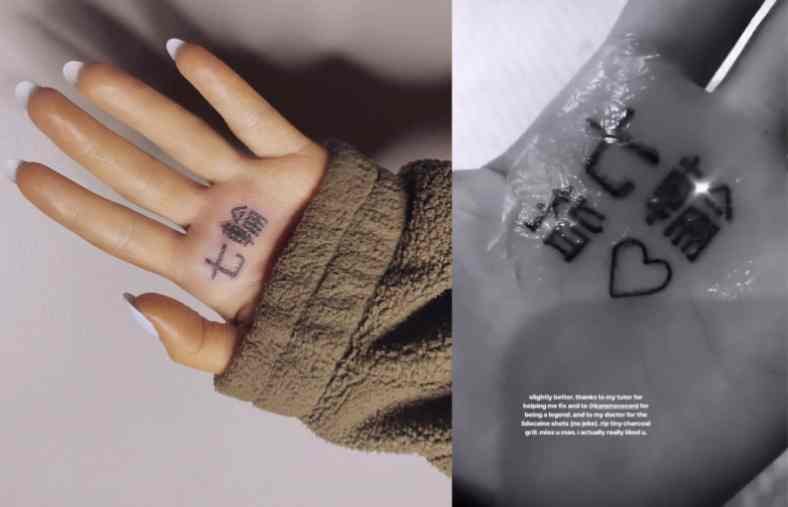 36. Branch of Leaves
Just before starting her world tour in March, Ariana revealed her new tattoo that looked like an evolution of one of her existing tattoo 'Always'. On her Instagram post, she showed her new tattoo Branch of leaves that surrounded the tattoo Always on her midribs.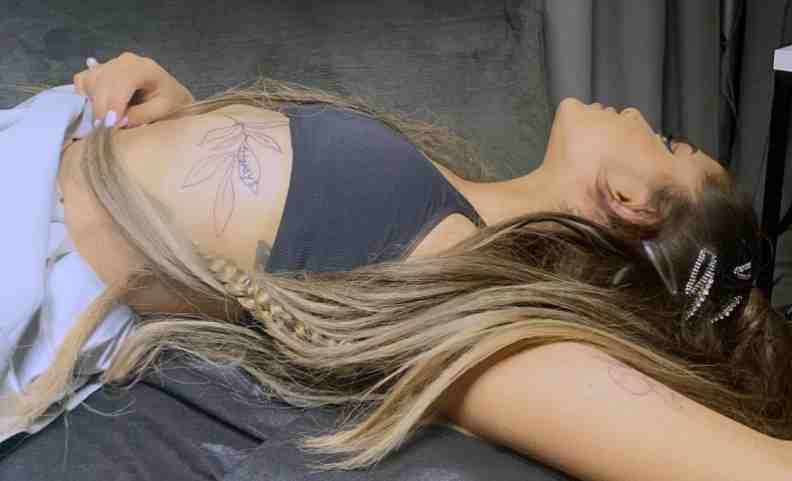 37. Vine
Another cover-up tattoo appeared on one of Ariana's Instagram story on June 19, 2019. She covered her 9 ¾ ink on her right index finger with a vine tattoo.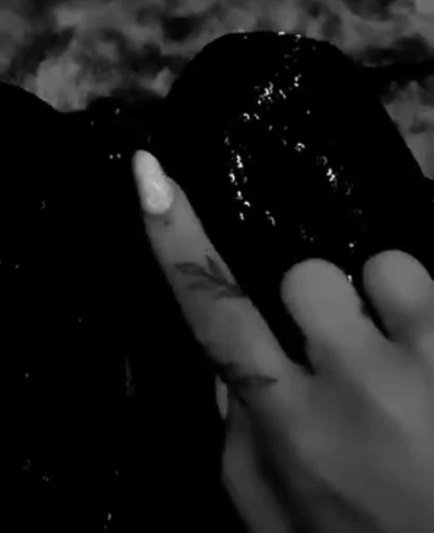 38. Vine
During her tour's meet and greet in July 2019, she was photographed having a bunch of new tiny finger tattoo. One of them was a vine tattoo on her left little finger.
39. Dots
Another tattoo also resurfaced during her meet and greet. She had tiny dots on multiple fingers just above her nails.
40. Eye
An eye tattoo was also revealed on her left index finger in one of her meet and greet photos.
41. Blackened tattoo
Another meet and greet photo revealed that she had yet again covered the blackened heart on her left ring finger with another blackened rectangle with some abstract details. The blackened heart previously covered up her Pete tattoo.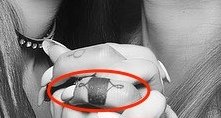 42. Arrow Dots
She was also photographed with a series of new dotted arrows across her hands. On her index finger, she has two lines of dotted arrows. On her left wrist, she has the same pattern of double dotted line arrow. On her left little finger, she has a single line of the dotted arrow.

43. The Truman Show
In just a few months' intervals, Ariana had gone on to get more ink on her body and it didn't look like she was stopping any time soon. On June 20, 2019, Ariana got herself a new tattoo to add to her growing collection. This time she paid homage to one of the favorite actors Jim Carrey by quoting one of his films 'The Truman Show' on her left shoulder. The lines from the movie go like 'In case I don't see ya, Good afternoon, Good evening and Goodnight'. The tattoo was done by her Mira Mariah who is behind most of her tattoos.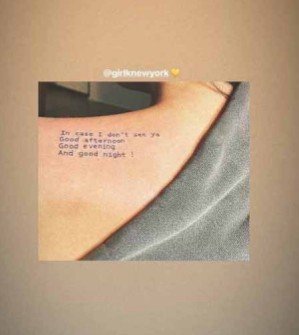 44. Hi cover-up
On July 9, 2019, Ariana Grande graced the cover of Vogue and fans were quick to notice that one of her older tattoos on her left foot toe seemed a little different. While the exact coverup can't be made out, it is known that the new tattoo was a coverup for her 'Hi' tattoo which she got with her ex-boyfriend Ricky Alvarez.
45. An Angel Wing
In her August meet and greet photos, Ariana was seen to have another subtle tattoo. An angel wing was seen inside of her left ear. It is speculated to she had probably got the tattoo around the same time as her little finger tattoos in July. some fans believe that she got the tiny tattoo as a reference to her new collab song with Miley Cyrus and Lana Del Ray for the movie 'Charlie's Angels' called 'Don't Call Me Angel'.
As of now, Ariana Grande has inked herself for about 45 times. With her expanding collection of tiny tattoos, it does not look she is going to slow down on getting other new ones.